…As Samuel Ezechukwu joins party with pomp and pageantry
Members of the All Progressives Grand Alliance (APGA), Oko Ward 2 in Orumba North Local Government Area of Anambra State were recently thrown into celebration following the projects being sited in the community by member representing Orumba North and South Federal Constituency in the House of Representatives, Chief Dr. Okwudili Ezenwankwo.
Members of the political party who gathered recently for the first general meeting of the party for the year 2021 were full of praise for Hon. Ezenwankwo who they claimed had never seized to surprise them with projects and empowerment programmes.
Speaking during the meeting, the Chairman of APGA in Oko Ward 2, Deacon Polycap Ezechukwu disclosed that Hon. Ezenwankwo popularly known as Ewepudike has sited two major projects in Oko even as they expect him to do more.
According to him, "If you look outside this hall, you will see an ongoing borehole project. It is one of the projects that our House member, Ewepudike, Okpata ozue orah, Chief Dr. Okwudili Ezenwankwo is handling in our ward. He is the one financing the project.
"There's another major road that linked this major road (Ekwulobia-Umunze road) with Eziahari that he is constructing. The road project commenced from the old FCMB and burst into Nanka bypass, it is courtesy of the same person. We are saying this so that our members will be abreast of what is happening and what our representative is doing for us.
"In the same vein, if you look outside this hall, you will see two branded vehicles parked outside, he (Ezenwankwo) gave them to Oko Ward 1 and 2 Chairmen to enable them run the affairs of the party effectively. He is one man that has won election that if you ask him what he is doing, he will tell you that if a masquerade is gorgeous, those accompanying the masquerade will also be gorgeous and he has been living up to the saying because some other person's will be going up and down blowing siren but if you look out for achievements, you will not see. But in this case, there are always remarks pointing to what he is doing."
Also speaking on the projects, Special Assistant to Governor Willie Obiano on Markets, Mr. Emmanuel Ozoemena hailed Hon. Ezenwankwo for siting two major projects that will impact directly on the lives of the people in the community while thanking him for quality representation.
He said, "We have Oko Ward 1 and 2 and Ewepudike sited these first two gigantic projects because this borehole project is not child's play. This road project – Eziahari is not also child's play. It is to show quality representation."
Earlier in his opening remarks, the Chairman of APGA in Oko Ward 2, Deacon Polycap Ezechukwu reminded the members of the party in the ward that this is an election year while warning them to be wary of those who would come to sway them with money and empty promises even as he urged them to shun those enticements and remain focus and steadfast in working for the progress of the party.
"So, I am advising members of our party that instead of engaging in anti-party activities, it is better you remain steadfast in APGA and be patient, with time, you will begin to reap the fruits like others.
"We are in election year, they will be dangling carrots before you, promising you heaven and earth but at the end, they will use and dump you. We will not allow any of our members to be deceived by the dangling carrots in the coming election.
"We are already receiving reports of some of our members who are engaging in anti-party activities, we are watching and taking note, at the niche of time, we will show them the way out of the party. So, do not allow yourself to be deceived, APGA is growing. If you take time to study the trends in the country, you will discover that Anambra State under APGA is far ahead of others in terms of development", he said.
He equally informed members of the party of the state government's resolve to ensure good health for indigenes and residents of the state alike by extending free medical care for all at the grassroot.
In view of the this, the ward Chairman advised members of the party to go to any Health Center close to them with one passport size photograph and state the village that they come from and they would be registered and be given free medical care even as he disclosed that the exercise is ongoing in all Health Centers across the state.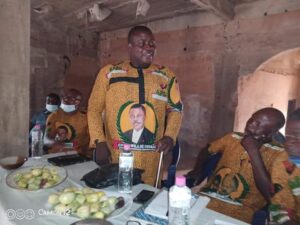 Lending his voice on the free health care for all by the state government, the Councillor representing Oko Ward 2 in Orumba North Local Government Area, Hon. Chijioke Agodi said, "If you observe carefully, the government of APGA has an arrangement to ensure that the people are healthy because it is only a healthy person that can engage in healthy venture. Government wants to help the people.
"With that one passport, your data will be captured at the Health Center and anytime you are sick and visit the facility, they will treat you free of charge. Why you need to be registered is to enable government to budget adequately for health using the actual data and record rather than speculating which amounts to under-budgeting."
He however thanked Hon. Okwudili Ezenwankwo and the member representing Orumba North Constituency in the Anambra State House of Assembly, Hon. Emeka Aforka for working to bring government closer to the people by attracting the dividends of democracy for the people even as he hailed them for their quality representation and people oriented programmes.
Meanwhile, the political party witnessed an addition to its rank as an Abuja based businessman, Chief Samuel Ezechukwu popularly known as Nzeakonobi joined the party during the meeting and obtained his membership card.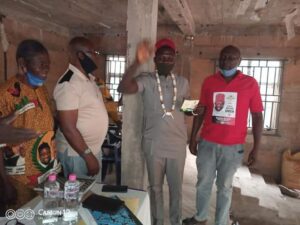 Speaking shortly before the induction of the new member to the party, Hon. Chijioke Agodi described the new entrant as his childhood friend and brother who on learning of his appointment as a Councillor by Governor Willie Obiano, declared his membership of the party.
In his words, "When he heard that I was appointed a Councillor, he called and declared his membership of the party because of me. He promised to host the general meeting of the party anytime it is due. Today, he is here to pick up his membership card. As he is here in our midst, I urge you to welcome him the same way I have welcomd him."
On his part, the Special Assistant to the Governor on Markets, Mr. Emmanuel Ozoemena described the new entrant as a man his people respect a lot hence "My brother, Nze Hillary Nwigene traveled all the way from Onitsha to attend this meeting so that in solidarity, we shall present our brother (Ezechukwu) to the party because he is a big masquerade in our village and we respect him a lot in Umumkpoloka because we know him."
Appreciating members of the party shortly after being issued with his membership card, Chief Samuel Ezechukwu described APGA as a place to be adding that he has been searching for a credible party to join over the years until his mind settled for APGA.
"I am so happy, first, because this is the only party that gives Nigerians peace of mind. I have been an underground member but my name has not been officially registered. Now that I am around, I decided to come to make it official. So, I am very happy that I am in the midst of my brethren and I pray that it shall be well with us", he said.
Also at the meeting were; the APGA Chairman, Oko Ward 1, Mr. Arinze Okpala, former Transition Councilor, Oko Ward 2, Hon. Augustine Ezeokeke, Chairman, Oko Progressives Union, Lagos branch, Saint Augustine Nwadinamuo (Odogwu n'epe mpe), the President General, Oko People's Union (OPU), Mr. Amaechi Okoli (Ochinanwata) amongst other personalities.
Photo 1: Abuja based businessman, Chief Samuel Ezechukwu (middle) and members of the executive, APGA Oko Ward 2.
Photo 3: The Secretary, APGA Oko Ward 2, Mr. Vincent Okeke, Special Assistant to Governor on Markets, Mr. Emmanuel Ozoemena, Chief Samuel Ezechukwu and APGA stakeholder, Nze Hillary Nwigene during the issuance of membership card to Chief Samuel Ezechukwu during the meeting.
Photo 2: Transition Councilor representing Oko Ward 2 in Orumba North Local Government Area, Hon. Chijioke Agodi.
Send your news, press releases/articles to augustinenwadinamuo@yahoo.com. Also, follow us on Twitter @ptreporters and on Facebook on facebook.com/primetimereporters or call the editor on 07030661526, 08053908817.