…As Aniebonam re-echoes call for his appointment as Transportation Minister
The immediate past Executive Secretary/CEO of the Nigerian Shippers' Council (NSC), Barr. Hassan Bello, yesterday, bagged the highest honour – Grand Patron of the National Association of Government Approved Freight Forwarders (NAGAFF) in an event to celebrate his achievements in office in the last eight years.
The event which was put together by NAGAFF in Lagos drew the who is who in the freight forwarding industry including the Council for the Regulation of Freight Forwarding in Nigeria (CRFFN), the Standards Organization of Nigeria (SON), the Nigeria Customs Service (NCS), the Nigerian Shippers' Council (NSC) the Association of Nigeria Licensed Customs Agents (ANLCA), National Council of Managing Directors of Licensed Customs Agents (NCMDLCA), Shippers' Association Lagos State (SALS), the media among others as they take turns to eulogize a man who they agreed had done well and needed to be celebrated.
Speaking at the event, the founder of NAGAFF, Dr. Boniface Aniebonam he had to celebrate Bello for who he is adding that while people had talked about his humility, he had yet picked him up simply for humility, primarily.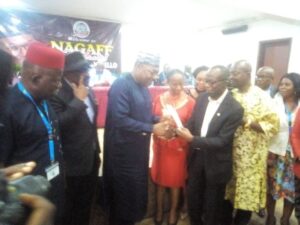 "So, NAGAFF is not in any form a pretender, we are known for being truthful, you are at liberty to make your choice. If we have set out to celebrate Barr. Hassan Bello, we are not doing that because of anything or a reward, after all, if he did not help us while he was in Shippers' Council, is it when he is out of Shippers' Council? Everything said about Hassan here, nobody can add, nobody can remove. I think Hassan must now understand what life is all about, that the real happiness in life is all about your relationship with the people. What I want to advice all of us seated here is we must take advantage of situations, let us stop things that we are doing that is not adding value", he said.
Speaking further on why the former NSC boss should be celebrated, he said, "This man (Hassan Bello) was the legal officer of the Nigerian Shippers' Council when I was the first president and founder of NAGAFF. You are talking about celebrating this man, it is you people in the front table, the Shippers' Council staff that should celebrate this man not us. I want to tell you what many of us do not know. The right people to celebrate this man are the Shippers' Council staffers because if not this man, I do not know whether Shippers' Council will be in existence now.
"In 1999/2001, this man came to NAGAFF headquarters to see me. Do you know why? That was the time of (Adebayo) Sarumi when he was the Executive Secretary of the Nigerian Shippers' Council. Sarumi crossed his boundary, Sarumi wanted to keep the register of freight forwarders and I told him no, don't do that. The Council's Act did not give you the authority to do so and he thought I was joking and I said, don't try that. He tried that, I responded, he (Hassan Bello) came. I said Hassan, I don't even know him, for you to step into this place, there is no problem. I withdrew the technical crew of NAGAFF and that was all. And it has been well with the Shippers' Council and we are doing everything possible to support them.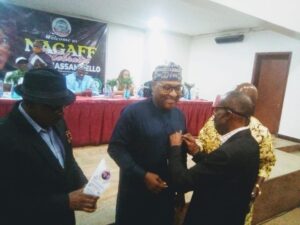 "And we have reasons to celebrate this man because he is for the people, he worked for the people. So, I can simply say that other than innuendos, we still want this man to come back. As how? As we are speaking today, government is right inside here even though all of us are government but the real government is inside here. I am now saying that we have all here agreed that Hassan Bello has shown leadership and that Mr. President, we want him to know that we need him back.
"Now, Hassan, what we are saying is that Amaechi Rotimi has provided leadership and that gave rise to your performance. We also know that Amaechi cannot be there for life, between now and election, after 2023, definitely, Amaechi will not be there after that. Hassan merited the consideration for Minister of Transport. Hassan Bello, what we are saying is that you merited consideration for Minister of Transportation, it will give you a wide scope of operation because there are lots of thing you wanted to do but you couldn't do that because you had limited power. As a minister, I am sure you will be more strategically positioned and get the attention of Mr. President to do the needful."
Responding, the immediate past Executive Secretary of the Nigerian Shippers' Council (NSC), Barr. Hassan Bello disclosed that he was overwhelmed with the support and the show of love he received from the leadership of NAGAFF and indeed, all freight forwarders describing the grand patron status conferred on him as a great honour.
His words, "To say that I am overwhelmed is not saying it the way it is, I am really overwhelmed. Sometimes, I pinched myself; I don't know the person you are really talking of, whether it is me really. I feel very much honoured to be the grand patron of NAGAFF. I am most grateful for this efficiently organized reception and honour done to me by NAGAFF and by implication, all the other freight forwarders and customs licensed agents, very significant.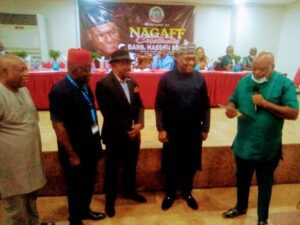 "And the most important thing is I don't have any big shoe to fill in. Honestly, when people talk about Hassan Bello, I know it is not all totally true because I have them- the staff of the Nigerian Shippers' Council, the best in the maritime industry. They are the ones who made it happen. We are lucky in Shippers' Council to have a succession of very important unselfish leaders. Those who were my predecessors were very adept in introducing everything. So, even the privatization of ports was introduced by the Shippers' Council and not many of you know that NIMASA was born from Shippers' Council, the new ports, PPP, everything you see is because the Shippers' Council is a knowledge based organization and I want you to by that extend that conviviality, that support you have given me, I want you to give even more to my successor.
"Jime comes with frightening credentials, he is an expert, he has experience, he has already been a Chief Executive Officer of a very important agency, the NEPZA – export processing zone which has similar economic activities as far as export is concerned with the Shippers' Council. So, I want the family of NAGAFF, the family of freight forwarders to embrace, work with him and we are going to see somebody who will not only march our modest achievements but I am sure he is going to do even more."
He continued, "I am happy today, today is very emotional about all the attributes that have been said today and some of them may be exaggerated because we have made mistakes too. We are human beings but to be talked about in such fine adjectives especially by an important gathering. So, for freight forwarders, Customs licensed agents, for press, for truckers, there was a time and this is going to continue, Shippers' Council was a Mecca of some sort because we opened our doors. You must open your door to the people, you cannot be alone, when you are having a salary, you must be a servant. That is why you are called public servants; we really are servants not masters. We must be accountable to the people.
"I am really happy, grateful, everybody who comes here, I appreciate you my friends and I have seen so many faces that I recognized and I say I must have been really old in this industry. That is a very pleasant, very warm evening. I am extremely grateful to you all for all the attributes and tributes that you have paid to me. As I said, please transfer this and even more to the family of the Nigerian Shippers' Council. The relationship between NAGAFF and Shippers' Council is made in heaven and it will continue forever."
Photo 1: L-R: Founder of NAGAFF, Dr.Boniface Aniebonam, immediate past Executive Secretary, Nigerian Shippers' Council, Barr. Hassan Bello and former Chairman, Council for the Regulation of Freight Forwarding in Nigeria (CRFFN), Alhaji Abubakar Tsanni during the reception organized in honour of Barr. Hassan Bello by NAGAFF in Lagos yesterday.
Photo 2: L-R: Director, Consumer Affairs, NSC, Chief Cajethan Agu, NAGAFF President, Chief Increase Uche, former Executive Secretary, NSC, Barr. Hassan Bello receiving induction plaque from the Legal Adviser, NAGAFF, Barr. Fred Akokhia during the ceremony in Lagos yesterday.
Photo 3: NAGAFF Legal Adviser, Barr. Fred Akokhia decorating the immediate past Executive Secretary, NSC, Barr. Hassan Bello while Chief Increase Uche, NAGAFF President looks on.
Photo 4: President, Shippers' Association Lagos State, Rev. Dr. Jonathan Nicol, Director, Consumer Affairs, NSC, Chief Cajethan Agu, NAGAFF President, Chief Increase Uche, former Executive Secretary, NSC, Barr. Hassan Bello and Chairman, NAGAFF Board of Trustees, Mr. Chidiebere Enelama presenting a plaque to Hassan Bello to signal his induction as Grand Patron, NAGAFF.
Send your news, press releases/articles to augustinenwadinamuo@yahoo.com. Also, follow us on Twitter @ptreporters and on Facebook on facebook.com/primetimereporters or call the editor on 07030661526, 08053908817.