… Intercepts 96 trailer loads of foreign parboiled rice
The Ogun 1 command of the Nigeria Customs Service (NCS) has collected the sum of Forty- Three Million, Nine Hundred and Twenty-One Thousand, Two Hundred and Five Naira, Fifty Kobo (N43,921,205.50) as revenue for the federal government between the months of January 2021 and January 2022.
A breakdown of the revenue showed that while the command collected the sum of Forty-One Million, One Hundred and Ninety-Three Thousand, Eight Hundred and Twenty-Nine Naira (N41,193,829.00) between the period of January and December 2021, it also recorded the sum of Two Million, Seven Hundred and Twenty-Seven Thousand, Three Hundred Seventy-Six Naira, Fifty Kobo (N2,727,376.50) in the month of January 2022.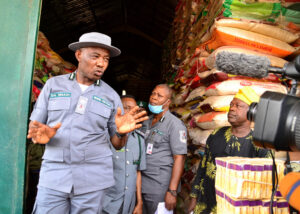 The Customs Area Controller of the command, Comptroller Dera Nnadi who disclosed this at a media briefing at Idiroko on Monday revealed that the revenue was made possible by fees collected from the auction sales of seized petroleum products and scrap metals.
Nnadi recalled that the major source of revenue of the command which is import and export trade had not been optimized since the closure of the land borders as directed by the Federal Government of Nigeria adding that the border closure had since lasted for more than two years and still remained closed.
"The only source of revenue for the command as of today are fees
collected from the auction sales of seized items especially petroleum
products and other perishable items", he said.
The Comptroller further disclosed that a total of Fifty-Seven Thousand, Seven Hundred and Fifty-Eight (57,758) bags of 50kg each of foreign parboiled rice which is equivalent to Ninety-Six (96) trailer loads were seized between January and December 2021.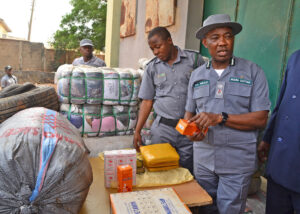 He went on to observe that the command impounded Ten (10) units of used vehicles popularly referred to as Tokunbo in local parlance and Two Hundred and Thirty-One (231) units means of conveyance and foreign used during the period under review.
Other items, according to Nnadi include: poultry products, used tyres, second hand clothing, dangerous drugs (tramadol and cannabis sativa), palm oil as well as assorted soaps and cream.
Giving a breakdown of items intercepted in the month of January 2022, the CAC stated that Three Thousand and Eight (3,008) bags of 50kg each of foreign parboiled rice which is equivalent of Five (5) trailer loads, Seventeen (17) vehicles used as means of conveyance, One Thousand, Three Hundred and Fifty-Three (1,353) cartons of frozen poultry products, Fifteen Thousand (15,000) litres of Premium Motor Spirit (PMS), Seventeen (17) bales of second hand clothing, One Hundred and Twenty-Seven (127) small bags and Fifteen (15) big bags of Cannabis Sativa and Three (3) kegs 25 litres each, Five (5) kegs of 1.8 litres, Four (4) kegs of 5 litres and Twelve (12) bottles of Vegetable Oil were recorded during the period under review.
He noted that the Duty Paid Value (DPV) of the items impounded between January and December 2021 was One Billion, Three Hundred and Seventy-Eight Million, Two Hundred and Seventy-Six Thousand, Six hundred and Fifty-Six Naira (N1,378,276,656.00) while that of January 2022 was One Hundred and Six Million, One and Forty-Five
Thousand, Seven Hundred and Ninety-One Naira (N106,145,791.00).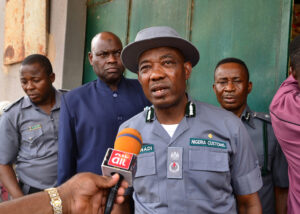 While stressing that there was a remarkable increase in the number and
quantities of seizures recorded in the month of January 2022, he added that the command was able to mark those
achievements due to aggressive stakeholder'sengagement and management, deployment of intelligence in all the operations across the state, structural reorganization of the command, improved motivation of officers by the NCS Management
as exemplified by the operational vehicles allocated to the command recently and the provision of accommodation in various outstations of the Command as well as improved discipline and total dedication to duty by officers of the command.
"However, these achievements (progress) so far, were not made on a platter of gold. On several occasions, our officers, while performing their lawful duties come under sustained harassment and attacks from daredevil
smugglers and their supporters/sympathizers who use pump action riffles, AK47 riffles, local charms and other dangerous weapons to attack, kill and maim officers.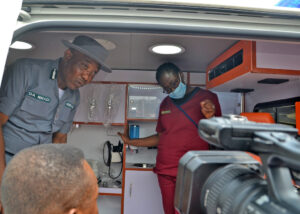 "We wish to reiterate that the sustained attack on operatives of NCS and other sister agencies will not deter us from the continued performance of
our legitimate duties in Ogun State", he assured.
Comptroller Nnadi, however, submitted that there was decrease in the attacks on officers of the command in the last four months and wished it was
sustained as the command improve on its relationship with the good people of Ogun State.
"The Command will continue to dialogue, engage, sensitize and educate the public on social/economic implication of smuggling as well as performing statutory function of enforcing compliance in line with government fiscal policies", he added.
He, thereafter, appealed to parents and
guardians residing in border communities to prevail on their children,wards and youths to desist from such criminal acts such as smuggling and attack on security agencies.
He recalled that during his courtesy visit to the traditional rulers in various communities in the state and to the State Governor, His Excellency, Prince Dr. Dapo Abiodun, he sought for their support in combating smuggling and urged them to educate their subjects on the menace of smuggling and incessant attacks on security operatives discharging their statutory duties.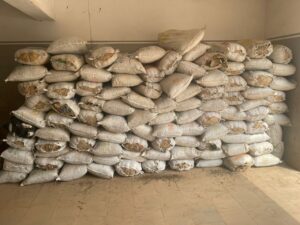 According to him, "It is gratifying to note that we are all on the same page on the need to improve on our relationship with a view to maximize the opportunities offered by the proximity of the State to the border and develop trade in Ogun State.
"In all the traditional palaces visited, the challenges facing the border
communities were enumerated to include lack of Federal presence in terms of infrastructure and developments, unemployment of the youths and we received request for Nigeria Customs Service to specifically create quota for children of the border communities during its recruitment exercises to generate employment for their teeming youths. I have communicated their request and recommended same to the Management of the Nigeria Customs
Service."
Photo 1: Comptroller Dera Nnadi addressing journalists during the media briefing at Idiroko on Monday.
Photo 2,3,4: Comptroller Dera Nnadi conducting the media round the seizures during the media briefing at Idiroko on Monday.
Send your news, press releases/articles to augustinenwadinamuo@yahoo.com. Also, follow us on Twitter @ptreporters and on Facebook on facebook.com/primetimereporters or call the editor on 07030661526, 08053908817.