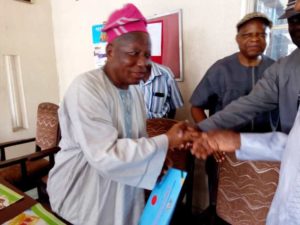 …Presents certificates, ID cards to pioneer Presidents
The Nigerian Association of Master Mariners (NAMM) today introduced new measures to rid the industry of fake Master Mariners with the presentation of membership certificates and identity cards to the two pioneer presidents of the association, Capt. Dennis Osah and Capt. Augustine Olugbode.
The event which held Saturday at the association's secretariat in Lagos marked the official flag of issuance of membership certificates and identity cards to members of the association with a view to checking the activities of fake Master Mariners and foreigners who ply their trade in the industry without clearance and registration with the association.
Speaking at the event, the President of NAMM, Capt. Tajudeen Alao stated that the purpose of the exercise was for members of the association to have identity and respect as well as to eliminate fake Master Mariners parading themselves as genuine ones in the society.
Alao described the two former Presidents of the association as the pioneers who suffered untold hardship in the hands of the White men who subjected them to dehumanizing conditions in order to discourage them from attaining the position of Master Mariners.
He observed that for the steadfastness and doggedness brought on the job by the pioneers Presidents, they would have chickened out of the profession as they too met the same condition on ground during their time even as he described them as their mentors.
In his words," Nigeria has a population of about 180 million people and this profession can boast of less than 200 members and the 200 Master Mariners that we have are highly trained, good education. These are the pioneers, these are the people that the white men punished because a cadet is supposed to treated as an officer but they kept them on the bridge wings and they asked them to go on deck, they never showed them the real thing because some of these white men believe that not in their lifetime will a black come to this deck up there and when we came to sea, we still met a lot of white Captains, Chief Engineers and we still went through some of these situations, we saw it.
"So, we thank God they went through the unbeaten path for people like us to be able to go because they are our mentors, without them most of us would have dropped by the way side. So, we thank you very much and we thank God that gave you the grace to go through the path".
The NAMM President disclosed that the elderly ones among them would soon be honoured with certificates and identity card adding that very soon, those who were not cleared and registered by the association including foreigners would not be allowed to operate here in Nigeria even as regretted that a lot of people from Holland who were dredger Master would come here and government would hold them at high esteem in this country.
While stating that members of the association had a lot to offer Nigeria, he assured that they cannot mislead the country in their drive.
"We are the last batch of Nigerians who have the privilege to have gone round all the continents of the world on Nigerian flagged ship, we got to North America, South America, Russia, far East except Australia which some of us went on foreign ships but we don't know whether we will have such privilege anymore", he added.
Responding, the first President of the association, Capt. Dennis Osah appreciated the incumbent President for taking the bold step to issue them with certificates of membership as well as identity cards saying that the certificates and the identity cards were long overdue.
He said," When we founded the association in 1984, I did not know that it will take so long for us to have this certificate and ID card but we thank God that we can now see the dynamism that Capt. Alao has brought to bear on the affairs of the association which has been done.
He however expressed gratitude to God for keeping him alive to receive his certificate and identity card recalling that there were four of them that were founding Board members three of whom he said had passed on and cannot receive the certificate and identity card again from the association.
"So, if I say I am privileged to be here to receive this, I know what I am talking about and it is a good thing that we shall use the opportunity to remember them and others who have passed away, who will never receive this certificate of membership of the association", he stated.
On his part, the second President of the association and one of the recipients, Capt. Augustine Olugbode who will soon mark his 80th birthday anniversary noted that the event would go down in history as according to him," this association has a lot to do for the progress of the country generally in terms of human development, in terms of facilities and installations. We look back and at times, we that were able to start not the association, the maritime profession, we know who we are, where we have gone to".
He recalled that when they embarked on this journey to become Master Mariners, there was no hope of having a Nigerian as a Master neither do they have the support from home as he said that the Nigerian National Shipping Line was formed from foreign companies taking sponsorship and that being on board as a cadet then was like being an apprentice.
He continued," Out of every ten, you will be lucky to have two not because we saw something beautiful ahead but personally, I will say it is God's grace that we have Nigerians as Master Mariners and in command of vessels. So, any time I look back and I come to see the present members, it is always with the encouragement that things like this will be done".
Photo 1: (L-R) Pioneer President of NAMM, Capt. Dennis Osah receiving Certificate of membership from the President of NAMM, Capt. Tajudeen Alao in Lagos Saturday.
Photo 2: Second President of NAMM, Capt. Augustine Olugbode receiving his Certificate of membership in Lagos on Saturday.
Send your news, press releases/articles to augustinenwadinamuo@yahoo.com. Also, follow us on Twitter @ptreporters and on Facebook on facebook.com/primetimereporters or call the editor on 07030661526, 08053908817.