For two weeks now, business activities at the biggest terminal in Nigeria, AP Moller Terminal (APMT) Apapa has been slowed down just as agents showed their frustrations as they could not transact their usual businesses with the terminal as a result of system downtime.
A visit at the terminal on Monday revealed a large number of agents waiting endlessly to be attended to by the officials of the terminal who seemed helpless in the whole situation. Even the manual option adopted by the management of the terminal to enable it serve its teeming clients seemed not be helping as there was little or nothing the terminal could achieve with such manual application as confirmed by respondents who spoke to newsmen who visited the terminal.
On arrival at the transaction hall of the terminal at the Apapa ports, Primetime Reporters observed a screen notice which read thus," Dear Esteemed Customers, as a result of system downtime, we will be attending only to all backlog of transactions collected from Monday 12th April to Thursday 17th April, 2015. All fresh jobs will be attended to by Saturday18th April, 2015. All waivers will be granted where necessary including shipping. Kindly bear with us at this period. Signed: Management".
Tracing the genesis of the problem, an agent who spoke to newsmen on the condition of anonymity said that the problem started on Saturday before Easter where it just emanated as a rumour that the terminal had system problem.
He noted that on Easter Tuesday which according to him was the 7th April, 2015, they were unable to raise debit note adding that all the charges they normally collect from the terminal, they did that online since all of the terminal's payments were automated.
According to him," So, when we got here that Tuesday, they said they were having system challenges, that they couldn't attend to us that very Tuesday very well. That same Tuesday, they started giving us manual debit note, they were unable to position containers for examination because they said they couldn't locat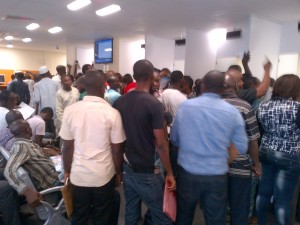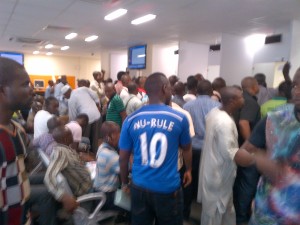 e the particular location of the containers because they used to check the location on their system. Since then, we have been facing challenges up till now".
"They told us they are working on the issue but you know anything concerning network problem, you can't say this is the time they are going to rectify it. I discovered they are really working on it".
On whether or not he has seen anybody the terminal had given waiver as promised, he had this to say," really, my own job has not gotten to that extent. When I collect the debit note, I will know whether they are giving waivers or not and how many days that they waived".
He however observed that he had been following his job since the inception of the problem but could not be able to pull through as the time of speaking to the press on Monday.
"Like now, I am facing one issue now, I have a container they have not positioned. I booked the container since on Friday (10th April 2015), they said that they were going to position it on the 13th of April and up till now, they have not positioned the container. They keyed it into the server, you know I said they couldn't locate the position of the container", he said.
On his part, another agent, Mr. Kay Smith Adekunle observed that activities at the terminal had been slowed down for the past two weeks regretting that the development affected the agents most as the could not perfect their jobs as well shipping companies charges were also running at their detriment.
He noted that he went to the shipping company to collect his debit note and that immediately he got there, they printed it for him saying that it did not take him up to five minutes to get that done with the shipping company.
"Now, it has started counting as from today. So, I don't know how long it will take to resolve this problem and they don't want to know what we are facing here because their own system is quite different from terminal operator's. So, they are counting it now a daily basis".
"Normally, they (APMT) promised they will be giving waiver but I have not seen anybody they have given because the shipping companies, they have their own charges too. If you cannot meet up with this terminal charges, the shipping charges will be going and when their charges expire, they will now go and raise additional charges in the shipping companies", he said.
Mr. Adekunle added that the importers for whom they worked for would believe that they were not working since the AP Moller Management usually call them telling them that they (APMT) were working whereas in the real sense of it they were not working thus shifting the whole blames on the agent who in turn would be having issues of distrust with their clients, the importers.
"So, many agents have started losing their importers because of this kind of thing because they will now call them that they are working whereas they are not doing anything, they are not working. So, these are the challenges we are facing over two weeks now", Adekunle stated.
Also speaking, the Managing Director of Stephen's Global Services Limited, Comrade Stephen Ibe recounted his ordeal in the hands of the terminal's management since the commencement of the system downtime adding that all efforts he made to get the real picture of the situation proved abortive.
According to him," meanwhile, I saw their notice when I went to their City Office at Apapa that they will waive the demurrage accrued to them as well as that of the shipping companies but to my greatest surprise, when debit note came out, I saw that they did not do anything. What they waived was three day, three days is for what? Instead of for about fourteen days".
"I am going to fight it, they must refund me and even pay me demurrages because I am having a big showdown with my importer now who has said that I am a liar, that I promised to deliver the containers and that I am supposed to deliver them as I promised. Most of these importers, they understand what we are saying. So, my relationship with my clients now has been soiled by the AP Moller upon that they are not giving the waiver that they talked about".
"As am speaking with you, today's date is 20th April and you know when elections were held, that was 11th of April, the whole thing is still on".
Meanwhile, all effort made to speak with the spokesman of AP Moller Terminal, Mr. Bolaji Akinola proved abortive as he neither responded to the calls put across to him nor returned them.