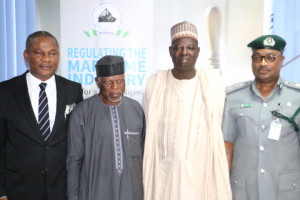 The Acting Director General of Nigerian Maritime Administration and Safety Agency (NIMASA), Mr. Haruna Baba Jauro has reiterated the Agency's commitment to collaborate with the Nigerian Customs Service to ensure seamless trade facilitation in Nigeria.
Mr. Jauro said this when the Comptroller General of Customs (CGC), Col. Hameed Ali (rtd) led members of the Customs management to NIMASA on a familiarization visit in Lagos.
The Acting DG said that the Agency has put in place a number of innovations like the satellite surveillance system and committed itself to a number of strategic partnerships with the military to enhance security on Nigerian waters with the ultimate aim of engendering a friendly business environment.
Mr. Jauro further said the country needs to facilitate seamless trade in the maritime sector emphasizing that this was even more compelling now given the dwindling price of oil.
According to the DG, "NIMASA needs to partner with the Nigeria Customs in order to improve trade facilitation and also ensure that various loopholes through which Nigeria is losing revenue in these areas are blocked".
He advocated for improved collaboration with the Nigeria Customs especially in the area of information sharing as both Agencies have critical roles to play in generating the needed revenues for the government.
Responding, Col. Hammed Ali stated that his visit was to strengthen the existing relationship between the Nigeria Customs Service and NIMASA noting that there were various areas of their functions that needed collaboration.
He said that since NIMASA was the major regulator of shipping in the country, the need to synergize in order to ensure that operators in the sector abide strictly by the laws of the country.
He re-echoed the importance of the maritime sector to the economy of Nigeria saying the sector must take the lead as the revenue earner of government in the face of dwindling oil revenues saying the Nigeria Customs was committed to partnerships that would guarantee this increased revenue.
PICTURE 1 CAPTION: Mr. Haruna Baba Jauro, Acting Director General of NIMASA presenting a plaque to Col. Hameed Ali (rtd) Comptroller General of Customs when the CGC visited NIMASA in Lagos recently.
PICTURE 2 CAPTION: Mr. Callistus Obi, Executive Director, Maritime Labour and Cabotage Services NIMASA, Col. Hameed Ali (rtd) Comptroller General of Customs, Mr. Haruna Baba Jauro, Acting Director General of NIMASA and  Akinlade Adewuyi, DCG in charge of Tariff and Trade during a visit of the CGC and his team to NIMASA in Lagos recently.
Send your news, press releases/articles to info@primetimereporters.com. Also, follow us on Twitter @reportersinfo and on Facebook at facebook.com/primetimereporters or call the editor on 07030661526.