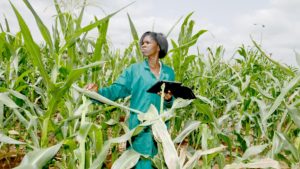 …AfDB President to commission $700,000 building for youth Agripreneurs
Nigeria's Acting President, Prof. Yemi Osinbajo, will on Monday speak on food security and Nigeria's preparedness to diversify its economy using agriculture as a lever.
Prof. Osinbajo leads others leaders from other African countries including former heads of states, global business moguls, and a throng of dignitaries in celebrating the 50th anniversary of the International Institute of Tropical Agriculture (IITA) on 24-29 July 2017 in Ibadan.
He will be joined by former Head of State, General Yakubu Gowon (Rtd), and former President Olusegun Obasanjo, who is also IITA Goodwill Ambassador.
The event provides Nigeria's acting president the opportunity to address more than 300 international, regional and national experts, and to further unveil the country's thinking towards agriculture especially in the context of economic diversification.
He will also speak on the critical role of IITA, Africa's biggest international agricultural research institute in the transformation of Africa's agriculture.
Dr. Nteranya Sanginga, IITA Director General, said the world was waiting for Nigeria to take leadership in the agricultural space and the acting president's message would be critical in helping participants to understand the country's agricultural development agenda.
"Since our inception 50 years ago, IITA has evolved into a strategic partner for research-for-development in sub-Saharan Africa with over 200 scientists working in over 18 countries. This event is therefore an opportunity for us to celebrate our past successes with all our partners, friends, and beneficiaries and reflect on our future role in our efforts to transform agriculture in the next 50 years," says Sanginga, ahead of the celebrations.
The event is slated to showcase the strides made by IITA researchers in collaboration with a range of partners and their impact on agriculture in the region and improving the livelihoods of smallholder farmers.
These include adoption of almost 400 varieties of cassava with increased yields and better resistance to biotic and abiotic stresses; developing nearly 200 improved soybeans and 78 improved yam varieties. Over 70% of the over 300 maize varieties with IITA germplasm and drought-tolerant maize developed in partnership with CIMMYT has been adopted in 13 countries with projected economic gains of US$907 million.
Impact has also been felt in improving nutrition through promoting legumes such as cowpea and soybean, developing bio fortified yellow cassava with enhanced vitamin A and the effective and safe bio control solution, Aflasafe, to control aflatoxins in maize and groundnut that is being rolled out in 11 countries.
"We are also expecting to hear bold statements on Africa's agriculture and the commissioning of the IITA Youth Agripreneur building by the President of the African Development Bank, Dr. Akin Adesina," Sanginga added.
The IITA Youth Agripreneur building is a $700,000 structure comprising two major training rooms that can sit conveniently 50 trainees each, two big offices that can sit 30 interns each, and 20 standard sized offices.
Dr. Kwesi Atta-Krah, Chair of the IITA50 Organizing Committee, said the celebration of the 50th year of IITA in Africa transcended past achievements.
"It is also an opportunity for us to begin to look at the future of agriculture and the role IITA will be playing especially as it relates to emerging challenges of climate change, pests and diseases, and rising youth unemployment," he added.
Established in 1967 through a partnership of the Ford Foundation and Rockefeller Foundation of the United States, IITA has helped in raising the productivity of Africa's key crops: cassava, banana/plantain, maize, cowpea, yam, and soybean using the power of innovative science and technology.
Dr. Kenton Dashiell, IITA Deputy Director General, Partnerships for Delivery, said besides crop and livelihood improvement, IITA's biggest contributions and strengths were the capacity development of Africans in the agricultural space, and its network of strong national, regional, and international partners
"Some of our alumni such as Akin Adesina today occupy key positions and are driving the development of agriculture in their respective countries, and in Adesina's case, the African continent," he added.
Other confirmed participants for the 50th anniversary include the former President, International Fund for Agricultural Development (IFAD), Dr. Kanayo Nwanze; President of Dangote Group, Alhaji Aliko Dangote; Chair of United Bank for Africa, Tony Elumelu; Minister of Agriculture and Livestock, Burundi, Dr. Deo-Guide Rurema; former Prime Minister, Democratic Republic of Congo, Matata Ponyo Mapon; Minister of Agriculture, Nigeria, Chief Audu Ogbeh; IITA Alumni Representative, Mrs. Ayoka Lawani; the Representative of Bill & Melinda Gates Foundation, Abuja, Dr. Audu Grema; Vice Chancellor, University of Ibadan, Prof. Abel Olayinka; and Oyo State Governor, Senator Isiaka Abiola Ajimobi.
Send your news, press releases/articles to augustinenwadinamuo@yahoo.com. Also, follow us on Twitter @reportersinfo and on Facebook on facebook.com/primetimereporters or call the editor on 07030661526, 08053908817.