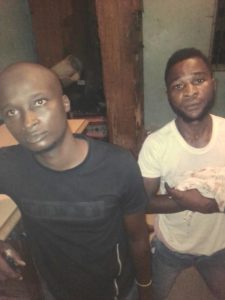 What could have passed as an ordinary initiation ceremony into a newly formed secret confraternity named " The New Black Movement of Africa", a breakaway faction of the AIYE cult group, turned sour, yesterday, at about 0010hrs midnight, when one of the recruits who couldn't endure the torture and other initiation rites he was subjected, bolted for his dear life and ran to his mother's house at Jakande Estate, Ajah Lagos.
Miffed by the apparent show of cowardice by the intending recruit and the fact that he may give them up to the police, the group chased him to his mother's residence and began to beat up everybody in sight, at same time, robbing residents of the estate who were woken up by their noise.
Unfortunately for the group, the mother of the runaway boy, sneaked out of the house and a placed a distress call to the Divisional Police Officer in charge of Ilasan division, CSP Onyinye Onwuamaegbu who led a contingent of policemen to the estate and arrested eleven members of the group, all males; namely, Godwin Victor, Benjamin Daniel, Saviour Anioffiong, Lawal Ibrahim, Shola Odekunle, Sodiq Olawuyi, Segun Fagbohun, Bashiru Lawal, Chinedu Francis, Wahab Adams and Ifarinde Adeniyi.
The police team recovered the following items from the suspects: one locally made shotgun, four live cartridges, three cutlasses, one sledge hammer, ten horse whips and assorted charms.
In a related development, two notorious cultists, Rasheed Yusuf aka Radical and Abel Okwo, were arrested during a supremacy battle between the Aiye and Eiye confraternities at Akerele Street, Oworonshoki.
Meanwhile, the said Abel Okwo was charged to court two months ago by the command for cult related offences only to come back to terrorize the town the more.
Speaking on the arrests, the Commissioner of Police, Lagos State, CP Edgal Imohimi, vowed that the command would not relent in its efforts at ridding the state of members of the unlawful societies.
He therefore called on parents to hold heart to heart talks with their children, male and female alike, on the evil consequences of belonging to cult groups.
He thanked Lagosians for always providing the command with information about the activities of the outlaws and solicited for more cooperation.
Photo: In the picture are the eleven members of the Black Movement of Africa a breakaway faction of the AIYE cult group while in the group of two are Abel Okwo in Black tee shirt and Rasheed Yusuf aka Radical from Oworonshoki end.
Send your news, press releases/articles to info@primetimereporters.com. Also, follow us on Twitter @reportersinfo and on Facebook on facebook.com/primetimereporters or call the editor on 07030661526, 08053908817.