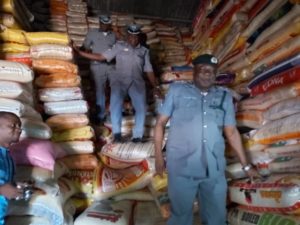 …Two in custody over murder of customs officer, smuggling
…As customs officially unbundles Ogun State command
…Rakes in over N1bn as revenue for month of July
The Federal High Court, Abeokuta has on the 28th of June, 2019 convicted three accused persons for vandalizing official patrol vehicle attached to Team "H" Roving "A" Anti-Smuggling Patrol Team at Ashipa forest on 22nd September, 2017.
The Customs Area Controller of the Ogun State Customs command, Comptroller Michael Agbara who disclosed this in a press briefing at Idiroko, Ogun State on Thursday stated that the court found the accused persons namely: Yakubu Olamide, Paul Ayinla and Ayinde Adebayo guilty of the offence jointly, severally and sentenced them accordingly.
Agbara noted that while the command was unrelenting in pursuing other cases including the murder of one of its personnel, Customs Assistant I, Hamisu Sani on the 6th of January, 2019 with the major suspect involved in the case now in custody adding that this would serve as a deterrent to other unscrupulous members of the society who may harbor the intention of harassing security agents while discharging their lawful duties.
He said added, "Moreover, a notorious smuggler based in Owode have been arrested and charged to a Federal High Court for smuggling of rice and presently on remand cooling his feet in Ikoyi Prison pending the fulfillment of his bail conditions."
The CAC however, recalled that the Management of Nigeria Customs Service had formally communicated a development directing the unbundling and creation of eight (8) new Area Commands within the Service saying that Ogun command was privileged to be among the beneficiaries with a view of enhancing administrative efficiency and boosting revenue generation for the Service.
According to him," The two brand new Area Commands in Ogun state are Ogun I and Ogun II Area Commands. Ogun I will have an area of coverage relating to regulation and enforcement of all import, export and anti-smuggling related activities in Ogun state with Headquarters at Idiroko. While Ogun II Area Command will be saddled with the responsibilities of enforcing and regulating all Excise (industries under Excise control), Free Trade Zone and Parcel Post related activities in Ogun state with Headquarters at Abeokuta.
"This visionary development is based on the outcome of the Nigeria Customs Service Board at its 50th Regular meeting held on 21st May, 2019."
While commending the sister agencies, opinion leaders, heads of traditional institutions, eminent personalities, the media and other law abiding members of the public for their unflinching support to the service in Ogun state, the CAC however believed that the new structure of Nigeria Customs Service in the state would indeed be recipe for further cementing the existing relationship towards the overall growth, development and stability of the country
Meanwhile, the Ogun command of the Nigeria Customs Service (NCS) has collected a total of One Billion, Two Hundred and Eighty-One Million, Thirty-Four Thousand and Forty-Two Naira, Eighty Kobo (N 1, 281, 034, 042. 80) for the month of July 2019.
The Customs Area Controller of the command, Comptroller Michael Agbara who made this known in a press briefing at Idiroko on Thursday hinted that the command surpassed its monthly target of Six Hundred and Forty-Three Million, Four Hundred and Seventy-One Thousand, Seven Hundred and Sixty-Three Naira, Ninety-Nine Kobo (N 643, 471, 763.99) with the excess sum of Six Hundred and Thirty-Seven Million, Five Hundred and Sixty-Two Thousand, Two Hundred and Seventy-Eight Naira, Eighty-One Kobo (N637, 562, 278.81) representing 99.08%.
Agbara observed that the revenue collection for the month under review indicated an increase of Eighty-Four Million, Eight Hundred and Eighty-Seven Thousand, Two Hundred and Seven Naira, Twenty Kobo (N84, 887, 207.20) above the total collection of One Billion, One Hundred and Ninety-Six Million, One Hundred and Forty-Six Thousand, Eight Hundred and Thirty-Five Naira, Sixty Kobo (N1, 196, 146, 835.60) in June 2019.
He added that in the area of anti-smuggling, the command during the period made a total of One Hundred and Two (102) seizures comprising of 7, 848 bags of foreign parboiled rice (50 kg each), 23 units of vehicles (7 used vehicles and16 means of conveyance), 32 kegs of vegetable oil (25liters each), 201pairs of used tyres, 3 sacks of used foot wears, 320 bags of sugar (50kg each), 4 bales and 1 sack of secondhand clothing and 200 kegs of PMS (Petrol) of 25 litres each, even as he put the total Duty Paid Value (DPV) of the items at One Hundred and Thirty-Seven Million, Nine Hundred and Fifty Thousand, Eighty-Two Naira (N137, 950, 082.00).
According to the CAC," The seizure of over 7, 848 bags of rice (50kg each) in the month of July, 2019 is indeed a landmark among numerous successes recorded by the command. This is evidently a patriotic duty by the Service to fully align with one of the cardinal federal government policies targeted at boosting agricultural development with a view to attaining national food self-sufficiency."
Photo 1: Some of vandalized official patrol vehicles of Customs at Ashipa forest on 22nd September, 2017.
Send your news, press releases/articles to augustinenwadinamuo@yahoo.com. Also, follow us on Twitter @ptreporters and on Facebook on facebook.com/primetimereporters or call the editor on 07030661526, 08053908817.