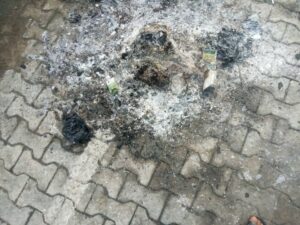 The National Secretary of the Association of the Nigerian Licensed Customs Agents (ANLCA), Alhaji Abdulazeez Babatunde Mukaila has said that he was the target of the hoodlums who invaded the national secretariat of the foremost freight forwarding association yesterday.
Speaking in an interview with our correspondent at the ANLCA national secretariat in Lagos on Tuesday, Mukaila disclosed that he resumed work early yesterday at the secretariat but had to step out to get some certain things and was returning to the secretariat when he got information that the secretariat was under attack.
According to him, "I went straight to Police station to mobilize the Police to come in. Then we met everywhere vandalized. They forced opened my door, that door can't lock again, take the router. My table is as busy as ever, they packed everything on this table, every document on the drawer, even the SARS letter that I am using to prepare our defence, they burnt it.
"In fact, I am the target because they didn't go to any other office, they came for me. You can see damages. I have about N2 million in my drawer, they burst this (drawer) open; they took this (assistant) guy's phone because he was with me earlier in the day. I was given him a brief of what to do at that time. Even the security man at the gate, they took his phone, then broke the glasses, the CCTV cameras were taken so that they will not be unmasked. They took our internet Router, even some of the drinks I have in the freezer, they took all and were just drinking outside.
"Then the Police came in here, they started running, all of them but we were able to apprehend nine of them. Then at a point, the Police saw a Vanagon bus parked down the road, they went in there and burst it open, arrest the guys inside and came down with sack containing five guns, I think one AK 47, two pump Action, a pistol. Then, they picked about five of them within this compound, arrest those guys in the bus and took everybody to the station."
Asked whether he was suspecting anybody or group of persons, he said, "I wouldn't suspect anybody beside that they came and one of them is a known figure, he is the National Treasure of O'dua logistics, he led them and he has been apprehended and they came with the BOT Advertorial, that they were here to enforce that order that we should leave.
On whether he suspect any of the secretariat staff as being part of the plot, the National Secretary said, "I wouldn't know because they came in here, they know I am here alone as at that time they were coming, if I did not just step out to get something at Shoprite, somebody that came with charms, guns and dagger, they would have killed me and then escape. It would have been nobody; they don't know who did it."
On the plans to secure the secretariat going forward, he stated, "We never know this will get to this level because we have Police protection approved by the IGP presently for five Policemen but we felt we are trade professionals, are we sharing money here? If you lose election, you wait for another four years, we are almost there, then you bring a better argument and give the members not taking laws into your own hands.
"So, we now know that they meant to kill and murder, we are going to beef up security here. We need to be careful because this has gone beyond association politics; it is now about life and death."
He however enjoined the masterminds of the attack to be civil in their professional association advising that "if you have grievances which you cannot rule out, there are laid down protocols and maybe they don't want to use ANLCA protocols, they should go to court, they shouldn't take laws into their own hands.
"If they felt the order subsists which we know does not after fourteen days, they should have gone back to the same court and ask for the court to enforce its order or file for contempt of the court. So, if you now fail to do all that and you are showing your face openly with ammunitions, I don't know what this is all about."
Photo 1: The remains of the vandalized key and CCTV Camera burnt by the hoodlums during the attack.
Photo 2: The remains of the burnt documents from the National Secretary's office during the attack yesterday.
Send your news, press releases/articles to augustinenwadinamuo@yahoo.com. Also, follow us on Twitter @ptreporters and on Facebook on facebook.com/primetimereporters or call the editor on 07030661526, 08053908817.