The Association of Nigerian Licensed Customs Agents (ANLCA), Tincan Island port chapter, yesterday visited the Commissioner of Police, Maritime Police Command, CP Anderson Bankole at the Force Headquarters Annex in Lagos where it lamented the huge demurrage members pay on cargoes at the seaports while awaiting the outcome of Police investigation on blocked cargoes.
The Chairman of ANLCA, Tincan Island port chapter, Mr. Ojo Peter Akintoye who led the delegation on the visit, in his speech, stated that although the officers at the command always expedite action in working on the documents and in most cases may conclude their investigations in record time, but dispatch of the release order always pose a problem as it may take a day or two to be delivered to the appropriate quarters for release to be effected.
Akintoye said," We want to ask that in the area of cargo clearance where we have this Police blocking of cargo, we can't stop the Police from investigating, nobody has that power, but the only challenge that we are having is whenever we are here for cargo clearance, after checking the documents in the office of Oga Ishaku and others, it does not take 20 to 30 minutes to do their job but we are having a problem in dispatch.
"Oga Ishaku can treat a document today and before it gets to where the alert will be removed from the system, it can take two days or 24 hours and the danger is this, we will be enriching the shipping and terminal operators because they will not say because we are having issue with the Police, they won't charge their demurrage. Many times I intervene by calling Oga Ovat and said, this one, there is nothing there, let them go and he will check and say truly, that he can recommend.
"What we normally see is that the Police will select the suspicious cargo but these days, we discover that all containers are suspect.
"So, we want to use this opportunity also to present that to you and see how you can be of help to us. There was a time I suggested that we wouldn't mind if any department from your office, after treating a job, can send signal to any of your offices closer to the port directing the release of the cargo if nothing incriminating was found in the container and the release can be effected within a short period of time.
"We want to see how you can help us and how we can also help you. The people that are bringing guns into this country are not spirit, they are human and without your investigation, there is no how you will know them. Those that are bringing in hard drugs, they are not spirit, they are human, so, we cannot stop your investigation, we cannot stop you from doing your lawful duty. But for those that have genuine reason, there was one that happened recently, he has a letter of exception, it is a general cargo that has a letter of exception and he was blocked by the Police, he came and presented all his documents and he said that they were asking him why he must get a letter of exception."
He equally begged the CP to use his good office to bring to a halt Police operatives from other Police formations outside the Maritime Police command who equally block cargoes and go on endless investigations even when they were aware that maritime did not fall within their area of operation adding that such development if allowed persist would end up frustrating legitimate trade and in turn impact negatively on the economy.
Responding, the Commissioner of Police, Maritime Police Command, CP Anderson Bankole stated that the meeting was good as those in charge of units in the command were at the meeting were hearing what they were saying.
He however clarified that he doesn't sign letter of blockage but his officers do even as he explained that his officers don't need to get permission from him before they sign blocking order.
His words, "I don't sign letter of blockage, it is my officers that sign it and they don't even need to get in touch with me before they sign. I don't even see some of it at all. But it is good you are here now, you are now saying it in the presence of the officers that are concerned so that they will be able to hear from you."
CP Bankole noted that some of the blocking of cargo doesn't come from only his department as some other Police formations were also doing it adding that they have been trying to curtail it by telling them not to do that.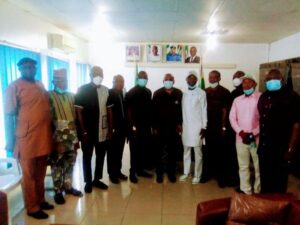 "I will give you an example, there is this case we are handling here about someone using forged document to clear some containers and when he cleared those containers, the owner did not know, he was still holding tight to the original documents thinking the containers are still in the port. So, we are investigating the case, we are trying to pick up the suspect, the suspect ran down to Alagbon to report at Alagbon and they sent a message that I should transfer a case of threat to life or something like that. I just told them that they should just KIV (Keep In View) the signal; that they should go and look for the suspect. But I immediately called the AIG at Alagbon and asked if he had a document that said that any case about maritime should not be investigated by any other Police formation. Fortunately enough, the AIG at Alagbon happens to be someone very close to me, so, I only told him on the phone.
"So, what I am trying to say in a nutshell is that some of these things also come from other Police formations which we are trying to manage. That is why this Western ports Police command don't even allow anybody from other Police formations. If they come to Western port to come and make an entry that they want to come and investigate something, he will send them away and he will write to the formation that if you have your case and it is a maritime related case, send that person to me or you send the person to maritime department for the AIG to investigate", he explained.
He however detailed an officer to send letters to all shipping companies and copy ANLCA informing them not to honour cargo blocking order from any police formation outside the Maritime Police command any longer as they would be doing that at their own risk.
On delay arising from dispatch of release order, the CP said, "Yes I agree with you, the delay in clearing containers means you are actually enriching the shipping and terminal operators. But on our own side here, I think we have only one dispatch, that is the problem but what we are going to do after you must have left, I will call all my officers and fine tune a way so that we don't need to send a dispatch to that place. Everything has gone digital, you only need to send a message through the WhatsApp; maybe we type something for them, snap it and send it immediately.
"So, what we are going to do is that we have to get in touch with the releasing officer from there. One officer has to be in charge, so that immediately he gets anything, he clears everything. Sending a dispatch is a different thing entirely but on urgent issue because the consignee will be paying more if his cargo is delayed especially if it is very close to weekend. So, we are going to have a way of doing that from today."
Photo 1: (L-R): Vice Chairman, ANLCA, Tincan Island port chapter, Mr. Sonniel Onochie, Commissioner of Police, Maritime, CP Anderson Bankole and the Chairman, ANLCA, Tincan Island chapter, Mr. Ojo Peter Akintoye during the visit at the Force Headquarters Annex, Lagos yesterday.
Photo: The ANLCA Tincan Island port chapter Executives in a group photograph with the Commissioner of Police, Maritime, CP Anderson Bankole (middle) during the visit yesterday.
Send your news, press releases/articles to augustinenwadinamuo@yahoo.com. Also, follow us on Twitter @ptreporters and on Facebook on facebook.com/primetimereporters or call the editor on 07030661526, 08053908817.