… Asks importers to reject jacked-up duty
… Customs don't fix duty rate, says Attah
The Association of Nigeria Licensed Customs Agents (ANLCA) has flayed the Nigeria Customs Service (NCS) over what it called the "arbitrary increase" in the duty rate for the purpose of generating the Pre-Arrival Assessment Report (PAAR) for import into the country.
The National Vice President of ANLCA, Dr. Kayode Farinto who expressed his sadness over this development in a news briefing in Lagos on Friday said that the Service had jacked up the duty rate in the last 24 hours (Thursday) without prior notice to the trading community.
"We need to alert our trading community in view of the happenings in the last 24 hours. I wish to advise and inform Nigerian traders and customs brokers not to succumb to the Nigeria Customs Service arbitrary increase on the Pre-Arrival Assessment Report (PAAR) in the last 24 hours.
"Information reaching my table indicates that the new Controller, I think he is an Acting Controller in-charge of PAAR ruling centre has directed that henceforth 1×20 footer container be jacked up to N1 million while 1×40 footer container be jacked up to N2 million as basic and this effort is in desperation on the part of the Nigeria Customs Service management to meet up with their self-imposed target irrespective of whatever you are carrying and this negates the various principles that we have.
"It is going to affect our economy adversely particularly the final consumer because that is where these goods are going to and should this continue, remember I told you about one or two weeks ago that the economy of this country is in comatose. The very few importers who have been very patriotic in bringing containers into this country should not be arm-twisted or killed by way of slamming illegal and arbitrary jacked up duty on them.
"The effort of customs in the last 24 hours by issuing this kind of arbitrary jacked up duty on Pre-Arrival Assessment Report negates the Act 20 of 2003 which is a domesticated law in Nigeria. This is under the general agreement on tariff and trade, we call it Article 7. There are six principles for which we can arrive at a value. If you are querying my transactional value, there are other six principles which must be followed sequentially.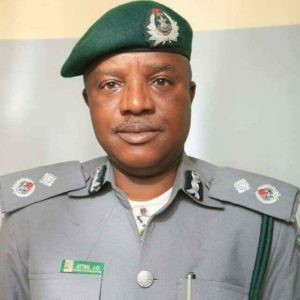 "But where a customs service management is resorting to using market value just desperately to make sure that they meet up with their target, I think this will not help the economy of this country. So, we have responsibility as customs licensed brokers and leaders in the industry to raise this issue so that the Federal Ministry of Finance has a role to play here. Something needs to be done urgently", he said.
While noting that he was speaking on behalf of the licensed customs agents and association, he added that "this night I received a lot of complains. As I talk to you now, I receive a lot of Fax and Telex messages from our Eastern and Northern brothers where it has been confirmed that this particular Acting Controller is slamming illegitimate and arbitrary jacked up duty on the new Pre-Arrival Assessment Report issued in the last 24 hours and one will begin to wonder why this is happening."
"If you look at the PAAR ruling centre vividly, there is a particular department that has to do with the issue of value and classification, if all these things are no more being followed, it only means that our customs is not operating as professional customs and it is our responsibility because by the virtue of our position as attorney, it is our responsibility to defend our importers and the shippers in Nigeria so that they are not being arm-twisted, they are not being exploited and if this is not done, you and I should know that it has spiral effect on the economy of this nation", he further said.
He therefore, advised the licensed customs agents and the importers to write a protest letter through their bank to Nigeria Customs Service whenever they discover that their duty rate as reflected in the PAAR was arbitrarily generated.
"If nothing is done, I want to encourage the Nigerians importers now to go for what is called interpretation of Valuation Act 20 of 2003. Let us begin to subject some of our laws to legal interpretation. It is because we resorted to saying that God dey, God will take control; that is why we have a customs that is behaving and can continue to slam illegitimate duty and arm-twist Nigerian importers at will.
"Nigerian importers should begin to challenge some of these laws. If you are given an arbitrary Pre-Arrival Assessment Report and you write your protest letter through your bank and it is not reviewed, please take the Nigeria Customs Service to court and if this act continues, we will not hesitate to call out our customs brokers and we will withdraw our services because this has gotten to the level that it is becoming unbearable", he stated.
However, in a swift response, the Custom Public Relations Officer, Joseph Attah told our correspondent in a telephone interview that the Nigeria Customs Service (NCS) don't fix duty rates adding that whoever was saying that knew that those things were fixed.
According to him, "We have the Common External Tariff that we use. It is not something we wake up and fix.
"More importantly, we don't value the container; we value the content – what the container is carrying. The idea of somebody saying they are jacking 1×20 feet container, then, what is even N1 million? Is it not what is inside that determines what it should be? So, we don't value container, we value what the container is carrying and what container is carrying varies from one container to the other. So, the value is a function of what you are carrying.
"So, people should stop misleading other stakeholders or inciting the public and it is as if when you attack customs is what shows your relevance in the industry even if what you are saying is wrong. It is unfortunate. If anybody has any issue, you come out with it clearly so that it will be addressed and not to make it look like the only way to show relevance in the industry is to appear to be attacking customs, that is when you show relevance that you are fighting for people."
Photo 1: Dr. Kayode Farinto, National Vice President, ANLCA.
Photo 2: Comptroller Joseph Attah, Customs Public Relations Officer.
Send your news, press releases/articles to augustinenwadinamuo@yahoo.com. Also, follow us on Twitter @ptreporters and on Facebook on facebook.com/primetimereporters or call the editor on 07030661526, 08053908817.