… As NPA seeks actionable ideas, logistics partnerships to advance ports
The Nigerian Shippers' Council (NSC) has underscored the imperative for Nigeria to provide a strong maritime logistics platform that will propel Nigeria's participation in the African Continental Free Trade Area (AfCFTA).
The Executive Secretary/Chief Executive Officer, NSC, Hon. Emmanuel Jime who made the assertion in an address at the just concluded Nigeria International Maritime Summit (NIMS) with the theme, "Becoming A Significant Maritime Nation", held in Lagos between 5th and 6th October, 2021 noted that with the current potentials of combined Gross Domestic Product (GDP) of 2.6 trillion, a population of 1.2 billion and 55 participating countries, there was no gainsaying that AfCFTA, if well implemented, would lead to a number of developed prospects.
Jime opined that the continental trade portends a positive outlook for Nigeria particularly adding that "we all knows that Nigeria's population is estimated as at today to be about 200 million, it is the 7th largest in the world, 60 percent of which constitute the youths of our nation."
He went on to explain that Nigeria, as at today was the 20th world largest trade in volume saying, "For these reasons and others, I believe that this summit, again, I repeat, was timely structured."
"It is therefore, imperative for Nigeria to provide a strong maritime logistics platform that will propel Nigeria's participation in the continental trade. On our part, the Nigerian Shippers' Council as a member of the National Action Committee on AfCFTA is partnering with the coordinators of this summit and it is also partnering with the coordinators of the AfCFTA transportation sector to create the desire awareness among stakeholders. Together, with the coordinator of transportation sector, the Shippers' Council has organized series of enlightenment seminars to articulate implementation strategy for the maritime sector.
"I am here now to announce that in order to support the activities of the transportation sector of AfCFTA, the Shippers' Council has donated an office space in our head office here in Lagos as Secretariat. It is my expectation, ladies and gentlemen that this maritime summit will afford us another opportunity to find solutions to most important issues hindering growth of the maritime industry and support efforts of government at unlocking and harnessing the potentials of the industry", he added.
He expressed the hope that the rallying together of the industry professionals and stakeholders in the sector to discuss and generate ideas would improve maritime trade as well as create a logistics platform to drive AfCFTA adding that that was why he had offered the opinion that the summit was timely.
"So, clearly, I believe that this summit today will address us and give us direction as to how AfCFTA, when well implemented, will spur economic growth and prosperity. It will also help to reduce poverty and to boost job creation as well. It will eliminate trade barriers, obviously, it will also facilitate movement of made in Africa goods, movement of persons and also engender investment creation.
"As we all know, trade generally, ladies and gentlemen has been a factor for economic, social and political integration of Africa and its countries for over many decades indeed. I am sure most of us who are students of history will remember and I am sure with nostalgia, the trans-Saharan trade. This was a function of trade bringing together African nations in the years gone by.
On what the summit intends to achieve, the NSC boss said, "The summit will also look at the critical issues such as unending gridlock on port access roads, lack of scanners at the ports and the borders as well and finally, also now address the issue of the Single Window, the checkpoints on major trade corridors and of course, resistance to regulation and offering practical solutions to address these identified challenges.
"I am confident that the arrays of resource persons assembled here will come up with practical suggestions that will eradicate most obstacles to trade and re-institute Nigeria as maritime hub for AfCFTA. I also will like to enjoin all of us to use the opportunity provided by the summit to enhance our knowledge of the issues being discussed, contribute positively towards enriching deliberations.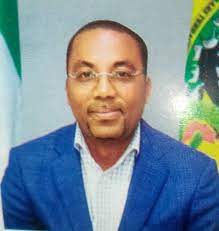 Also speaking, the Acting Managing Director of the Nigerian Ports Authority (NPA), Mr. Mohammed Bello-Koko stated that the theme of the summit, "Becoming a Significant Maritime Nation", was also very much in tandem with the recently crafted audacious vision of NPA which was to be the maritime logistics hub for sustainable port services in Africa which, according to him, "arose out of our reasons and growth, competitiveness and future index of the Nigerian ports rest heavily on how well we are able to deploy our littoral assets not just to the service of our large domestic market but also to address the need of the region especially with the landlocked countries with whom we share borders."
Represented by the Executive Director, Marine and Operations, NPA, Mr. Onari Brown, the acting Managing Director stated that "We at the Nigerian Ports Authority are greatly delighted and honoured to be part of this noble initiatives and meeting of minds aimed at creating a strategic pool for the actualization of maritime excellence in Nigeria. Coming at a time when there is a pressing need to convert the comparative advantages that our maritime endowments confer on potentials to happen, this summit is indeed timely."
Koko hinted that given the urgency with which the new vistas of opportunity of the African Continental Free Trade Area beckoned, the Authority was eager for the actionable ideas and some logistics partnerships that the summit promises to deliver.
He said, "The promotion of the African Union agenda of well interconnected and integrated networks for transport infrastructure will boost opening of markets and increase intra-regional trade coincides to complement our ongoing aggressive efforts at attaining seamless port hinterland connectivity through multi-modalism.
"On this note, distinguished ladies and gentlemen, let me commend this initiative and assure stakeholders of the unwavering commitment of the management of the Nigerian Ports Authority under my watch, to breathe life into every idea that advances the fortune of our ports and positions us for regional and indeed, global competitiveness."
Photo 1: Hon. Emmanuel Jime, Executive Secretary/CEO, Nigerian Shippers' Council (NSC).
Photo 2: Mohammed Bello-Koko, Acting Managing Director, Nigerian Ports Authority (NPA).
Send your news, press releases/articles to augustinenwadinamuo@yahoo.com. Also, follow us on Twitter @ptreporters and on Facebook on facebook.com/primetimereporters or call the editor on 07030661526, 08053908817.