As part of her efforts to inspire millions of African youths to be agents of change, the 3D African Youth Organization has recognized the efforts of Africans, especially young Africans in building a better society.
Innocent Eneta, the President of African Peace and Conflict Management Foundation (APACMF), was recently honoured with the prestigious Africa Youth Icon award for his contribution to the society.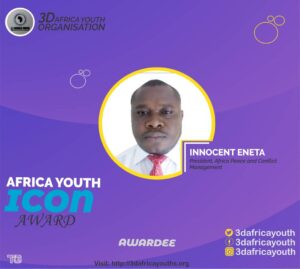 Eneta who is also the publisher of Daily Global Newspaper Lagos was honoured alongside other high profile delegates across Africa including Nigerians, South Africans, Kenyan, Ghanian, Cameroonian among others
The Executive Director, 3D African Youth Organization, Mr. Olalekan Adeola Odusanya said that the award is quite important and timely as more young people needs to be motivated to impact their community.
"The purposes of the award are clear. A major one is the fact that we want to motivate many young people to become committed in helping to transform the continent. We know this award achieve that.
"We believe that if young people are celebrated like this, it serves as an inspiration to others. Getting more youths involved will make development fast", Odusanya said.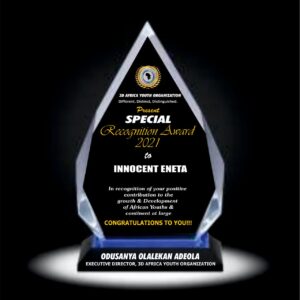 The Africa Youth Icon award is an initiative aimed at recognizing Africans who are making efforts in building young people for a better continent.
The award recognizes individuals in leadership, business, corporate settings, the communities, religious bodies, social spaces and organizations helping to shape the future of Africa by investing in youth development, skill growth, capacity building, advocacy and in diverse ways.
Photo: Mr. Innocent Eneta, President, African Peace and Conflict Management Foundation and Publisher, Daily Global Newspaper, Lagos.
Send your news, press releases/articles to augustinenwadinamuo@yahoo.com. Also, follow us on Twitter @ptreporters and on Facebook on facebook.com/primetimereporters or call the editor on 07030661526, 08053908817.