… As LASWA, Future Cities Nigeria hold waterways investment summit  
The Lagos state waterways Authority (LASWA) in collaboration with Future Cities Nigeria (FCN) Water Transport Program has successfully organized the first-ever waterways investment summit.
The event themed, "Lagos Water Transportation – Transformation and Investment Opportunities", was held on Wednesday at the Wheatbaker Hotel Ikoyi. It had in attendance, captains of industry, representatives of the British Government, local and international business leaders, top government functionaries, investors and stakeholders in the maritime industry.
The event, which is part of LASWA's effort at making water transport an attractive mode of transportation in Lagos state was put together to discuss business and investment opportunities for private entities on the Lagos inland waterways.
Diverse, focused sessions were had, including waterways legal framework, improving boat building capacity, financing licensed operators, safety and security on the waterways and other extensive deliberations on improving operations and the viability of the waterways sector.
Speaking at the event, the Lagos State Governor, Mr. Babajide Olusola Sanwo-Olu said that the summit could not have come at a better time than now adding that Lagos was Nigeria's tiniest state, yet it was its most populous and the engine-room of its business and commercial activities, housing headquarters of many giants in the financial and industrial sectors.
Sanwo-Olu noted that Lagos was 1,171 square kilometres of Nigeria's land mass, saying that of this, 40% was water with lagoons and creeks covering 22% hence the reason his administration cannot ignore water transportation.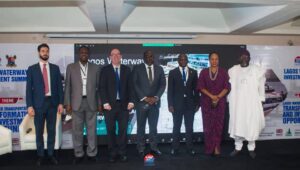 The Governor who was represented at the event by Mr. Ope George, the Special Adviser, Office of Public-Private Partnership, Lagos State Government, observed that with a population of over 22 million and most of this commuting by road every day, there was so much pressure on the roads noting that there were over five million cars and 200,000 commercial vehicles on the road every day.
According to him, "The national average is 11 vehicles per kilometre. Lagos crashes the scale at 227 vehicles per kilometre daily. This is why our Administration is aggressively pushing the development of other modes of transportation than road for a successful establishment of a multi-modal system that befits a growing sub-national and megacity, such as ours. Our Rail projects – the Blue Line and the Red Line – are on track and we are hopeful that by the end of 2022 we will have a test-run as a prelude to moving millions of passengers daily.
"The Waterways, our focus at this Summit, have witnessed major infrastructural upgrades and establishment of several safety systems. In terms of infrastructural upgrades, 16 jetties and terminals have been upgraded/constructed, there are 21 ferries operating on the waterways and several priority waterways routes have been channelized.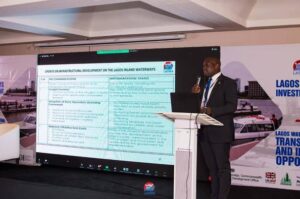 "Regarding safety jystems, we have expanded the Water Guard Corps to adequately monitor the Jetties/terminals, and an Inland Waterways Control Room has been set up to monitor waterways activities and gather data. This control room will be the first of its kind in West Africa. There is also the upgrade of the Search and Rescue Units to respond to emergencies and accidents, just to mention a few of what we have been doing in this sector.
"These interventions, we believe, will further boost the enabling environment for investments by the private sector."
While pointing out that on Lagos waterways laid great potentials for private sector investment, the Governor affirmed that "That the Lagos State Ferry Service (LAGFERRY) ferried members of our national soccer team, the Super Eagles to Porto Novo on March 26, 2021 bears a bold testimony to this vast potential."
"It was an opportunity for our compatriots and those interested in investing in our waterways to see the huge opportunities of the sector. The players saw the alluring beauty of our country and countryside as well as the majesty of nature – such a seductive spectacle that only the waterways could have exhibited.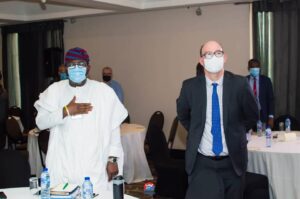 "At this Summit, you will be presented with the Business Case for Private Sector Participation, Regulatory Framework, Innovative ways of Financing Ferry Operations amongst other related Topics/Subject Matters. I am very sure that at the end of it all, you will be well informed and ready to exploit the various waterways opportunities available for investment", he added.
Other speakers at the event include the representative of the Honorable Commissioner, Ministry of Waterfront and Infrastructure Development, Mrs. Solape Hammond; Special Adviser on the Sustainable Development Goals (SDGs) and Investments to the Governor of Lagos State; Chairman, House Committee on Transportation, Honorable Temitope Adewale; British Deputy High Commissioner in Lagos, Ben Llewellyn-Jones; Future Cities Nigeria (FCN) Team Lead, Mr. Kayode Khalidson; the Managing Director, National Inland Waterways Authority (NIWA), Chief George Moghalu; the General Manager, Lagos State Waterways Authority, Mr. Oluwadamilola Emmanuel; representatives from the Netherlands Embassy and French embassy among other notable speakers.
Send your news, press releases/articles to augustinenwadinamuo@yahoo.com. Also, follow us on Twitter @ptreporters and on Facebook on facebook.com/primetimereporters or call the editor on 07030661526, 08053908817.