…Commends Troops of 3 Brigade
The Chief of Army Staff (COAS) Lt. Gen. Farouk Yahaya has commissioned multiple projects in Janguza Barracks, Kano.
The newly completed projects, which include 72 units of Corporals and Below Quarters (CBQ), 30 units of Single Officers' Quarters (SOQ) and 5 blocks of Company Offices and training shades were officially inaugurated yesterday during COAS' maiden working tour of 3 Brigade area of responsibility.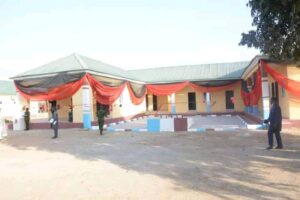 Speaking during the commissioning ceremony, General Yahaya stated that the visit is in tandem with his command philosophy to enable him interact with troops and obtain first hand information that will enhance his command and administration of the Nigerian Army (NA).
Gen. Yahaya disclosed that the dearth of personnel accommodation in the NA is receiving adequate and prompt attention with the construction of befitting accomodations across formations and units of the NA adding that the welfare of personnel is paramount to his command.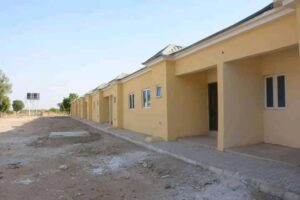 During the working tour, the Commander 3 Brigade, Brigadier General Sinyinah Nicodemus gave the COAS a brief on the operational engagements and security situation in the Brigade's area of responsibility.
The COAS in his appraisal commended troops of the Brigade for discharging their duties with diligence.
The COAS was accompanied during the visit by principal staff officers from Army Headquarters and the General Officer Commanding 1 Division Nigerian Army, Major General Kabiru Muhktar.
Photo 1: Lt. Gen. Farouk Yahaya commissioning one of the completed projects in Janguza Barracks in Kano yesterday.
Photo 2 & 3: Some of the newly completed projects commissioned by the Chief of Army Staff, Lt. Gen. Farouk Yahaya in Janguza Barracks, Kano yesterday.
Send your news, press releases/articles to augustinenwadinamuo@yahoo.com. Also, follow us on Twitter @ptreporters and on Facebook on facebook.com/primetimereporters or call the editor on 07030661526, 08053908817.