… As MNJTF Commander hails troops galantry
Troops of the Multinational Joint Task Force (MNJTF) operating in the shores of Lake Chad had on Tuesday announced the interception of many bicycles near the borders of Sambisa Forest.
About 21 newly purchased bicycles were among the items recovered from a convoy of the terrorists' vehicles that came in unfortunate contact with the ferocious troops of MNJTF at Vretet-Zamga-Ngoshe triangle in the general area of Kirawa on the Nigeria/Cameroon borders.
Security analysts believe the increased purchase of bicycles by the ISWAP faction of Boko Haram may be idealised to achieve two strategic reasons – to save fuel and to enable them to move silently without attracting attention.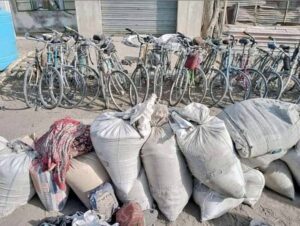 According to the Chief of Military Public Information of the MNJTF, Colonel Mohammed Dole, a large cache of munitions were also recovered by the gallant troops of Sector 1 MNJTF who operated between February 23 and 27, 2022.
Colonel Dole said "Several BHT/ISWAP insurgents were neutralised and many fled with gun shot wounds."
"During the operation, large quantity of materials and assorted food stuff were recovered. The items include 01 AK47 rifle, 01 AK47 Magazine, several ammunitions of the 7.62 MM special variant, 21 bicycles, 01 BHT uniform, 39 bags millet and 02 bags of beans," he said.
He said base on some analysed intelligence, the military realised that the items were being smuggled from the borders to sambisa forest.
"It is believed that the terrorists are stockpiling materials for the incoming month of Ramadan. Further exploitation of the engagement areas showed traces of blood, evidence of BHT/ISWAP criminals removed corpses of their dead colleagues while 2 corpses of Boko Haram criminals were discovered.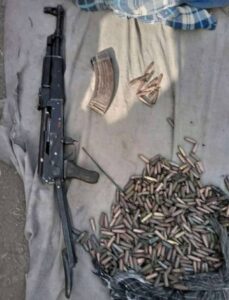 "The Force Commander (FC) MNJTF, Major General Abdul Khalifah Ibrahim has sent his personal commendation to the Commander, Sector 1 with headquarters (HQs) in Mora (Cameroon), Brigadier General Bouba Dobekreo," Colonel Dole said.
The FC praised the display of courage and gallantry by the troops as they continue to conduct special operations to combat the insurgents. He urged them to remain committed, bold and unpredictable and to continue to dominate the area to ensure that BHT/ISWAP terrorists are cut off from any logistics resupply.
General Ibrahim assured that HQs MNJTF would make concerted efforts to ensure that all the sectors get the equipment that was allotted to them recently.
A dependable informant on Boko Haram moves and activities around Lake Chad informed that inclusion of bicycles "and not motorcycles" may not be unconnected with present fuel crisis hitting the country.
"We must realise that even the Boko Haram are being affected by the current economic downturn in the country, coupled with the ongoing fuel scarcity", he said.
Photo: A cross section of the bicycles and ammunition intercepted by MNJTF near the borders of Sambisa Forest.
Send your news, press releases/articles to augustinenwadinamuo@yahoo.com. Also, follow us on Twitter @ptreporters and on Facebook on facebook.com/primetimereporters or call the editor on 07030661526, 08053908817.