… As Farinto vows not to blame any association for ANLCA's poor outing
Following the sterling performance of the National Association of Government Approved Freight Forwarders (NAGAFF) in the just concluded Council for the Regulation of Freight Forwarding in Nigeria (CRFFN) Governing Council election, the National President of the association, Chief Tochukwu Ezisi and the National Coordinator, NAGAFF 100% Compliance Team, Alhaji Ibrahim Tanko has taunted the leadership of the four accredited associations for rejecting the sharing formula proposed earlier by NAGAFF as the best option for the election.
Ezisi who was reacting to the outcome of the election at the Command Guest House, Apapa, Lagos on Wednesday, however, his victory and that of other members of NAGAFF was for God and then for the association.
He opined that with the outcome of the election, NAGAFF has proven that it could do it.
According to him, "When we were agitating for 6:6:1:1:1, it was not for NAGAFF, left for NAGAFF, we will take the fifteen. We were begging for six before, now we have seven. Under the 6:6:1:1;1 arrangement, NAGAFF was supposed to have six but here now, we have seven – four from Western Zone, three from the Airport and Land Border. NAGAFF has the capacity. What we are trying to do is to carry everybody along.
"If we had started on time on this independent candidates, I will tell you that out of the fifteen (seats), NAGAFF will take the fifteen. We have what it takes to take the fifteen (seats) but then, no election has been 100 percent credible."
While acknowledging the fact that NAGAFF as an association tried in the election and that he succeeded, he, however, insisted that there were a whole lot of irregularities even to a point that somebody was caught inside the room with printing machine printing ID cards for people to go and cast their votes.
"NAGAFF will eventually launch an official complain about that. But all the same, thanks be to God and thanks be to NAGAFF. The winning too is for the liberation of freight forwarders.
Asked what he would do differently on getting to the Council, he said, "When we get in there, my promise to the freight forwarders is that their voice will be heard and in the two years that we will be there, I will make sure there will be a turn around in the industry."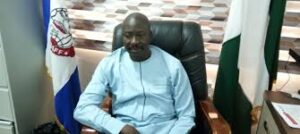 On his part, Alhaji Ibrahim Tanko stated that with the outcome of the election, it's time for people to understand the strength of NAGAFF and ANLCA saying, "you can see, ANLCA has five, (National) Council of Managing Directors had none, NAFFAC had none, it's only AREFFN that secured one seat."
"Maybe they can listen to us going forward. Election is a game of number and we have the number and I am happy that you people were there, you witnessed what happened.
"When we were trying to carry other associations along by proposing the 6:6:1:1:1, people started agitating and complaining that they don't want 6:6;1:1:1, let everybody go for the election. We were only trying to carry some people along but it's like people feel they have arrived and we said, let's go for the election. Now, I am very comfortable, I am happy, I am even expecting more. It's just that we lost one seat in the Eastern Ports in the name of Ken Okoro, if not, we could have been having nine seats.
Meanwhile, the National Vice President, Association of Nigeria Licensed Customs Agents (ANLCA), Dr. Kayode Farinto has said that he was never going to blame any association for the outcome of the election adding that Democracy was like a game that nobody can predict.
"Whether we like it or not, at times, the best candidate may not win. It depends on the voters and the voters have spoken and there's nothing anybody can do about that. So, the power lies with the voters and they have given the mandate to who they wanted to give it to.
"I only want to advise that there shouldn't be any bickering because that is the only thing that can affect the Council. If there's any internal bickering, it's actually not going to give us a sense of direction. It's going to distract our attention from the work. There are too many work to be done in the Council", he said.
Farinto, however, disclosed that the incoming Governing Council would be starting on a clean slate even as he insisted that the Council was meant for the freight forwarders and not a government agency.
According to him, "We noticed that it has been hijacked by the government. We must redirect the Council, it is our Council, it is to be expected to take care of the responsibility of the freight forwarders, it is expected to regulate the freight forwarders, it is expected to impact knowledge on freight forwarders but we noticed that it has been hijacked by the government so to say, all because of POF. So, we have to redirect the Council for the course for which it was established, that is, to empower agents, to make sure that we sanitize the industry and give them empowerment."
He admitted that the freight forwarders in the last Governing Council could not speak with one voice
because of association rivalry noting that "the first time we were in the Council, everybody was a greenhorn and we have no experience. Now that some of us are coming back, you should expect cooperative work and more understanding."
Speaking on the process that produced the winners in the election, he said, "there has never been any perfect election anywhere in the whole world. I give kudos to the umpire, they have tried their best even though it's not good enough.
"This Council that is coming onboard will lay a better foundation for succession. There must be an understanding. If you look at what is happening now, the Ministry of Transportation actually hijacked the whole of the election and conducted this election. It is not supposed to be so. We have a Council, the Council is powerful that there are too many laws that empowered the Council to do a lot of things. The Council has the power to set up Tribunal but it was not put in place.
"So, this new Council that is coming onboard will put a lot of things in place so that in the next election, there will be more sanity because there are so many issues in this election. However, I still give the umpire kudos, they tried their best."
Photo 1: Dr. Kayode Farinto, National Vice President, ANLCA.
Photo 2: Alhaji Ibrahim Tanko, National Coordinator, NAGAFF 100% Compliance Team.
Send your news, press releases/articles to augustinenwadinamuo@yahoo.com. Also, follow us on Twitter @ptreporters and on Facebook on facebook.com/primetimereporters or call the editor on 07030661526, 08053908817.