… Commences volunteered presidential campaign
The Nigerian Youth and Diaspora Forum for Bola Ahmed Tinubu (NYD4BAT), a volunteer political movement comprising of young professionals both within and outside the country has congratulated the National Leader of the All Progressives Congress (APC), Asiwaju Bola Ahmed Bola Tinubu as his clocks 70.
The group with Adeniyi Sanusi, a Romanian base Nigerian as the Chairman Diaspora chapter and Tito Philips Jnr., the Chairman of the Nigerian Chapter said beyond congratulating the APC leader, it has set up machinery in motion with strategic virtual meeting fixed for April 16 to galvanize support for Tinubu's presidential ambition.
The strategic communication campaign of the NYD4BAT is to be defined by concepts backed by research based on issues and not propaganda nor politics with bitterness.
According to the Media Director of NYD4BAT, Ajibola Abayomi, as contribution from the group, mobilization for Tinubu would be carried on verifiable impacts of the former governor to be relayed across the 36 states through multilayer engagements with strong backings from prominent Nigerians in Diaspora stating that the assignment was birthed with a unity of purpose for one presidential candidate for the good of all Nigerians.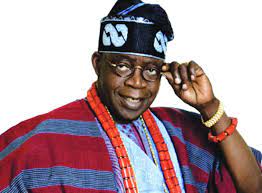 "In all our dealings, we shall relate with the public, the pull down syndrome being championed in some quarters. Already, we have a 70- layer agenda on Tinubu that differentiates him from other contestants", the media director said.
NYD4BAT described the ex-Lagos governor as a political genus and a gift to humanity who has set enviable records on governance endearing him to the hearts of millions of Nigerians as the best presidential material to succeed President Muhammad Buhari.
"We celebrate a rare gem at 70 whose brand of politics is a complete dedication to humanity giving the impacts on millions of Nigeria as detribalized politicians without religion or primordial sentiments.
"Over the years, the APC leader as an outstanding public servant remains an advocate of good governance, we are proud of his belief in human capacity development with antecedent to fight poverty at all levels. As a governor in Lagos between 1999-2007, he set a world class example of systemic administration and unparalleled succession plan raising the state Internally Generated Revenue (IGR) from a paltry N600 million to over N450 billion today.
"We make bold to say that of all the aspirants, none is comparable to his political ideology. History will always be kind to him for his Midas touch that won the presidency for Buhari after three unsuccessful attempts. When many dismissed the mission as an unattainable goal, he kept faith with the struggle; the rest is history as many are now beneficiaries of that political sagacity even though some are now ingrates", he further stated.
NYD4BAT said that beyond the political rhetoric of some anti-Tinubu elements who are now embracing the reality, the Nigerian youths and others in the Diaspora in unison are ready to team up with the former governor to achieve his life time ambition to replace the usual excuses in government with outstanding performance to defeat poverty and strengthen leadership at all levels.
Send your news, press releases/articles to augustinenwadinamuo@yahoo.com. Also, follow us on Twitter @ptreporters and on Facebook on facebook.com/primetimereporters or call the editor on 07030661526, 08053908817.