… Threatens to sanction erring operators
The federal government has issued a two month ultimatum to terminal operators operating at the nation's seaports to integrate the collection of the Practitioners Operating Fee (POF) into their platforms or face sanctions.
The Permanent Secretary, Federal Ministry of Transportation, Dr. Magdalene Ajani who disclosed this while fielding questions from journalists shortly after a strategic ministerial meeting with stakeholders on the enforcement of POF in Lagos yesterday said that two months was generous enough for terminal operators to do what they need to do adding that they had "a gentleman agreement" to that effect.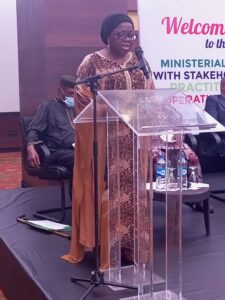 Ajani who informed that the Ministry had engaged terminal operators who had not either been fully compliant or non compliant with the collection of POF which, according to her, was precedent of exit of containers from the ports and they had a good engagement, explained that while some outrightly claimed that they didn't know, some admitted that they know and had integrated the fee into their system but were still trying to perfect the process.
She, however, disclosed that they had all given their gentleman agreement to go back and begin to collect the POF adding that they also agreed that within the next two months, all that should be resolved, the bank payment should be made and then, they continue on a regular basis to collect the money.
"Just to say that it is not the terminal operators that collect the money, it is the freight forwarders that have to pay and there is a platform which CRFFN has developed which doesn't take more than two minutes online to make that payment and all the terminal operators will see the receipt of the payment.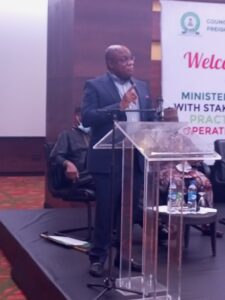 "So, this conversation is to say, please, help us to enforce this because Nigeria is losing revenue by the non collection of POF and we need to ensure that this is done and after two months, if it is not complied with, we will now begin to look at the sanctions. Fortunately, an arm of EFCC was here and they have said, this is a prelude even for them to get their SCOMO Certificate. So, if this is not done, they can't even open an account because they have to see from CRFFN end that the freight forwarders are compliant with this directive", she stated.
Asked why all the known terminal operators were in the habit of constantly abusing all government directives, the Permanent Secretary said, "I have told them in clear terms, you can't come to a country and choose the processes of engagement. You have rules in every country on how all businesses should run and they have to comply with that. We don't have any exemption for anybody, businesses have to be run based on the rules of Nigeria and that was clearly spelt out for them and I believe that going forward, the language and the message is very clear and we will come back.
"Like I said to them, our agreement is at the beginning of the third month, I would be asking for the compliance rate at least from CRFFN and I also clearly stated that if we find anybody not complying, then the sanctions will have to kick in.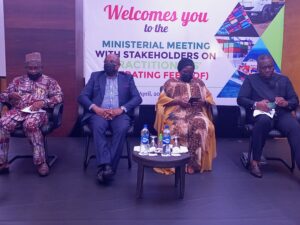 "I think two months is generous enough for people to do what they need to do and we have a gentleman agreement, I believe that they will do exactly what we have agreed to do so that we don't have to go on the other side of it and that is the sanctions because sanctions can be applied."
Earlier in her opening speech, Dr. Ajani reminded the stakeholders that the Council for the Regulation of Freight Forwarding in Nigeria was saddled with the responsibility of developing a comprehensive freight forwarding policy and promoting freight forwarding as a career as well as providing an enabling environment for freight forwarding business with a view to creating job opportunities for Nigerians.
She added that one of the key measures of enhancing the fortunes of freight forwarding in Nigeria is the implementation of the Practitioners Operating Fee that was designed to ensure sustainable funding of the freight forwarding venture in the country.
According to her, "It is relevant to know that integrating the POF will promote the global competitiveness and build capacity for effective participation in the African Continental Free Trade Area (AFCFTA) and in order for us to actualize the goals and objectives of the POF, a couple of things were put in place by the Council. The Council has put in place a robust electronic payment system for the collection of POF. This system is web based and therefore, it enables the freight forwarders to generate invoices for import and export, make payment for generated invoices and view comprehensive report of transaction on the Council portal.
"So, this will make it very transparent for everybody who has to pay this. The application also serves as a database for determining the number of cargoes coming in and out of the port and it is also designed in such a way that invoices can be generated through self services."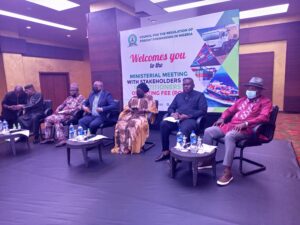 She noted that the CRFFN, in order to ensure successful implementation of the POF, entered into a Memorandum of Understanding with relevant stakeholders like the Seaports Terminal Operators Association of Nigeria (STOAN).
"However, from the report we have received in the Ministry, since the programme came onboard on the 24th of February, 2021, some terminal operators have failed to comply with this MoU and so, that leads to loss of revenue to Nigeria and the Ministry cannot keep silent at such loss of revenue.
"So, to address this issue, that is why we are here to listen to you to know why you have decided not to comply or partially complied so that we know what the challenges are. But it is pertinent for us to note that the job of the Ministry is to ensure that government policies are adhered to and where there is failure of adherence, you leave us with no choice but to look at the sanctions that could follow such disobedience to the policy implementation.
"It is important for us to know that the POF is a win-win for both the government and the practitioners with the promise of organized collective action against the numerous threats including intrusion and dominance of the space by people who shouldn't be there, near absence of local content participation in the oil and gas services and need to build capacity for effective participation in the AfCFTA regime.
"I want to plead with all of us, the stakeholders in particular and the leadership of the freight forwarding associations to sensitize your members with a view to ensuring full compliance with the POF regime and to also assure you that the Federal Ministry of Transportation will put in place sufficient guidelines to ensure that funds realized from the POF is devoted to professionalization and capacity building of the practitioners.
"Please, for those of you who are here, it's either you are partially complying or you are not complying at all because for those who are fully complying, we didn't invite them to this meeting. So, we want to hear from you why you are either partially or not compliant at all so that we understand what the challenges are.
"Like I have said to you, the solution is web based, it's something that can be done within two minutes in your location and I don't see it causing an additional stress on your operation if you integrate this platform into your own platform because from my interactions with you, you all keep telling me that your processes are digitized and so, if it is digitized, why are we not doing it?", the Permanent Secretary queried.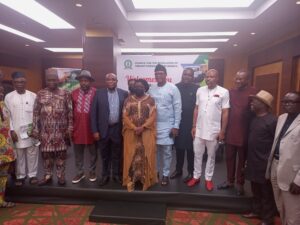 In his welcome address, the Registrar of CRFFN, Barr. Sam Nwakohu while observing that the Council in the performance of its responsibility as a regulatory agency has had some challenges in the enforcement of POF, however, insisted that the Council was determined to continue to address those challenges with a view to resolving them.
Nwakohu posited that the meeting offered him the opportunity to appreciate terminal operators that were already complying with the government directive on POF and were ensuring collection saying, "it is, however, apt to stress that there is need to deepen this as to ensure that there are no leakages."
He continued, "Permit me to seize this opportunity of this meeting to acknowledge those people who have taken it very seriously and are doing something. So, against this background, I am not singling out anybody but I just want the records to have it that I hereby acknowledge Ports and Cargo Multiservices Limited generally know as PTML for fully integrating its facilities with that of CRFFN to ensure a seamless and IT driven collection.
"Available record to us also showed that apart from PTML, three other terminal operators have fully complied. They are: ENL, TICT and Ports and Cargo Handling Company. We thank you and urge you to further strengthen your compliance mechanism.
"However, we are aware that some terminal operators have either been foot dragging or have outrightly refused to implement the collection of the Practitioners Operating Fee contrary to government directive. Today's meeting, therefore, offers an opportunity for you to state why you have taken a stand contrary to government directive."
Photo 1: Dr. Magdalene Ajani, Permanent Secretary, Federal Ministry of Transportation giving her keynote address during the strategic ministerial meeting with stakeholders on the enforcement of POF in Lagos yesterday.
Photo 2: Barr. Samuel Nwakohu, Registrar, CRFFN presenting his welcome address during the strategic ministerial meeting with stakeholders on the enforcement of POF in Lagos yesterday.
Send your press invite, news, press releases/articles to augustinenwadinamuo@yahoo.com. Also, follow us on Twitter @ptreporters and on Facebook on facebook.com/primetimereporters or call the editor on 07030661526, 08053908817.