… As President General hands over work tools to beneficiaries
Oko community in Orumba North Local Government Area of Anambra State was among the beneficiaries of about fifteen million naira worth of Labour-Intensive Public Workfare, work tools and kits distributed to the twenty-one Local Government Areas by the Anambra State Community and Social Development Agency.
The distribution which was carried out under the Anambra State COVID-19 Action Recovery and Economic Stimulus programme, took place at St. Matthew's Catholic Church, Amawbia in Awka South Local Government Area with Presidents-General, Labour-Intensive Public Workfare workers and Coordinators in attendance.
Speaking during the flag off ceremony, the Commissioner for Economic Planning, Budget and Development Partners, Mrs. Chiamaka Nnake explained that the exercise targeted unskilled, unemployed and people with little education between eighteen to forty-five years, who are at the receiving end of COVID-19 pandemic.
Mrs. Nnake, who affirmed that Labour-Intensive Public Workfare was in line with Governor Chukwuma Soludo's Transformational Social Agenda of creating jobs for the youths, disclosed that about seventy million naira had been earmarked for the payment of monthly stipends to the beneficiaries.
Some of the Presidents General, who collected Labour-Intensive Public Workfare tools and kits for their communities, including the President General of Oko People's Union, Mr. Amaechi Okoli, listed items collected to include wheel barrows, shovels, brooms, health kits containing: medicine, gloves, hand sanitizers among others.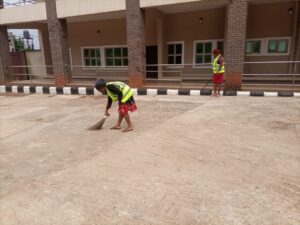 Meanwhile, the President General, Oko People's Union (OPU), Mr. Amaechi Okoli (Ochinanwata) has handed over the work tools and kits received from the Agency to the beneficiaries in his community, Oko.
At a brief ceremony to mark the hand over at the Oko Civic Centre on Wednesday 17th August, 2022, Okoli eulogized the efforts of the Anambra State Governor, Prof. Chukwuma Charles Soludo in living up to his campaign promise of ensuring a clean and green Anambra State.
Ochinanwata who noted that cleanliness was next to godliness observed that "a clean environment attracts good tidings from people around us and even from nature", while assuring the agency that every item given to his community would be put into effective use.
He, therefore, charged the beneficiaries not to toy with the opportunity given to them to render service to their community and to the state warning that there were other people out there who were waiting to take over from them should they fail to live up to expectations.
Photo 1: Mr. Amaechi Okoli (Ochinanwata), President General, Oko People's Union (right) handing over the work tools and kits to the beneficiaries at Oko Civic Centre on Wednesday 17th August, 2022.
Photo 2: Beneficiaries sweeping the Oko Civic Centre and environs in Oko community.
Send your press invite, news, press releases/articles to augustinenwadinamuo@yahoo.com. Also, follow us on Twitter @PrimetimeRepor1 and on Facebook on facebook.com/primetimereporters or call the editor on 07030661526.