… Charges them to touch lives of poorest of the people in rural communities
The Anambra State Governor, Prof. Chukwuma Charles Soludo, today, inaugurated the 21 Local Government Transition Committee Chairmen at the Anambra State Executive Council Chambers, Government House, Awka, Anambra state.
Among the Transition Committee Chairmen inaugurated were: Aguata: Prince Chibuike Ofobuike, Anambra East: Dr. Anselem Onuorah, Anambra West: Mr. Felix Ikechi, Anaocha: Mr. Gerald Ikechukwu Ozo, Awka North: Mr. Emmanuel Ucheze, Awka South: Mr. Thankgod Aniago and Ayamelum: Hon. Livinus Onyenwe.
Others included: Dunukofia: Mr. Augustine Onyemaobi Nonyelum, Ekwusigo: Mr. James Chimezie Obi, Idemili North: Mr. Chucks Brown Igboanua, Idemili South: Mrs. Immaculata Amaka Obi, Ihiala: Mr. Kingsley Obi, Njikoka: Mr. Clems Aguiyi and Nnewi North: Mr. Mbazuluike Iloka.
Also on the list were: Nnewi South: Mr. Ikenna Oluchukwu Aniagbaoso, Onitsha North: Mr. Charles Ozoma, Onitsha South: Mr. Emeka Orji, Orumba North: Engr. Ogochukwu Ekwueme, Orumba South: Mr. Sunday Uchendu, Oyi: Mr. Emmanuel Nweke and Ogbaru: Mr. Paschal Chidiebere Aniegbuna.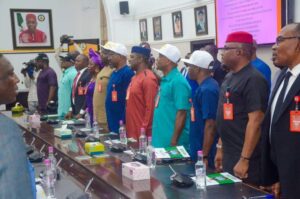 The Honourable Commissioner for Local Government and Chieftaincy Affairs, Hon. Tony Collins Nwabunwanne who introduced the Local Government Transition Committee Chairmen assured the governor that the deserving Transition Committee Chairmen had been scrutinized, interviewed and had not been found wanting.
He added that they would be active in addressing issues of waste management in local government and rural areas.
Governor Soludo congratulated and commiserated with the Council Chairmen while equally informing them of the huge task ahead of them. He made the newly sworn in Chairmen to understand that their portfolio as public servant was the greatest form of philanthropy.
He charged them to ensure they touch lives of the tomato sellers, the keke operators, the okada riders and poorest of the people in the rural communities within their respective local governments.
He also informed them that they are called to serve in difficult time and must work hard to deliver while carrying along stakeholders and leaders in their local governments.
He promised that local government like Nzam which has no access road to the state capital would receive massive and faster road construction very soon stating that the state government was very aware of the declining oil revenue and had decided to go back to palm and coconut economy with purchase of 200 thousand palm seedlings and 150 thousand coconut seedlings that will be distributed to poor rural farmers and their communities.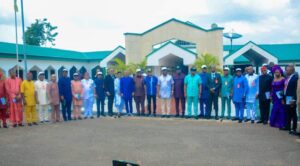 In his remarks, Prince Nevile Uchendu, Transition Committee Chairman of Orumba South Local Government Area thanked Mr. Governor immensely for finding them worthy to serve Ndi Anambra.
He assured the Governor that they were all committed, determined, prepared and with capacity and capability to deliver while equally promising Ndi Anambra that solution is here indeed!
Photo 1: Prof. Chukwuma Charles Soludo, the executive Governor of Anambra during the inauguration of the 21 Local Government Transition Committee Chairmen at the Government House, Awka today.
Photos 2 & 3: Images from the scene of the inauguration of the 21 Local Government Transition Committee Chairmen held at the Government House, Awka today.
Send your press invite, news, press releases/articles to augustinenwadinamuo@yahoo.com. Also, follow us on Twitter @PrimetimeRepor1 and on Facebook on facebook.com/primetimereporters or call the editor on 07030661526.