Miss Veronica Victor Ekpe, popularly known as VEE has taken a distant lead in Week 2 Voting Result of the ongoing maritime industry Reality TV Show, NIMA.
VEE, an indigine of Oron in Akwa Ibom State and online student of Brigham Young University, Idaho garnered 61% of votes in week 2 to overtake Winnie who took early lead in Week 1.
According to week 2 Top 10 Voting Result released officially on Monday by PLATFORMS COMMUNICATIONS, promoters of NIMA, VEE who didn't make top 10 list in week 1 is now being followed by WINNIE who is now Second with 24% and MELVINO who is third with 19% of votes.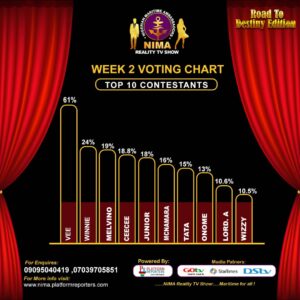 Speaking in an interview with journalists shortly after the result was released, Vee talked about her motivation and experiences so far in the contest.
"I felt I should give a try to something different. It hasn't really been easy, because I haven't really been a social media person. So going to social media to talk people into voting for me and trusting this program wasn't an easy one to tell", she said. .
She also gave words of encouragement to her fellow contestants and hinted about how she felt when the result was released and she saw herself occupying the top spot on the voting table.
"I felt so overwhelmed with joy because I just did my best and my best was worth it. My advice to all of us is to keep it going. Good things always demand our efforts no matter how hard it becomes. Giving up is not an option.
"My expectations is to see myself there at the top. Yes, I hope to keep doing my best", the vibrant young lady stated.
Also speaking in a press interview, Winnie who took the lead in week 1 but now second expressed her feelings and expectations going forward.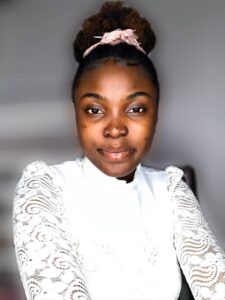 "Firstly, I am grateful. I remain positive as I see this as an opportunity to do better and be better. Definitely, I will do better and congratulations to Vee.
She also advised fellow contestants on how best to approach the contest going forward.
"As long as the finish line is still up front, why get discouraged? There's always a chance, stay positive and watch yourself excel", she said.
Similarly, for Melvin Richman, an indigine of Etsako Central LGA of Edo state and a Hospitality Management graduate of Auchi Polytechnics, Edo state, it was a continuous progress coming from 7th position in Week 1 to 3rd position in Week 2.
Speaking to newsmen , Melvin known as Melvino spoke about his motivation, experiences and expectations since the contest began.
"My motivation is my talent and my mother and wanting to use my talent to inspire others and make positive impact to my society.
"It has not been easy, it has been from one challenges to another especially trying to convince people to vote for me as a contestant. But I feel good and excited being 3rd this week.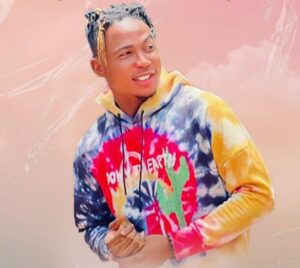 "To fellow contestants, my advice is simple: work hard and do the best you can."
Talking about his expectations going forward, Melvino said, "To be honest, I would say anything can happen, but fingers crossed and I hope for the best."
Meanwhile, the third and final week of Voting Campaign has commenced since Monday and all eyes are on Vee, Winnie and Melvino if they would extend their lead to third week or there would be an upset when the final voting result comes out on Sunday, August 29, 2022.
Recall that the Nigerian Maritime Ambassadors (NIMA) is a yearly Reality Television Show for talent hunt and discovery aimed at raising creative youngsters who are passionate about innovating practical solutions to maritime issues and challenges in Nigeria.
According to NIMA Project Director, Mr. Sylvanus Obasi, the ongoing Pre-qualification Voting Stage is a 'Popularity Test' designed to test the contestants' audience-engagement skills and ability to build a 'Large Fan Base' before entering the NIMA House.
Mr. Obasi noted that only 30 contestants with the highest number of votes will automatically qualify to enter the NIMA House for the 30 days Live TV Show which he said would hold from September 18th to October 16th, 2022.
Photo 1: Miss Veronica Victor Ekpe popularly known as Vee.
Photo 2: Winnie
Photo 3: Mr. Melvin Richman popularly known as MELVINO.
Send your press invite, news, press releases/articles to augustinenwadinamuo@yahoo.com. Also, follow us on Twitter @PrimetimeRepor1 and on Facebook on facebook.com/primetimereporters or call the editor on 07030661526.