… Says freight forwarders pay N20,000 to access terminal
The National Association of Government Approved Freight Forwarders, NAGAFF has accused the staff of Bestaf bonded terminal at Kirikiri Lighter Terminal, KLT of extorting freight forwarders to the tune of N20,000 and in some cases, N50,000 to enable them gain access to the terminal to execute their jobs therein.
The Chairman, KLT chapter of NAGAFF, Engr. Emmanuel Azubuike Umeadi who made the allegation in a chat with Primetime Reporters on Monday stated that report before him indicated that freight forwarders were made to pay the sum of N20,000 before they could be allowed entry into the terminal, failing which the staff would allegedly invite Navy officials to chase them out of the terminal.
Identifying the staff involved in the racket simply as Mr. Joseph and Mr. Tokunbo, Umeadi said, "A member of NAGAFF went for cargo examination, they asked him to pay N20,000 for labour after examination, the association man refused to part with the amount because he had already paid what was in the debit note and volunteered to pay N2,000 as a show of appreciation, a gesture which they refused. Since then, whenever the man comes to the terminal, they would refuse him entry.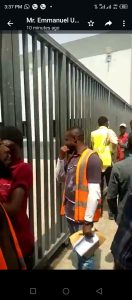 "They are collecting money, N20,000, N50,000 depending on the nature of your job. If your container is inside, they will ask you to pay N50,000 and if it outside, after examination, they will collect N20,000. Disturbed by this ugly trend, they brought the problem to the associations and the associations went there this morning and they stampeded those that we sent, asking them to leave their premises. They came with jobs to be done and they asked them to leave their premises if they don't pay N20,000 to access the terminal.
"They said that they don't want to see association members in the terminal who have jobs. Even when we are having jobs, they chased us out last Friday and this morning we still went there on fact finding mission and they chased us out again, they didn't allow us in.
"We the associations will sue them and ask them to pay the demurrage which the owners of the jobs have complained to us about. We are asking the management of the terminal to bring Mr. Joseph and Mr. Tokunbo to book because they are the people collecting the money without the management of the terminal knowing. Joseph is the labour coordinator while Tokunbo is the Clerk. They are pursuing customers who have genuine jobs to do at the terminal, if you don't give them the money, they will frustrate your job.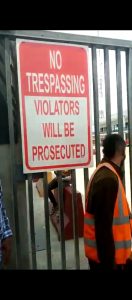 Speaking on their efforts to speak with the management of the terminal on the issue, he said, "We were there to meet with the management but they refused us entry saying that the management does not want to see us. Mr. Joseph, first of all, said that his MD was not around and that the terminal Manager was not around. We even wrote a letter which we gave to them to deliver to the management, he said that they were not around. He vehemently refused to let us see the management to let them know what they are doing. The Joint Association of freight forwarders went there today, they didn't even give them attention, they just chased them out, even those that have jobs."
The Chairman, therefore, urged the management of the terminal to invite the Joint Association of Freight Forwarders to a meeting with a view to finding an amicable resolution to the crisis adding that they would be forced to embark on a peaceful protest to the terminal and take other far reaching measures if nothing urgent was done and in record time too.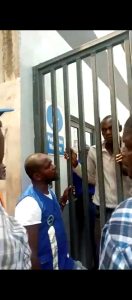 "We are asking the management to call us for a meeting or we embark on a peaceful protest, after which we will take another action if nothing urgent is done", he stressed.
Meanwhile, attempt to speak with the duo of Mr. Joseph and Mr. Tokunbo were not successful as they could not allow our correspondent to speak with them on the ground citing unconducive environment as their reasons. They will not equally dare to release their telephone number to our correspondent on request.
Photo: Joint Association of Freight Forwarders on a fact finding mission at Bestaf bonded terminal at Kirikiri Lighter Terminal, KLT on Monday.
Send your press invite, news, press releases/articles to augustinenwadinamuo@yahoo.com. Also, follow us on Twitter @PrimetimeRepor1 and on Facebook on facebook.com/primetimereporters or call the editor on 07030661526.