… Arrest 4 suspects
The Seme Border Command of the Nigeria Customs Service, NCS has intercepted fake Six million United States Dollars ($6,000,000) note at Gbagi checkpoint along the Seme corridor.
This is even as Officers on patrol along Gbetrome base intercepted Six (6) Maltese International Passports with the same picture of a lady but bearing different names, Two (2) Senegalese International Passports , Three (3 ) Togolese International Passports, Four (4) Republic of Benin International Passports, One (1) Republic of Niger International Passport and Ten (10) International Driving License of these various countries.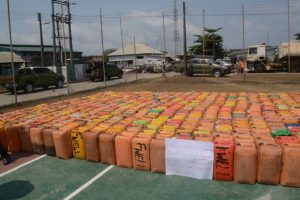 The Customs Area Controller of the command, Comptroller Dera Nnadi who disclosed this in a press briefing at Seme on Thursday observed that the fake Dollar notes equivalent to N2.763 billion at exchange rate of N460.52 were intercepted on Monday 31st January, 2023.
He further disclosed that two male suspects conveying the fake currency from Nigeria to the Republic of Benin were arrested in connection with the crime and were currently in their custody pending prosecution. He also said that two male suspects arrested in connection with the international passport and International Drivers license racketeering were also in their custody pending further investigation.
According to Nnadi, the command also intercepted and seized 1,300 by 30 liters jerry can of PMS equivalent 39,000 liters, roughly over one fuel tanker of PMS with Duty Paid Value of N9,366.45 only adding that the products were seized along the creeks. Other items seized included 55 sacks containing 550 pieces of donkey skin with Duty Paid Value of N11,371,511.
"The significant of the seizure is that it shows how much our endanger species are being eroded by unpatriotic elements", he said.
On ECOWAS Trade Liberalization Scheme, ETLS, the Controller informed that 70 trucks with fees amounting to N1,414,665.01 were collected noting that
there were 81 baggage declarations with duty amounting to N 4,520,722 even as he explained that the items imported under this arrangement included food products and beverages produced within the sub-region.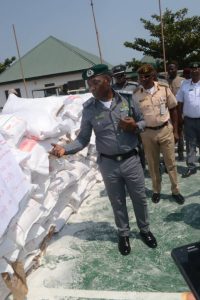 On import and export, he said, "The command reordered only 5 declarations of import within this period with a total of N13,383,104 paid as duty. The dearth in import is as a result of the trade policy introduced by Republic of Benin which traders and indeed, the Service consider hostile to Nigeria. 122 trucks bearing 3,770.49 metric tons of made in Nigeria cargo with Free On Board value of N523,660,496.80 kobo and National Export Supervision Scheme Fees of N2,618,302.10K.
"It is important to note that the 2022 fiscal Policy Measures by the Federal Ministry of Finance lifted the ban on export of goods imported into Nigeria hitherto prohibited under item 8 Schedule 6 of the Common External Tariff. However, this is subject to the exporters obtaining approval from the Federal Ministry of Finance, Budget and National Planning and payment of 2.5 percent export surcharge of the present value of the goods.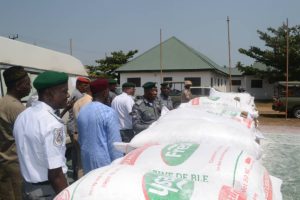 "The traders are yet to take full advantage of this gesture and we call on them to optimize the opportunities offered by the policy."
He also pointed out that other source of revenue for the command are fees collected from the auction sales of seized items especially petroleum products and other perishable items.
While maintaining that these achievements (progress) so far, were not made on a platter of gold, the Controller added that i took the painstaking efforts of the officers who spend hours on patrol and surveillance to record the seizures even as he reiterated that the command would not relent on this effort.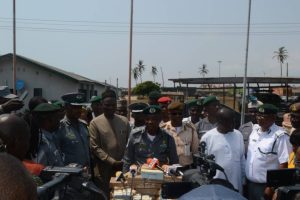 Comptroller Nnadi who assured that the command would continue to dialogue, engage, sensitize and educate the public on social/economic implication of smuggling as well as performing statutory function of enforcing compliance in line with government fiscal policies, however, appealed to parents and guardians residing in border communities to prevail on their children, wards and youths to desist from such criminal acts such as smuggling.
Photo: Comptroller Dera Nnadi, Customs Area Controller, Seme Border Area Command showcasing the fake $6 million notes to journalists at Seme Thursday.
Send your press invite, news, press releases/articles to augustinenwadinamuo@yahoo.com. Also, follow us on Twitter @PrimetimeRepor1 and on Facebook on facebook.com/primetimereporters or call the editor on 07030661526.