…As Tsanni tasks members on sustainable peace
… Taiwo Mustapha emerges ANLCA BOT Chairman
The Council for the Regulation of Freight Forwarding in Nigeria, CRFFN, on Thursday, monitored the inauguration of the Association Electoral Committee, ASECO of the Association of Nigeria Licensed Customs Agents, ANLCA in Lagos.
The inauguration which took place at the National Secretariat of ANLCA in Amuwo-Odofin, Lagos witnessed the presence of the Chairman, Governing Council, CRFFN, Dr. Abubakar Tsanni, the Acting Registrar, CRFFN, Mrs. Chinyere Uromta as well as other prominent members of the association in attendance.
The newly inaugurated ASECO has Chief Aloy Anokwulu as Chairman while Mr. Mustapha Yakub would serve as the Secretary. Other members of the Committee are Elder Samuel Obe, Mr. Elochukwu Obiora, Mr. Lekan Babalola and Tope Fatimehin.
Speaking during the inauguration, the Chairman, Governing Council, CRFFN, Dr. Abubakar Tsanni advised members of the association to build upon the peace in the association adding that only ANLCA members who are registered with CRFFN will be allowed to vote during the election.
According to him, "One important issue is that whoever will contest, vote or be in the Electoral Committee must be a registered member of CRFFN either as an individual or corporate body. I came today because I wanted to know whether the association has truly reconciled or not, because I still received some complaints from some members who say that they have still not settled.
"Let's stay in peace because if care isn't taken, another fight might erupt. We have to stand up and ensure that we maintain peace because some people benefitted from the crisis and they will want it to happen again. I encourage members of the association to be liberal and appreciate God for the resources they have been blessed with."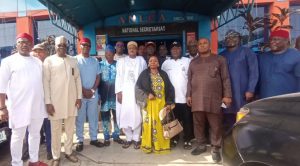 The Acting National President of ANLCA, Dr. Kayode Farinto, on his part, said that a lot of ANLCA leaders have attained a level where they should be able to sort out their challenges at the ports easily, as against younger freight forwarders who suffer due to the ANLCA crisis.
He said, "A lot of us are Chairmen and CEOs; we can find a way to get things done at the ports. I thank God that we have been able to find a way to have peace. This peace is total and we should all forget about our selfish interest. This is a healing period because we have decided to swallow everything that has to do with our ego in the interest of our profession and the collective good of the sector. It's time to start moving forward and this healing period should be time to rebuild ANLCA and have a new ANLCA."
On her part, the Acting Registrar of the CRFFN, Mrs. Chinyere Uromta and prominent members of the association attended the event.
It would be recalled that the five years crisis in ANLCA was settled about two weeks ago through the intervention of the CRFFN.
This was following the Annual General Meeting (AGM) sponsored by CRFFN during which gladiators from the two warring groups were practically coerced to embrace peace.
As part of the peace process, Alhaji Taiwo Mustapha on Thursday emerged the Chairman of ANLCA Board of Trustees (BOT), while Chief Ozor Chukwura and Chief Kingsley Offor emerged Vice Chairman and Secretary of the BOT, respectively.
Mustapha had said on the occasion, "In the interest of ANLCA, the industry, our businesses and families, I plead with everyone to allow peace to reign. It is high-time we see ourselves as one.
"In the election that will come up, as BOT Chairman, I want to assure you that no money will exchange hands. What we are concerned about is merit. As long as you have the certificates, you will have an opportunity to contest. It is purely on merit and competent."
Photo 1: Acting National President, ANLCA, Dr. Kayode Farinto (standing left) inaugurating the 6-man ANLCA Electoral Committee while CRFFN Governing Council Chairman, Dr. Abubakar Tsanni sits next to Farinto at ANLCA National Secretariat, yesterday.
Photo 2: Chairman, CRFFN Governing Council, Alhaji Abubakar Tsanni (6th from left); Acting Registrar, CRFFN, Mrs. Chinyere Uromta (5th from right); Acting ANLCA President, Dr. Kayode Farinto (3rd from right); and other ANLCA leaders after a meeting at ANLCA National Secretariat, yesterday.
Send your press invite, news, press releases/articles to augustinenwadinamuo@yahoo.com. Also, follow us on Twitter @PrimetimeRepor1 and on Facebook on facebook.com/primetimereporters or call the editor on 07030661526.