The winner of the Nigerian Maritime Ambassador, NIMA Reality TV Show 2022, Ambassador Winnie Ogunsakin, yesterday, unveiled and launched her project in Lagos with major maritime stakeholders and dignitaries in Nigeria attending the event.
Tagged, "Cleaner Oceans and Greener Ports Campaign", Ogunsakin observed that the pet project was targeted at creating cleaner ocean and clearer path for safe passage of tourist boats and cruise ships which she described as the future oil as well as tourists from different parts of the world, thereby stimulating economic growth, creating job opportunities directly or indirectly around the tourist locations scattered around the country.
Noting that tourism brings about important revenue for state budget, she, however regretted Marine tourism had not been tapped into in this country adding that if Nigeria taps into marine tourism, bearing in mind that maritime itself was dominating 95 percent of global economic sector, it could be sure to promote economic progress and provide opportunities for many people namely; the government, companies and individuals.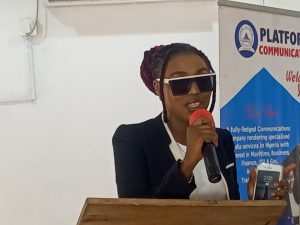 According to her, "Marine stakeholders even local citizens will benefit because if we have cleaner ocean, if we have tug boats around, we will surely have resorts, hotels, nice places around the inland waterways that we want to showcase to our tourists.
"That is why the organizers of this project: the Nigerian Maritime Ambassador deemed it fit to embark on cleaner ocean campaign in compliance to UN and the International Maritime Organization campaign on marine pollution, the Nigerian Maritime Ambassador planned to execute a pet project tagged, "Cleaner Oceans and Greener Ports Campaign."
"The project entails the following activities: regular clean up of beaches and jetties in conjunction with NIWA, NIMASA and other relevant agencies; planting of flowers and trees in ports and terminals for eco friendly ports environment in collaboration with NPA; public enlightenment programme to riverine communities on dangers of marine litter; stakeholders sensitization programme on reduction of carbon emission in ports and terminals; excessive clean up of inland waterways corridors for safe water transportation; distribution of colour code waste containers or bags to the riverine communities for effective gabbage disposal and canvassing for the establishment of waste evacuation boats.
"The items needed for the successful execution of this project are Yacht, Swam Buggy, tugboats, life vest and buoys, rakes, shovels, brooms, plastic bags, customized shirts, personnel, waste disposal cans, boots and LAWMA boats. We are open for sponsorship and partnership and we will also pay courtesy visit to any company that will welcome us and would want to work with us."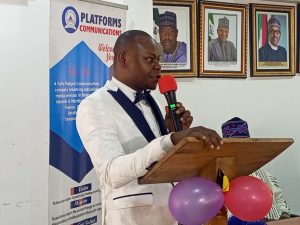 Earlier in his welcome address, the MD/CEO of Platforms Communications, organizers of NIMA Reality TV show, Mr. Sylvanus Obasi  disclosed that the aim and purpose of organizing the NIMA Reality TV show was not to add to the number of the Reality TV shows in Nigeria but to add value to the maritime through that concept.
"From the point of registration, we made it known that whoever wins it, shall undertake a pet project that we call "Cleaner Oceans and Greener Ports Campaign." We want to use the winner to add value to the industry by creating awareness on the dangers of marine litter in the riverine communities in our country. So, that's why we birthed this concept and we needed a brand Ambassador, someone that when he or she is speaking, he or she will be speaking the minds and thoughts of many maritime professionals on marine litter and dangers that they pose to our community.
"We may not know that when we drink this bottle water and throw it anyhow on the streets and the rain falls and it gets into the gutters, from the gutters, the flood take it into the ocean and the moment it enters the ocean, it cannot die, it causes havoc to the marine life and when these litter becomes too much, the ocean also has a way of pushing it out to the riverine communities by way of flooding back to the streets.
"So, we need someone to create awareness in the Nigerian space that this thing we are doing is harming the mother nature. We are harming the sea and sea life. And that's why we birthed NIMA Reality TV show and by his grace, a winner emerged", Obasi stated.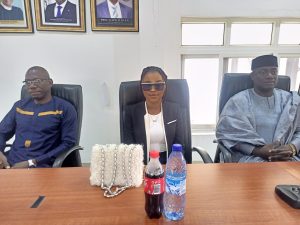 On why the gathering, Obasi who is also the convener of the Annual Maritime Students and Youth, AMSAY conference said, "We are here to tell the stakeholders in the maritime community and all our guests what our winner is set out to do and we are here to also say that we will need everybody's support and collaboration in any capacity to achieve that purpose. We will create awareness everywhere, all these things are geared towards making Nigeria better and making every one of us a better individual.
"We are here for the betterment of all. This initiative is a youth empowerment initiative. Aside being an engagement that seeks to add value to the maritime sector, it is purely a youth empowerment initiative because all those thirty housemates that entered the house even those that were evicted one week after, they all confessed to have learnt a lot within their stay in the house, they were empowered. Some won some items for winning some games in the house before they left. Some that got to the grand finale also won awards. Not only that the winner got what she got as the winner, the first and second runners up also got some cash awards as part of the empowerment initiative."
Highlights of the event included keynote address by Mr. Abimbola Wilson Ogunsakin on "Cleaner Oceans and Greener Ports: What Our Responsibilities Are", awards presentation to deserving maritime stakeholders who have impacted so much on the industry including a former Director General of the Nigerian Maritime Administration and Safety Agency, NIMASA, music performance, pet project launch among others.
Photo 1: Winner of the first edition of the Nigerian Maritime Ambassador, NIMA, Ambassador Winnie Ogunsakin.
Photo 2. MD/CEO of Platforms Communications, organizers of the NIMA Reality TV show, Mr. Sylvanus Obasi during his welcome address at the event.
Photo 3: (L-R): Captain Fola Ojutalayo, Ambassador Winnie Ogunsakin and Captain Alfred Oniye during the unveiling/ pet project launch in Lagos yesterday.
Send your press invite, news, press releases/articles to augustinenwadinamuo@yahoo.com. Also, follow us on Twitter @PrimetimeRepor1 and on Facebook on facebook.com/primetimereporters or call the editor on 07030661526.