Freight forwarders under the aegis of National Association of Government Approved Freight Forwarders, NAGAFF 100% Compliance Team, have queried the Nigeria Customs Service, NCS and AP Moller Terminal, APMT Apapa for depriving bonded terminals requisite cargoes.
This was one of the conclusions from the inspection of bonded terminals around the Abule-Osun area of Lagos by the National Coordinator of the NAGAFF 100% Compliance Team, Alhaji Ibrahim Tanko, yesterday.
During the tour, the Task Team engaged the leadership of GMT Terminal which has a spacious facility to handle about 5,000 containers, multiple reach stackers, cranes, among other equipment lying fallow without any container received in over five months.
Speaking with journalists on the sidelines, Tanko said; "Despite the pressure at Apapa port and complaints about congestion, we have discovered that some terminals are abandoned like the GMT Terminal. There is no single container at the terminal because according to the managers of the bonded terminal, APMT refused to send containers to the bonded terminal.
"Another concern is that the investor was encouraged to spend monies in setting up such a huge facility that can take over 5,000 containers yet there is no activity going on there. Since they were licensed by Customs, why are they being deprived of containers whereas in Apapa the problem is about congestion?"
Tanko, however, noted that his team would discuss with the Customs Area Controller, Apapa Command and equally engage the managers of APMT Apapa to find out if there are other covert issues preventing the use of bonded terminals like GMT.
Also speaking, the General Manager, GMT Bonded and Offdock Terminals, Mr. Waseem Rasheed stated that the bonded terminal is under the Apapa Customs Command which has APMT as its major terminal operator.
"The issue is that cargoes are only sent to other bonded terminals from APMT when there is no space in APMT Apapa. This is very bad for our business. It is only when APMT is congested that they would direct shipping lines to stem containers to bonded terminals. That wasn't the assurance we got when coming into this business.
"In over 4 or 5 months we haven't had any business to do. We just come to the office to sit down and hope that cargoes arrive. We have to pay staff salaries, we have huge equipment with reach stackers, cranes; we also have to provide security, power supply, among other things without doing any business," Rasheed lamented.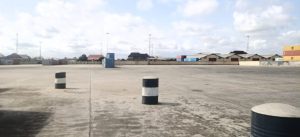 Meanwhile, he expressed optimism that Nigerian Ports Authority, NPA and Nigeria Customs Service, NCS which encouraged investments in bonded terminal operations years ago will create a business environment that would see bonded terminal operations thrive.
At another bonded terminal, SAPID, also at Abule-Osun, Tanko lamented the unhealthy work environment characterized by intense heat as freight forwarders are kept under heat absorbing roofing sheets leading to extremely hot conditions.
"We are going to officially send a letter to SAPID on this issue of unpalatable work environment. During our engagement with the Deputy Controller at the facility, he claimed that even among the Customs offices only his office has a functional air conditioner. I want to believe that SAPID is ready for bonded terminal operations and if that is the case, they should have an environment conducive for business," Tanko said.
According to him, the letter to SAPID on its unacceptable work environment will be sent to the terminal today and will specify a timeline to address the issue or face strike actions and protests from freight agents.
The task team also visited Classic bonded terminal where the operators lamented that activities of Area Boys affiliated to the Local Government have limited the patronage of the facility as trucks exiting the bonded terminal are being forced to pay unreceipted levies.
Send your press invite, news, press releases/articles to augustinenwadinamuo@yahoo.com. Also, follow us on Twitter @PrimetimeRepor1 and on Facebook on facebook.com/primetimereporters or call the editor on 07030661526.