By Mmaduabuchi Onwumelu 
Justice, Development and Peace Caritas, JDPC, Catholic Diocese of Awka, through the Help For All, HIFA Initiative paid the tuition fees of over 80 poor and Indigent students across all denominations in Anambra State totalling over N6 million.
Presenting the cheques to the beneficiaries at JDPC, Awka Diocese Secretariat domiciled inside St. Patrick's Catholic Cathedral, Awka, the Director of JDPC, Awka Diocese and the Chairman, Anambra State HIFA Board, Rev. Fr. Levi Ukor said that they worked in partnership with HIFA Austria, noting that the Organization was formed and funded by retired teachers in Austria.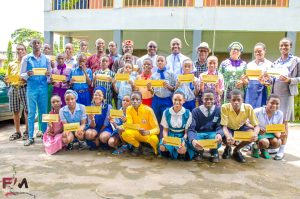 According to Rev. Fr. Ukor, they scout for indigent students yearly after which the lucky ones would be thoroughly investigated to ascertain all facts before compiling and submitting their names to HIFA Austria for onward release of funds, noting that they also engage in building and renovation of schools, hospitals, provision of transportation to ease the stress and hardship occasioned by lack of adequate vehicles and means of transportation.
The Director of JDPC, Awka Diocese stated that they do not pay only tuition fees but they equally pay for medical bills of the destitute and also train them on many skills acquisitions, saying that the programme was an annual event and that many indigent students and gifted children had been saved and empowered.
Rev. Fr. Ukor who said that the Organization was Co-founded by Adolf Pester and Rev. Fr. Aaron Ekwu (Late) noted that it was designed basically to cater for the poor in the society and also help in closing the gap in infrastructure and other areas of life. He announced that HIFA Austria were already in 6 states in Nigeria and had been carrying out back to back to humanitarian services.
He announced that the students were drawn from different schools in Anambra State not minding their religious or denominational inclinations and faith, saying that some were picked from schools in Awka, Nnewi, Onitsha, Ekwulobia and Orumba, among others, adding that the beneficiaries were gotten through the applications submitted during their monthly meetings.
The Director of JDPC, Awka Diocese thanked the Catholic Bishop of Awka Diocese, His Lordship, Most Rev. Dr. Paulinus Ezeokafor for his continued fatherly love and care as well as for the opportunity given to him to serve in that capacity, appreciating God for the gift of the Local Ordinary.
"My Lord, may God continue to bless and sustain you in his vineyard. Amen", he prayed.
Fr. Ukor while commending Bishop Ezeokafor equally thanked his team members, saying that they had been nice to him, even as exhorted the students to make adequate use of the money given to them.
In their separate speeches, the Chairman, Board of Trustees of JDPC Awka Diocese, Sir Ogo Ezeonu, the Chairman of Laity Council, Awka Diocese, Hon. Joseph Igwebuike and the Chairman of JDPC, Awka Diocese, Hon. Paulinus Adinuba advised the beneficiaries to guard jealously and judiciously the tuition fees and also shun acts capable of ruining their future.
Presentation of cheques, words of commendation and encouragement, group photograph formed the highpoints of the occasion.
Send your press invite, news, press releases/articles to augustinenwadinamuo@yahoo.com. Also, follow us on Twitter @PrimetimeRepor1 and on Facebook on facebook.com/primetimereporters or call the editor on 07030661526.