The Council for the Regulation of Freight Forwarding in Nigeria, CRFFN has organized its first induction and orientation training programme for its staff in the Northern, Western and Southern Zonal Offices.
The induction and orientation training programme which held in Abuja and Kano on Monday and Wednesday respectively, held today for staff working at the Council's headquarters in Lagos and is expected to hold in Port-Harcourt for the staff in the Eastern Zone on a date to be announced soon.
The training session anchored by a Consultant, IBS Grand Technologies Limited featured papers like The Nigerian Public Service: Structure, Functions, Principles and Core Values; Overview of Financial Regulations; Rules Governing the Operations of the Public Service; Code of Conduct and Ethics in the Public Service and Effective Communication in the Public Service.
Declaring the training programme open, the Acting Registrar/Chief Executive Officer of CRFFN, Mrs. Chinyere Uromta observed that induction and orientation training programme, the first of its kind in the Council was in furtherance to the promised she made to the staff during her first engagement with them on assumption of office as the Acting Registrar for a better wok experience.
Recalling that she tagged her acting regime "Reformation", she informed that the management carefully chose reformation as its agenda for the Council adding that the management had reasons behind that. According to her, "Where there is need to reform, it means we want to change the narrative of what has been here before now. Maybe, some of the things we are not comfortable with, to bring new ideas, new reasons, profering ways to move the Council forward.
"On that note, that was what informed the agenda and I told you that reformation does not come in a day or in a month and it doesn't just take a person to change a narrative. It supposed to be a collective efforts, people with one single sense of purpose, one vision and one mission. It is only on that ground that reasonable achievement can be recorded.
"And I sought your cooperation to make sure that we change the narrative. So, this is to say that what we are doing here is part of the things we needed to do to achieve this reformation, to have a new CRFFN where love, peace, unity and progress will be recorded.
"I urge you to give the Consultant listening ear and forget every other things and bring your minds here so that at the end of this orientation, there will be positive change and our productivity will be higher in the Council. We must have to gain something that will help us to pattern our activities here, to model our characters so as to be civil in everything we do."
Earlier in her goodwill message, the Permanent Secretary, Federal Ministry of Marine and Blue Economy/Transportation, Dr. Magdalene Ajani informed the staff that induction training programme was very important to their goals in the service saying that every civil servant came into service with one notion or the other insisting that without a proper induction, they may go the wrong way if their expectations were not met.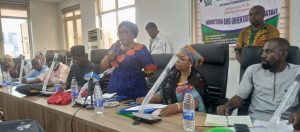 Represented by the Directors, Human Resource Management in the Ministry, Tetshoma Dafeta, the Permanent Secretary disclosed that with induction, they would get to know what was expected of them, what obtains in the service, the processes as well as the dos and don'ts which she said would guide their behavior so that they don't make mistakes.
She said, "People come into service and they go out too fast because they make mistakes that cannot be corrected. So, with the induction, you know what to do. In inductions, there are things I will always recommend. I will recommend that as a public servant, you know the rules and regulations that guide your career. In that wise, I would always recommend the Public Service Rules.
"When I was employed 31 years ago, I was told to see the Public Service Rules as my Bible and as a public servant, you should have one and I always keep one on my table and I will always refer to it when I am in doubt. It will help you if you read it page to page.
"There are other sources of government information including  circulars, guidelines on government procedures, you have the guidelines on Appointment, Promotion, Discipline, you have scheme of service and so many of them. But, you see, when you read these things and you come to understand them, you are better equipped to handle issues. It guides your behavior.
"So, calling this programme at this time, I understand this is the first in CRFFN which I will commend Management for organizing it because it is a good start. It puts everybody on the same page and from here you can be better equipped to do your job and to manage your career.
"So, I congratulate the management and at the Ministry, we are happy that this is happening and we hope that you have many more of these trainings which will improve the skills of the staff and help you better in carrying out your assignment."
Highlights of the induction and orientation training programme is the distribution of the copies of the Public Service Rules and the CRFFN Act free of charge to the participating staff, group photographs as well as issue of induction certificates.
Photo 1: Mrs. Chinyere Uromta, Acting Registrar/CEO, CRFFN giving her address during the induction and orientation training programme held at the Council's headquarters in Lagos today.
Photo 2: Tetshoma Dafeta, Director, Human Resource Management, Federal Ministry of Marine and Blue Economy/Transportation reading the goodwill message of the Permanent Secretary in the Ministry, Dr. Magdalene Ajani during the induction and orientation training programme in Lagos today.
Send your press invite, news, press releases/articles to augustinenwadinamuo@yahoo.com. Also, follow us on Twitter @PrimetimeRepor1 and on Facebook on facebook.com/primetimereporters or call the editor on 07030661526