The National President of the Association of Nigeria Licensed Customs Agents, ANLCA, Mr. Emenike Nwokeoji has cautioned the newly inaugurated Senior Special Assistants, SSAs and the leadership of Committees to shun any act capable of portraying them as discriminating against members of the association even as he reminded them that ANLCA is not fractionalized but one happy family.
Nwokeoji who gave this charge at the ANLCA National Secretariat in Lagos on Tuesday while inaugurating the some newly constituted committees and SSAs, urged them to endeavor to project the image and prestige of the association positively adding that they were chosen for the task because they had been seen as people who would go out and showcase the new face of ANLCA.
Reminding them that their assignment came with a lot of responsibility, including the way the carry themselves, the way they respond to people and even the way they carry on with their businesses, the National President insisted that "it will be shameful for us to start hearing that even members of this committees are now using the opportunity to engage in illicit activities that will bring this association to disrepute. I believe we will not hear any such thing."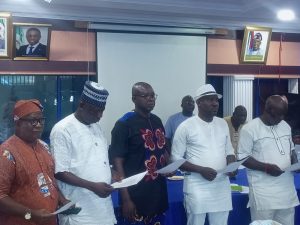 He continued, "In line with the restoration agenda, we will expect that you will go out there knowing that there is no ANLCA A or ANLCA B, ANLCA is one big family. Even in all our homes, once in a while, we misunderstand ourselves but that does not mean that when we come together, you call your wife ex wife or ex child, no, you forget the past and move on. All of us were hurt one way or the other but it is gone and it is fine and we are moving forward in one accord.
"We need to improve on the standard and the way people perceive ANLCA. A lot is expected of us and the world is out there waiting to see what the new ANLCA will come up with. That is why some of you might not be very comfortable with the position you have been given but for the fact that we are giving you that opportunity to go and break new grounds, maybe, it will help you to learn new things that you never know. Sometimes, it is good to stray out of your comfort zone and move to the other side because no knowledge is ever wasted. We need to change the standard of things, that I have said before.
"In the maritime industry, ANLCA is a key player and because of that, we need to live up to expectations and that expectations, We expect from you as NECOM, periodic and regular information. You are out there to feed us with information and you must work as a unit as members of a committee and please note that some of you now might be two in that committee. It is for you to go and lay the foundation before we will now bring in other people that will work with you in the committees for the job is enormous. It is not what two people can do.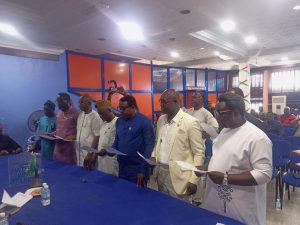 "Assuming you are asked to take charge of the terminals, we have terminals even to the outskirts of Lekki up to Ikorodu and Festac area and Ogun State. So, we need people that are committed, that is why we are not in a hurry to just fill in people. We need to select people that we trust  that will go out there and show capacity and bring positive result. And please, don't take advantage of this for your own personal gain but if you are able to do this job very well, of course, the reward, you will see it come seamlessly."
He, however, warned the committee members and the SSAs not to see themselves as another chapter executive noting that the chapters executive were elected and that the constitution of the association was the guiding principle in whatever they do. "These chapters will be respected. Don't go into your chapter because you call yourself a national committee without recourse to the chapter. If you have any resistance, it is not your duty to fight, it is your duty to report to us if you have any hindrance.
"Please, we will not tolerate any disrespect of any of our elected officers carrying out the duty for which they are elected. You must work in close contact and synergy with the chapters and your members. It is not a one man thing. Whatever you set out to do, please ensure that your members are aware of it.  If you have any areas of conflict, don't go threatening whoever or whichever organization or unit that you are in charge of. Don't go there with threats, it must be guided by law and we must be civil in carrying out our duties."
Continuing, he said, "See your appointment as a recognition of your capacity and your quality and if you see it that way, you will cherish it. And know very well, not a threat that these committees are not cast on stone, we can move you from one committee to the other. We can as well tell you that you have done your bit, we need to give another person the chance to showcase himself. Let us not see it that we hate anybody. So many factors can make us to do that. Above all, we should see it as a call to duty and together, all of us are going to achieve more.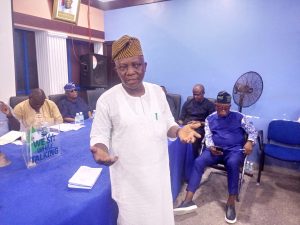 "Please, as often as possible, come to the Secretariat and we expect your periodic reports, tell us what you are going through and tell us where it pains you and tell us even those that received you very well and are treating you very well so that so that we write letters of commendations to them not to bring only complain that they did not allow you. But the one they allowed you, that they will serve you lunch whenever you go there, you will not tell us but the one that they refused to give you lunch and give you only water, you will write report against them. Please, we will not take that, whatever the treatment you receive, let us know."
Responding on behalf of the newly inaugurated SSAs and the Committees, the immediate past Sole Administrator of the association, Alhaji Abdulazeez Babatunde Mukaila thanked the President for considering worthy of undertaking the assignment assuring him that they would deliver as expected and work with him to take ANLCA to an enviable height.
According to him, "I want to pledge with all sincerity that ANLCA has just began. We are going places and together with all the appointees, I believe we can our destination seamlessly. I am not stranger to the portfolio that I have been assigned to me and I believe some of you know that. Talking about international relations, the only thing we need is training and knowledge. Some of us had the privilege to be traveling under the platform of this same association, we have been to places and whenever we went abroad and we see other professionals in this our profession, we felt very emotional about where we were and where we are operating from and right now that we have this opportunity, I want to pledge that together, we shall move together.

"We need knowledge, knowledge is power. WCO has created what they called Knowledge Academy, it is open to the private sector and together, we can earn that knowledge. Mr. President, once more, I want to thank you and thank everybody here present, with all appointees, we are going to work together and we are going to make ANLCA great."
Photo 1: (L-R): Hajia Bola Muse, National Treasurer, ANLCA, Mr. Emenike Nwokeoji, National President of ANLCA and Mr. Olumide Fakanlu, National Secretary during the inauguration at ANLCA Secretariat yesterday.
Photo 2. A cross-section of the newly inaugurated Senior Special Assistants during the inauguration yesterday.
Photo 3: A cross-section of Chairmen and Secretaries of the newly inaugurated committees during the inauguration yesterday.
Photo 4: Mr. Emenike Nwokeoji, ANLCA National President in a group picture with members of the National Executive Committee NECOM, members of the Board of Trustees, BoT and the newly inaugurated SSAs and committees after the inauguration yesterday.
Send your press invite, news, press releases/articles to augustinenwadinamuo@yahoo.com. Also, follow us on Twitter @PrimetimeRepor1 and on Facebook on facebook.com/primetimereporters or call the editor on 07030661526.