…Aniebonam, NAGAFF to throw a bash for National President today
Friends and associates of the National President of the National Association of Government Approved Freight Forwarders, NAGAFF, Chief Tochukwu Ezisi, yesterday evening, put up a surprise birthday party at the NAGAFF Village to celebrate him.
The organizers whose identity is yet unknown planned to celebrate the National President in a big way as they hired the trumpeters as well as a band group to make the evening a wonderful one even as assorted food and drinks as well as a gigantic birthday cake were lined up as part of items to relax the guests who came in their numbers.
However, speaking during the occasion, the founder of NAGAFF, Dr. Boniface Aniebonam said that the association was blessed with a President that has capacity adding that if members of NAGAFF knew who their President was, they would have all gone out of their way to impress him in order that the would receive from him. He insisted that the President of NAGAFF was not one who would be given a birthday celebration by a few even as he maintained that the event should be shifted to today so as to give him a befitting birthday celebration.
His words, "Today is his 51st birthday and if you look at Akuyie, you will see that Akuyie is living the kind of life that I live, a life that is undiluted, a life of a common man. As the President of NAGAFF, we must celebrate him. This celebration today,  just like mine, was a surprise to him.
"This occasion is a prelude to tomorrow, we have to celebrate Akuyienwata, our President. Tomorrow (today) is the birthday celebration of Akuyienwata by NAGAFF people. On that note, if you go to your WhatsApp platform now, there's already a message there from the office of the founder of NAGAFF. Tomorrow, from 3 O'clock, we will all be here and that is why I am standing to tell you people that we are going to celebrate our President tomorrow. I hereby direct that all the chapter executive of NAGAFF should ensure full compliance to attendance tomorrow (today).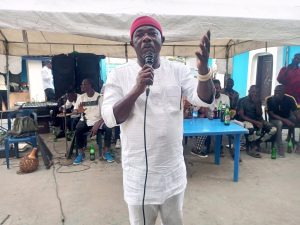 "I have seen some of you who came in with some drinks and all that and I directed that they should go back with those drinks, put them in NAGAFF and bring them tomorrow. Tomorrow, we are going to celebrate our President. The NAGAFF Ambassadors, I am seeing some of them now, I hereby direct them to be here tomorrow. All the media houses within the maritime trade are duly invited. All our sister associations from ANLCA, name them, are duly invited and all the arms of NAGAFF, the Elders' Forum  and then, for the standing band, the band should not go, the band should remain, you park your band by the side, tomorrow you continue.
"So, tomorrow, we are going to celebrate our President, that's why I asked them to take the cake back. Tomorrow, we are going to cut the cake.
"We have a President that has capacity. If NAGAFF members know who their President is, you will go out of your way to make him happy so as to benefit from him because there are so many things he promised to do for us but he's just watching to see what we make of him. So, since I am still alive, we have to celebrate our President and that is for tomorrow. And so, when you go to the platform, you lift the message and make sure that people are duly invited.
"We are not coming because we want to eat what we have not eaten but we are coming to celebrate with him and to let him know that he has people and that we appreciate him."
Speaking to newsmen, the celebrant and National President of NAGAFF, Chief Tochukwu Ezisi described the celebration as a surprise to him as he had no plan in place to celebrate the day
"It all started in the morning when I was coming to work, I got to the gate, they stopped me from entering, next thing I started hearing trumpeters and so on and happy birthday chants rented the air. And from there, it keeps going down and people started coming in and I was surprised seeing canopy, cake, food and drinks. In fact, I will tell you I am so surprised and I am overwhelmed, I am happy, I thank God for a day like this and I thank God for my life", he said.

The National President, however, shocked the journalists when he said that he was yet to know those behind the celebration as he never discussed it with anyone before hand. His words, "what is happening today, if I tell you I know where it is coming from, I will be lying to myself. Up till now, I don't know who the sponsor is and I am sure it is not from the purse of NAGAFF because if it is from NAGAFF purse, I must be aware before money goes out of the purse. So, till now, I will tell you I don't know who the sponsors are but all I know is that things are happening."
Expressing his gratitude to the founder of NAGAFF, Dr. Boniface Aniebonam for choosing to sponsor his birthday celebration today at NAGAFF Village, Ezisi said, "the man has a large heart, it's not easy to take such decision, I must tell you given the economy of the country now but that is it, I always give it to him. The man is a spoiler, he has been spoiling me and I have been spoiling NAGAFF with or without but then, looking at him as a role model, there is no way I will not lead NAGAFF."
While thanking God for yet another year, he equally appreciated his former boss, late Mr. Okechukwu Enemuo who he said mentored him in the freight forwarding business describing him as a very nice man. "Whatever I have been today, I give it to him, he is just the likes of Ozo Ebubechukwu. He made me who I am today. I was with him for fourteen years and for that period of fourteen years, I was building myself and the most important thing in life is when you are under somebody, don't do anything because you are serving him, put in your best and what I am enjoying today is the dividends of my services to him", he stated.
To the young freight forwarders, he said, "Be serious with what you are doing, learn that thing you are doing, be good in it, perfect in it. Clearing has gone out of how much will I give a customs officer. You need to know what you are doing, defend your job. If you have a bill of lading, you should be able to explain, this is what this bill of lading is and whatever the description of goods there, you should be able to classify it even in the tariff."
In solidarity with Dr. Aniebonam, the 100% Compliance Team of NAGAFF led by Alhaji Ibrahim Tanko donated 30 cartons of Beer, Tincan Island chapter of NAGAFF led by Fwdr. Emeka Paul Chiedozie donated 10 cartons of Beer while the Apapa chapter donated 15 cartons of Beer in support of today's birthday celebration holding at NAGAFF Village beginning from 3pm.
Photo 1: (L-R): Dr. Boniface Aniebonam, founder of NAGAFF, Chief Tochukwu Ezisi, National President of NAGAFF and Fwdr. Emeka Paul Chiedozie, Chairman, NAGAFF Tincan Island Port chapter during the event at NAGAFF Village yesterday.
Photo 2: Dr. Boniface Aniebonam, founder of NAGAFF addressing the gathering at NAGAFF Village yesterday.
Send your press invite, news, press releases/articles to augustinenwadinamuo@yahoo.com. Also, follow us on Twitter @PrimetimeRepor1 and on Facebook on facebook.com/primetimereporters or call the editor on 07030661526.