A group of freight forwarders, Patriots Anti-Corruption Initiative, T-PACI has kicked against increment in storage charges for terminal operators insisting that there is no reason for that whatsoever.
The National President of the association, Comrade Stephen Ibe who stated this in a press briefing in Lagos yesterday said that while the terminal operators were at liberty to increase other aspects of their operational costs, the storage charges otherwise known as rent should not be part of it describing it as a no go area.
Ibe who maintained that the body was not against the terminal operators effecting an increase in their operation charges, however, insisted that before such increment was effected, there should be due consultations with all the relevant stakeholders particularly the importers.
His words, "The issue of storage charges/rent should be a no go area owing to the fact that there is no reason for that whatsoever. We all know that when the Nigerian Ports Authority, NPA was in charge of our ports, the final period storage charges were not up to One thousand,five hundred naira. However, since the current port concessionaires took over the operations of our ports, they have effected incessant increase in port charges almost every day till the point we are now or today.
"The point being made is that their previous final storage charge was even astronomically on the high side not to talk of now that it has been increased to N180,000 (One Hundred and Eighty Thousand Naira only) per day from the amount they were charging previously.
"In view of the above, there is no justification for port concessionaires to rue increment in port charges, that is why we call it corrupt practice because this is a fraudulent way of ripping off Nigerians. The concessionaires should have been mindful of the Memorandum of Understanding, MOU it signed with the NPA, they have not yet fulfilled many of the terms in the MOU.
"Looking at their activities, I still maintain that it is all corrupt acts and practices. For instance, they have no operational equipment to run our ports and make it functional. And the importers and the agents will pay all necessary relevant charges to the concessionaires and consequently ask that the containers be dropped same day, they will refuse to drop the same but instead will ask the importers/agents to come back in five days time.
"It is even absurd that the importers/agents cannot even approach the concessionaires to make enquiries as to the reason for such corrupt act and practices owing to the fact that they have Bouncers to barricade any importer or agent from gaining access to their offices. For instance, a cursory look at the entrance gate of TICT at Point Road, Apapa, Lagos, one will notice the presence of the Bouncers wearing black shirts and trousers. The same scenario is applicable at APMT.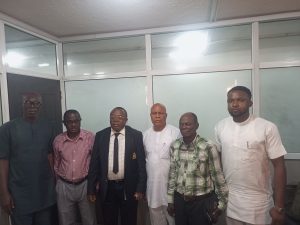 "It is very preposterous that a company holding your container will advise you to come back in five days time when one is ready for his container to be dropped for examination. They will deliberately refuse the request to drop the container for examination but will insist on charging you for storage for those five days foisted on you. The most annoying scenario is that even if you come after the initial five days, you will discover that to your dismay that your container might not even be among those listed to be dropped for examination.
"It is urgent and necessary to point out that the so called five days are only five days. The reason they will insist for the importers/agents to come in five days time is to make sure that they charged for storage for which one shall pay. As such, it is very mandatory that you shall not escape from paying the concessionaires the storage charges. Additionally, they have made their various terminals where they have influenced other goverernment agencies to illegally and corruptly block their cargoes and containers, thereafter calling agents and importers to come forward to bribe them and white waiting for the bribe to be paid, the cargoes and containers will remain in their custody incurring storage charges.
"For instance, how can you justify a space being taken by a forty footer container which is approximately 15 square meters and be collecting N100,000 per day on the container, then multiply that by seven containers being stacked on top of the container on the ground. It will amount to N700,000 per day. This rip off on Nigerians is collosal.
"I repeat that the issue of storage charges should be a no go area. There are various bottlenecks created by concessionaires in order to shortchange you before you can clear your containers in time. Corruption has eaten so deeply among the concessionaires and government agencies. Having said that they have right to increase their operational charges when it is due, it should be done through the law after due consultations with all relevant stakeholders.
"Any attempt to increase the storage charges, I, Comrade Stephen Chigozie Ibe, the President of Patriots Anti-Corruption Initiative, T-PACI shall lean on the side of the law and due process to make sure that corruption will not be tolerated in the country."
Photo: Mr. Joseph Ezeani, Secretary, T-PACI, Mr. Eke Okogbue, Chairman, T-PACI, Apapa chapter, Comrade Stephen Ibe, National President, T-PACI and Mr. Humphrey Okwuosa, Public Relations Officer, T-PACI during the press briefing in Apapa, Lagos Tuesday.
Send your press invite, news, press releases/articles to augustinenwadinamuo@yahoo.com. Also, follow us on Twitter @PrimetimeRepor1 and on Facebook on facebook.com/primetimereporters or call the editor on 07030661526.