…Confers Fellowship on CDS, Musa, other deserving Nigerians 
The Institute of Leadership Assessment and Development has said that President Bola Ahmed Tinubu has made significant strides in rebuilding the Nigerian economy in the last one hundred days.
The Director General of the Institute, Dr. Baba R. Adamu who made this assertion in his address at the 2023 Leadership Conference of the Institute with the theme, "Being The Change: Towards Outstanding Leadership" which held in Lagos at the weekend opined that the government removed the fuel subsidy to avoid a national economic catastrophe, a decision that was described as a "Sword of Damocles" that stunted the country's growth.
Adamu noted that President Tinubu also unified multiple foreign exchange markets and implemented intervention programs to cushion the negative impacts of the reforms, which included a minimum wage and salary increase, support for vulnerable states and local governments, and plans to roll out over 11,000 CNG buses for affordable public transportation.
He continued, "The government has also set up a Tax and Fiscal Reforms Committee to deepen the ongoing reforms and reposition the national economy for long-term sustainability. Tinubu has also worked to promote political stability in Nigeria, manage ethnic and religious tensions, and ensured appointments into key government positions.
"We also want to commend the federal government for the proposed 470 kilometre Abuja-Lagos greenfield superhighway, which would be completed in four years and would be built by a private sector consortium at no cost to the government since the road will be tolled and that would last 100 years. And the construction of Lagos – Calabar super highway."
Quoting Ari Aisen, the International Monetary Fund, IMF representative to Nigeria, the Director General said "the administration should also focus on reducing the number of naira in the economy. On Tuesday, the naira traded at N1,000 per dollar at the unofficial market and N773.25 at the Nigerian Foreign Exchange Market. Money Supply (M1) declined from N24.02 trillion in August 2023 to N24.16 trillion in July, according to official data. The IMF representative acknowledged the efforts from the government in the past months trying to bring more supply of foreign exchange into the market.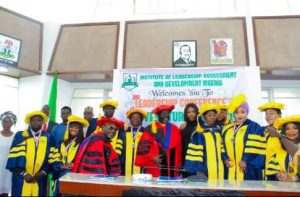 "He said there are too many Naira chasing yet too few dollars, as he alluded before in previous conversations. It's very important to reduce the amount of Naira, reduce the growth rate of money supply domestically in Nigeria."
Speaking on the event, he said, "This gathering represents the convergence of leadership, knowledge, and camaraderie, and I am thrilled to welcome each and every one of you to this prestigious occasion."
Adamu further observed that Investiture ceremonies were moments of great significance, where they honour and recognize individuals who had displayed exceptional leadership qualities, unwavering commitment, and a dedication to furthering the principles of leadership assessment and development. 
"These honourees have demonstrated not only their expertise but also their passion for inspiring positive change, both within our institute and in the broader community. Moreover, today's event is not just about celebrating individual accomplishments. It is an opportunity for us to engage in meaningful discussions, share insights, and forge new connections. This conference serves as a platform for the exchange of ideas, experiences, and best practices in leadership assessment and development.
"The Institute of Leadership Assessment and Development is not just an organization; it is a community of thought leaders, practitioners, and learners committed to shaping the future of leadership.
"As we gather here, we also emphasize the importance of fellowship—the sense of unity, support, and shared purpose that binds us together. Our institute is not merely a collection of like-minded professionals; it is a family that thrives on collaboration, mentorship, and the pursuit of excellence. It is through our collective efforts that we have made significant strides in the field of leadership development.
"In our pursuit of excellence, let us not forget the core values that define our institute: integrity, innovation, inclusivity, and a relentless dedication to growth. These values are the pillars upon which our organization stands, and they guide us as we navigate the ever-evolving landscape of leadership.
"Before we embark on this inspiring journey of recognition, learning, and collaboration, I extend my deepest appreciation to each member of our institute for their unwavering dedication. Your commitment has been instrumental in propelling our organization to new heights, and I am confident that together, we will continue to drive positive change and foster leadership excellence", he said.
The event which had the Chief of Defence Staff, CDS, Gen. Christopher G. Musa as a Special Guest of Honour and the First Lady of Kwara State, Her Excellency, Amb. Dr. Olufolake Abdulrazzaq and the President, Senator Abiola Ajimobi Foundation, Her Excellency, Dr. Florence Ajimobi as Guests of Honour also featured the investiture and award of Fellowship of the Institute on some deserving Nigerians.
They include the Chief of Defence Staff, Gen. Christopher Musa, Her Excellency, Amb. Dr. Olufolake Abdulrazzaq, Her Excellency, Dr. Florence Ajimobi,Bimbo J Alashe, CEO, Leatherworld Limited, Dr. Niyi Adesanya, CEO, Fifthgear Plus Consulting, John Paul Ochemba, MD/CEO  Jorsil Nigeria Limited and Idayat Bolanle Muse, Founder, Bomarah Group.
Others include Dr. Emmanuel Maiguwa Gankino, President Maritime Security Providers Association of Nigeria, Dr. Christy Kanu, CEO, Property Crew, Chief Dr. Prince Donald Ezenwaka, Chairman, Splendid Furniture, Amb. Dr. Laura Okoro, CEO, Resilience Homes Limited, Mr. Wilkey Babatunde, MD/CEO, Babatunde Wilkey Foods Limited, Joy Kounasso, Accountant and Yetunde Taiwo Adekunle, CEO, Superbrand Dynasty International Limited.
Also in the list are: Dr. Sonnie Ayere, Group Managing Director, DLM Capital Group, Hajia Rabi Salisu Ibrahim, Hon. Commissioner for Human Services and Social Development, Kaduna State, Hon. Olatubosun Alake, Commissioner for Innovation, Science and Technology, Lagos State, Hon Justice Frederick Eziakpono Oho, Justice of the Court of Appeal, Lagos State, Dr. Shuaibu Idris, Chairman, Time-Line Consult and Engr. Docemo Adekunjo Adedamola, MNSE, Immediate Past Managing Director, Lagos State Signage and Advertisement Agency, LASAA.
Photo: (L-R): Prof Silas Lenos Lamela, Vice President, Institute of Leadership Assessment and Development, Col. Babatunde J. Shobo, Representative of Chief of Defence Staff, CDS General Christopher G. Musa and Dr. Baba Ransome Adamu, Director General Institute of Leadership Assessment and Development.
Send your press invite, news, press releases/articles to augustinenwadinamuo@yahoo.com. Also, follow us on Twitter @PrimetimeRepor1 and on Facebook on facebook.com/primetimereporters or call the editor on 07030661526.