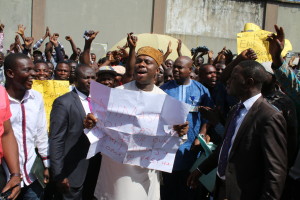 The Director General of the Nigerian Maritime Administration and Safety Agency (NIMASA), Dr. Dakuku Peterside has restated the Agency's commitment to ensuring the welfare of all Dockworkers at the Nation's Seaports.
The DG made this known while addressing protesting Dockworkers from the ENL Terminal at the NIMASA Headquarters in Lagos.
While briefing the DG on the reasons for their protest, the spokesman of the workers, Mr. Lekan Afolabi said that they have been working at the ENL terminal for the past 10 years without appointment letters.
He said they were only recently issued the letters after they made their grievances known to the ENL Management.
He also appealed to the DG to intervene on the issue of their terminal benefits in order to avoid chaos in the Ports.
The DG thanked the Dockworkers for being orderly and peaceful in their demands.
He said that since the Agency regulates maritime labour practices in the country, he  would do everything legal within his powers to ensure that their grievances are adequately addressed.
"A labourer is worthy of his rewards, in this regard we shall ensure that no Dockworker in all the Seaports in Nigeria is short changed", the NIMASA DG said.
Peterside charged the Dockworkers to continue to be law abiding while the Agency tries to resolve the dispute through a tripartite meeting with the leadership of the Maritime Workers Union of Nigeria, ENL Management and NIMASA.
It should be noted that NIMASA is responsible for the welfare of Dockworkers and Seafarers in line with the International Labour Organisation (ILO) Decent Work Agenda and the MLC 2006 Convention which Nigeria recently ratified.
Send your news, press releases/articles to info@primetimereporters.com. Also, follow us on Twitter @reportersinfo and on Facebook at facebook.com/primetimereporters or call the editor on 07030661526.