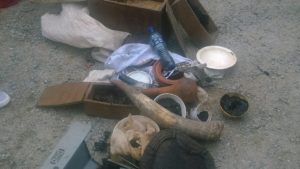 …To arraign 7 for attempt to kidnap
The Police in Lagos have arrested 30 suspects alleged to have carried out jungle justice on suspected kidnappers in three different locations in Lagos and in the process attacked policemen deployed to the scene to stop the act, leaving them fatally wounded.
The Commissioner of Police, Lagos State Police Command, Mr. Fatai Owoseni who disclosed this in a briefing in Lagos Monday said that the suspect would be arraigned in court on a two count charge of disturbing public peace and wounding police officers that had gone for the operation.
Owoseni noted that the police intended to use their arraignment in court to send a message to the public that the era of talking without action had gone and that the police and other security agencies would no longer fold their arms and watch people turn the state into a community where it appeared that there was no law.
According to him," This morning, we have assembled those people that are taking laws into their hands in the incidents that were highlighted in the press release, that is that incident that took place at Ajala bus stop at Ijaiye Ojokolo, the incident at Ile-Zik bus stop and the last one that took place along Abeokuta Road.
"After appeals for them to disperse from those scenes of crime, some of them had remained there and had joined hands in that mob action to attack police officers and other security agencies that were carrying out their own constitutional responsibility to stop that impunity and in which course, we have had some of our officers fatally wounded.
"30 of them that were picked up at those three places are here with us this morning and after this press briefing, they are going to be arraigned in court for a disturbance of public peace and wounding officers that had gone for that operation and the statement we are making clearly here is that it is no longer going to be talk, talk, talk , that we are also going to bite".
He appealed to the general public to report any suspicious movement, location and happenings around them that appeared to be places being used for criminal acts or for criminal purposes to the security agencies.
"We want to assure that the complaints of the 'I have called the emergency number and nobody has responded', we are looking into that and where emergency numbers are called and there is no quick response, the general public can as well reach senior officers in any of the security agencies especially the police through the numbers that we have distributed from time to time and they are assured that we will ensure quick response and not only just responding, we will ensure that such criminals whose information are given will be investigated diligently and prosecuted with good evidence", he said.
On the incident at Ajala under the tunnel, the Police boss revealed,"Seven suspects were arrested, we have been interrogating them and from our interrogations, while we cannot categorically state that they are involved in kidnapping cases or that they are Badoo elements as being suspected, the police in rounding up investigations have found out that we can successfully prosecute them for offenses that are related to attempt to kidnap, being found in possession of criminal charms. Those offenses are in the criminal code of this country and immediately we round up our investigations, I want to assure that within this week, these seven suspects will be arraigned for offenses that our findings linked them up to".
He therefore called on anyone that had been a victim of rape, kidnapping or a victim if any attack in the area to come forward to the police so that they could join his or her evidence to the bit and pieces of information and other evidence that they had so as to have a successful prosecution.
Send your news, press releases/articles to augustinenwadinamuo@yahoo.com. Also, follow us on Twitter @reportersinfo and on Facebook on facebook.com/primetimereporters or call the editor on 07030661526, 08053908817.