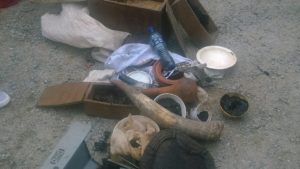 The Lagos State Police Command has arrested a total of twenty-four (24) armed robbery suspects in different parts of the state in the last one month.
Also, fifteen (15) suspected cultist were arrested by the command out of which were members of Aye confraternity who were arrested on the 8th of August, 2017 following a tip off.
The State Commissioner of Police, Mr. Fatai Owoseni who made this known in a press briefing in Lagos Monday said that while some of the armed robbery suspects were available at the venue of the briefing ti be paraded before newsmen, some of them were still being interrogated to get other suspects, therefore would not like to show their faces.
"From these armed robbers and other criminal elements arrested, a total number of 10 types of weapons were recovered from them which includes two AK-47 riffles. Also, in the various activities of the police in the command, 19 suspected cultists were arrested while 16 motor vehicles of different brands were also recovered.
"Specific mention and elaboration is necessary to be given in some if the cases. Out of the cultists that were arrested, were 6 members of Aye cult group. They were arrested on the 8th of August, 2017 and it was based on information because some of these cult groups have different dates with which they will say they are celebrating. They have 08-08 as a day of celebration and it was in the course of that celebration of 08-08 where they will engage in different acts of brigandage and lawlessness that they were arrested. 88 different types of charms were also recovered from them including other types of weapons with which they carried out initiation and the act of brigandage", he said.
He further disclosed that three (3) kidnap suspects were arrested in between Lagos and Ogun States adding that the suspects had confessed to having kidnapped two (2)Philipinos; Jamie Larcar and Mario Maglundo who were working with Mateco Industry West Africa Ltd.on the 5th of July, 2017.
He pointed out that the operatives later tracked down Adebanjo Yinka in Ikotun area of Lagos, who he said was a prominent member of the gang saying that his confession to the crime led to the arrest of his gang members.
The Police Chief added that two other armed robbery suspects were arrested upon receipt of distress call that some armed robbers were carrying out operation at a Pharmaceutical company around Sabo in Yaba.
He continued," The quick response team to that pharmaceutical company led to the successful arrest of those suspects and among the criminal elements that are going to be paraded for you to see are a group of drivers who are involved in what is called one chance in Lagos. Those are the drivers that will carry innocent members of the public in their commercial vehicles and in the process dispossess them of their valuables.
"The group that is arrested for one chance in the course of the arrest, telephones that were stolen from their victims were recovered and the police have been able to identify some of the victims for them to collect their telephones".
In his confessional statement, one of the armed robbery suspects who simply identified himself as Yakubu said he had been buying guns from a gun dealer in Cotonou at N20,000 and sell same to his colleagues at N30,000 adding that he had engaged in robbery six (6) time since he joined the trade early this year.
He confessed that he was a welder before joining armed robbery which he said was introduced to him by Mohammed Abubakar who was also caught along with him and who he said lived in the same vicinity adding that je used to make between N50,000 and N70,000 from crimes.
"If somebody wants to enter a bus, we stop the bus and collect their phones. That is what we used to do. The bus drivers are not part of our team, we stay in a boss stop in our area and when they carry passengers, we collect all their phones. One of us will pretend as if he wants to enter the boss and we will rob the passengers", he said.
Send your news, press releases/articles to augustinenwadinamuo@yahoo.com. Also, follow us on Twitter @reportersinfo and on Facebook on facebook.com/primetimereporters or call the editor on 07030661526, 08053908817.