… As Anishere harps on replication of Nigeria's Deep Blue Project by Gulf of Guinea nations
… Financial Institutions to structure loans with low interest rate for women in maritime – Ezeoke
The need for women to collaborate in order to take their rightful place in the maritime industry in Nigeria and elsewhere took the centre stage yesterday as members of the Women in International Shipping and Trading Association (WISTA) and the members of the Women in Maritime Africa (WIMA), Nigerian chapter came together to mark the maiden edition of the International Day for Women in Maritime.
It will be recalled that the International Maritime Organization (IMO), last year designated May 18 of every year as the International Day for Women in Maritime to highlight the contributions of women in the industry as well as to encourage more women to take career in the maritime industry and change the notion that maritime business is only meant for men.
Although the global theme for this year's event was "Training – Visibility Recognition: Supporting A Barrier Free Working Environment For Women In Maritime", WISTA and WIMA adopted "Maritime Security Issues And Blue Economy" as the theme of their event which held in Lagos on Wednesday.
Speaking virtually at the event, the Permanent Secretary, Federal Ministry of Transportation, Dr. Magdalene Ajani, while wishing the women a happy celebration observed that women were such a special specie of people who do a lot in the industry that had drawn the attention of the global maritime body to create a day to celebrate women in the maritime industry.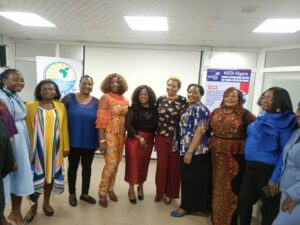 Ajani applauded the leadership of the two foremost women groups in the maritime sector namely; WISTA and WIMA for latching unto this and making sure that they had activity coming up to mark the inaugural section of the event in the history of IMO.
She said, "I want to thank in particular, WISTA and WIMA collaborating to have this programme running. I have been in the background listening and I am very proud of you for the rich lectures that you have put up today to educate everyone of us. I want to thank you so much for this opportunity.
"While we are celebrating the victory in the maritime security, I also want us to collaborate to be able to achieve victory too in maritime safety. This takes a lot of us to do it and also capacity building. You have started this, I know you do a lot of lectures, I have been privileged to attend and see of them but I took something away from the speaker before Chief Mrs. Ezeoke spoke encouraging the women in maritime to educate themselves and build themselves.
"Just to say that we all need to collaborate to be able to achieve wins in the maritime safety. We are winning in security, we also need to build capacity and I am so glad that we have training institutions in Nigeria where this can be done and I want to encourage women to latch onto this opportunity and educate ourselves."
On her part, a Senior Advocate of Nigeria (SAN) and former President of WISTA, Nigeria, Mrs. Jean Chiazor Anishere recalled that WISTA and WIMA had unanimously spoken against the victimization of women, particularly, women in seafaring world over the years noting that it's gratifying to note that the menfolk were listening to them as well.
"I am sure that report as at today has dwindled because we have more of women being encouraged to go into seafaring. We have more of the women talking about the men seeing them as partners, collaborating with them and teaching them as partners that they are as opposed to the bully, the physical assault and the likes that actually make seafaring for women a no no.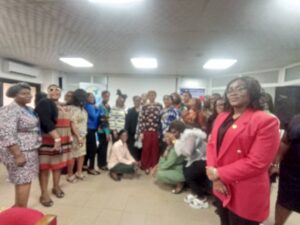 "So, today, there's an improvement and I am sure going forward, we will hear less of that and probably come to a zero tolerance level and women seafarers will be seen as partners with their male counterparts", she said.
Speaking on the gains made so far by Nigeria in the area of maritime security, Jean Chiazor Anishere said that the declaration of the Gulf of Guinea by the International Maritime Bureau (IMB) as having attained that record where piracy has been brought to a very minimal percentage and Nigeria, as a matter of fact, was no longer seen as a red flag for piracy was one of the gains.
According to her, "Going forward, it's for us to truly implement the Deep Blue Project to ensure that we collaborate with other regional countries because as it was said at the SHADE Forum in Abuja two weeks ago, no sovereignty can solely achieve the security of our waters being the Gulf of Guinea, for example. So, we need to collaborate with other stakeholders – the Navy, not only the Nigerian Navy, the other foreign stakeholders particularly in the regional aspect of the continent because they were talking about the Gulf of Guinea to ensuring that our Deep Blue Project is also followed suit by these countries.
Just like the SPOMO Act – the Suppression of Piracy Act that is enacted by the Nigerian government, it is also important that other regional countries are encouraged to enact similar Act in their various states.
"So, going forward, collaboration is key, collaboration is the game changer. The Nigeria Deep Blue Project should continue to be improved upon, we shouldn't just sit back on our oasis and say IMB has declared us zero tolerant country in terms of piracy, no! We shouldn't do that. We should proceed, we should grow better, we should ensure its a continuing project. It should be enlarged and be introduced to other countries and ensure that we reach that percentage where not only the Gulf of Guinea is seen to be safe but other ocean. We have only one ocean, we don't have African ocean, American ocean, European ocean, there is only one ocean.
"So, when we're talking about ocean security, sustainability of the ocean in terms of the Deep Blue Project and the safety of our ports, the Gulf of Guinea and all that, we have one ocean and for us to achieve this sustainability of this ocean for the benefit of us all, the world at large, the ecosystem, we need to sustain its natural state, the policy and all that it takes."
Also speaking, the President, WISTA Nigeria, Mrs. Eunice Ezeoke opined that the International Day for Women in Maritime was very significant as IMO had recognized the need for the women in the maritime sector to be more visible than they have been and to focus on training and breaking all barriers adding that it meant that even with the slide and the achievements of the women in the sector, there's still a lot to be done.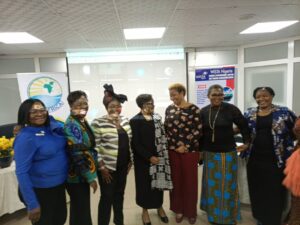 "There's need to showcase them, to allow them and give them the opportunity to operate at the higher echelon of the maritime industry", she further said.
While identifying funding as one of the major challenges facing the women in the industry, she maintained that shipping was a very capital intensive venture and that women needed to be equipped financially to break even in the maritime and shipping business.
"Women need to own vessels. We are looking forward to that day that members of WISTA and WIMA and other women associations in the industry will be able to either collaborate or form a consortium to buy vessels, to run a vessel, even if it's not a vessel, any water craft – barges, boats, ferries and even cruise so that they can also be in a position to have a meaningful and significant say in the industry because when you are a major player, you must be a major player.
"People don't listen to you unless you have something to bring to the table and for women to have something to bring to the table, they must either be at that high level of visibility which is what IMO is projecting and promoting, for women to be Master Mariners, Captains of vessels, to be in the boardrooms, to be Chief Executives of Maritime agencies and parastatals.
"We are very happy that we have been given this recognition and this opportunity to speak and to showcase these areas of challenges. The financial institutions need to actually structure loans with low interest rate for the women that want to enter into maritime business either in form of SMEs or the higher level of ship purchase, ship brokerage, ship chartering, tangling, all these are areas that women can go into.But my interest is in ship ownership, we really need to own a vessel or a water craft to know that we are being encouraged.
"There is need to encourage women by organizing soft loans by financial institutions. Bank of Industry is trying but there's still a lot to be done because women really need to be out there, we need that visibility, we need capacity building and training which is what we focused on today. We need exposure, we need financial literacy and also literacy in the field to be able to manage even when we are given the opportunity to run these businesses", she stated.
Equally speaking on the significant of the celebration, the President, WIMA Nigeria, Mrs. Rollens Macfoy maintained that the celebration meant a lot to her not just to celebrate women but to empower them professionally, to give them growth, capacity building, the training that they require to be properly and professionally placed in their various industry especially those of them that were in the maritime industry who were being celebrated.
On efforts to bring more women to pursue careers in the maritime industry, she said, "We have an ongoing campaign now for the women in the maritime industry to rise up to the call to take trainings, seminars, to be particular about their sectors or whatever they want to study or improve on so that they will be well recognized and also, we have campaign going on for those who are not yet in the maritime industry to put them in the maritime industry, to let them know the value of being in the maritime industry and how they can come in."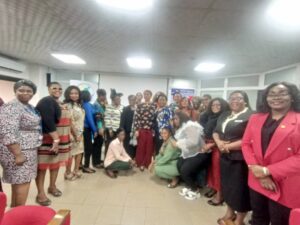 While expressing her satisfaction with the turn out of women in the event, she however, insisted that they could do better as according to her, "this is the first time the IMO is going to celebrate maritime women and also this is the maritime women associations, the WISTA and WIMA will come together, it is very memorable because it means that we are moving and we are now ready to get somewhere because you know that without collaboration, without cooperation, nothing can be achieved.
So, for us, this is a stepping stone, this is a small to a larger achievement."
Macfoy, therefore, believed that going forward, the celebration would bring forth good fruit in the area of promotion, training, empowerment, appointment and so much more.
Photos: A cross-section of participants during the International Day for Women in Maritime celebration organized in Lagos by WISTA and WIMA on Wednesday.
Send your press invite, news, press releases/articles to augustinenwadinamuo@yahoo.com. Also, follow us on Twitter @ptreporters and on Facebook on facebook.com/primetimereporters or call the editor on 07030661526, 08053908817.