… Norway commits to continually support project
… As FG commends partners on support to reposition Cocoa production
Stakeholders in the Cocoa production value chain, yesterday converged on Ibadan, the Oyo State capital to highlight the critical achievements of the CocoaSoils programme in Nigeria, Cote d'Ivoire, Ghana and Cameroon in the last four years.
The event which held at the headquarters of the International Institute of Tropical Agriculture (IITA) had as its theme, "Looking Back And Moving Forward: Knowledge Gaps To Create A Sustainable Cocoa Sector. Local and global partners and stakeholders convened to discuss and celebrate the key project outputs that had been generated.
These included: 9 newly established and research-managed core trials in West and Central Africa and one each in Indonesia and Ecuador, 389 satellite trials to evaluate, under real farming condition, the effects of good agricultural practices and improved nutrient supply on Cocoa bean yield and training of 625 extension agents on integrated Soil Management Fertility and Good Agriculture Practices for increased cocoa productivity.
Others included: training of 65,066 cocoa farmers on integrated Soil Management Fertility and Good Agriculture Practices for increased cocoa productivity, development of a cocoa training manual and farmers' handbook on "Managing Soil for Increased Productivity and Decreased Deforestation as well as handover of training manual to relevant public authorities in Cameroon, Ghana and Nigeria. In Nigeria the training manual was presented to the Minister of Agriculture and Rural Development.
The CocoaSoils programme is aimed at intensifying cocoa production by developing and disseminating integrated Soil fertility management recommendations to cocoa farmers in Ghana, Cameroon Cote d'Ivoire and Nigeria to improve the fertility of their farmlands, increase their farm yields and avoid deforestation. It also aimed to provide research knowledge that is efficient and affordable. CocoaSoils is a global programme led by the International Institute of Tropical Agriculture (IITA) in collaboration with Wageningen University and Research (WUR) and the Sustainable Trade Initiative (IDH).
The programme benefits from partnership with the national Cocoa Research Institutes of Cameroon (IRAD), Cote d'Ivoire (CNRA), Ghana (CRIG) and Nigeria (CRIN) as well as other international research centres.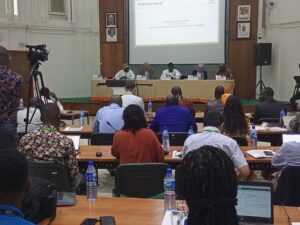 Speaking in his keynote address, Nigeria's Minister of Agriculture and Rural Development, Dr. Mohammed Mahmood observed that the contributions of cocoa to the nation's economic development were vast adding that in terms of foreign exchange earnings, no single agricultural export commodity had earned more than cocoa.
He noted that a sizeable number of people were employed, both directly and indirectly in the Cocoa subsector even as he informed that over 250,000 households were directly involved in cocoa farming. He further described cocoa as an important source of raw materials as well as source of revenue to governments of cocoa producing states.
Mahmood maintained that, " Even though the cocoa sector had enjoyed tremendous recognition and attention in the various governments' strategies in revamping agriculture, key factors militating against the cocoa value chain are low yield, inconsistent production patterns, disease incidence, pest attack, ageing cocoa farms and farmers and use of simple tools. The impact of the declining production level occasioned by the mentioned factors is the fall in the income accruing to cocoa farmers."
The Minister who was represented at the event by the Director of Extension, Federal Ministry of Agriculture and Rural Development, Engr. Frank Satumari Kudla pointed out that the Federal Ministry of Agriculture and Rural Development had adopted three major strategies to transform the declining cocoa sector.
These, according to him, include: "Maintenance of current hectarage where farmers tending over 640,000 hectares active plantation receive support in terms of training and inputs to increase their yield per unit area of land. Adopting global best practices in rehabilitation of over 200,000 hectares in the next few years which can also be a source of employment for the youth and is being done in collaboration with State governments of cocoa producing states. Provision for improved early maturing cocoa pods. Four specialized seed production units from Cocoa Research Institute of Nigeria, Tree Crops Units in Ondo, Sound and Ekiti States were engaged in production of eight selected hybrids CRIN Tc-1 to 8, WACRI Series II and open pollinated F3 Amazon distributed to farmers free of charge."
Engr. Mahmood explained that in pursuit of those strategies, the collaboration of partners in the implementation of the CocoaSoils project in Nigeria, Cote d'Ivoire and Ghana was highly commendable and supportive of our desire to reposition Cocoa production in the subregion.
"The government appreciates the funding of the project by the Norwegian Agency for Development Corporation (NORAD) and the leadership role played by the International Institute of Tropical Agriculture (IITA), Wageningen University and Research (WUR), Cocoa Research Institute of Nigeria (CRIN) and the Sustainable Trade Initiative (IDH) and other international partners.
"Allow me to applaud your implementation strategies that were built on two cardinal pillars i.e the Research for Development (R4D) and Partnership for Development (P4D). The P4D strategy is indicative that the programme already has in place Structure for Research Findings Dissemination to Farmers. I will, therefore, urge you to utilize lessons learnt, success stories and other positive discoveries in this phase of CocoaSoils in the pursuit of our programmes in our respective countries", he concluded.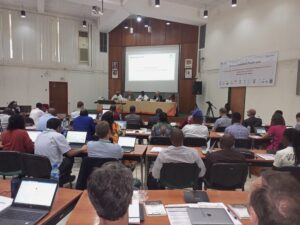 Earlier in his opening remarks, Daniel van Gilst of the Norwegian Agency for Development Corporation (NORAD) explained that the CocoaSoils Forum 2022 was an annual event that had been held previously in Accra in 2019, Yaounde in 2020 and online in 2021 adding that the event had held online and now physically at the IITA headquarters in 2022.
According to him, "This year's Forum will focus on sharing the progress made and priorities for the next phase. I have been here already some days and participated in the meetings on P4D, R4D and we did a memorable fieldtrip. The busstrip alone provided for long talks about the project but we also got to know the people engaged in the project and not least, we experienced a little what it means to be a technician gathering data in the field. Yes, long trip but valuable, especially since we have all been meeting virtual the last few years."
He added that the project objective was and had always been to reach a sustainable cocoa supply sector, the farmer with increased productivity (and income) of cocoa farms by 30% and efficient use of agricultural inputs and improved rural livelihood (90,000) while avoiding deforestation.
"We are now coming to an end of the first financial phase. With the various outputs and outcomes of the project being achieved, there are improvements towards achieving the project. For example, the sets of trials established to develop ISFM (Integrated Soil Fertility Management) options show some initial promising results. Yes, possibly, even the low hanging fruit which could potentially increase production with a double digit percentage. Of course, some of these data need to be verified but could influence the manual content.
"The manual content on ISFM across four countries are assembled and the content of the manual is integrated into partners networks and used by partner extension networks in reaching out to farmers. So far, over 60,000 have been reached.
"Finally, a guiding principle to measure deforestation rates has been developed and could eventually be used for strategy decisions and used by policy makers. Let me say here that Norway finds this project unique, has great potential and we are committed to continue our support to this project through the CGIAR Excellence in Agronomy together with all the partners.
"The work of the project will, of course, continue to develop as the core trials start delivering more and more data, resulting in revised satellite trials and improved manuals, resulting again in improved practices and possibly, revised policy proposals", he submitted.
On his part, the Executive Director/CEO, Cocoa Research Institute of Nigeria (CRIN), Patrick Adebola explained that CocoaSoils is focusing mainly on soil fertility management of cocoa by looking at soil of cocoa and how to solve the problem of the declining soil fertility as well as the degradation of the cocoa soils.
While acknowledging that there were lots of factors contributing to the reduction of yield in cocoa not only in Nigeria but across West Africa, he opined that most of those trees were old with lifespan of over 40 to 50 years old, hence, it was natural that the soil fertility will start to decline.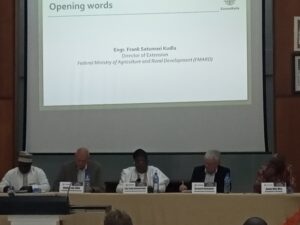 "The project is aimed at helping those farms to ameliorate the declining soil fertility and ensure that the cocoa farms are brought to fruition once again. In the past, the focus has been on the pests and diseases that are contributing to the decline. There are lots of projects that focus on diseases and pests of cocoa. This is a very good one now, the CocoaSoils NORAD project is now looking at the soils, which is coming at the right time. If the soil is not fertile, there is no how the trees will get their maximum yield. That is why this project is very important to Nigeria.
"The emphasis now is to reduce deforestation so that the impact on the environment will be reduced. Yes, I understand that farmers are looking for fertile soil thereby cutting down new trees and cutting down new forests in order to plant new cocoa and that is one of the reasons this project is being sponsored by NORAD. When you increase the fertility of the soil and bring the existing cocoa trees to fruition, there will be no need of looking for virgin lands to plant your cocoa.
"So, you can manage the existing cocoa trees, you can replant, you can do what we call rehabilitation by pruning, by coppicing in combination with this Integrated Soil Management. If we do that, am very sure that those trees will come back to their normal version of fruition. So, you don't need to go about cutting down new trees looking for virgin lands to plant your cocoa", he clarified.
Photo: A cross-section of participants at the CocoaSoils Forum 2022 held at the International Institute of Tropical Agriculture (IITA), Ibadan, Oyo State on Thursday.
Send your press invite, news, press releases/articles to augustinenwadinamuo@yahoo.com. Also, follow us on Twitter @ptreporters and on Facebook on facebook.com/primetimereporters or call the editor on 07030661526, 08053908817.