Former Nigeria's President, Olusegun Obasanjo and Governor Chukwuma Charles Soludo yesterday, spoke about keys to unlocking capital for Africa's development.
They spoke as panelists at the 15 years anniversary celebration of the Africa Finance Corporation (AFC).
Also on the panel were Mr. Andrew Alli, CEO South Bridge and Mr. Solomon Asamaoh CEO Ghana Infrastructure Investment Fund.
All the panelists share at least one commonality as contributors to the AFC and in one way or another played a key role in unlocking the AFC's journey to where it is now, having invested $10 billion in Infrastructure projects in 35 Countries.
Olusegun Obasanjo recounted how Prof. Chukwuma Charles Soludo mooted the idea as Central Bank Governor and how he supported the idea which eventually paved way for Nigeria to lead the creation of Pan African financial institution, having Prof. Soludo as the key driver.
He also said most projects usually fail in Africa because of lack of continuity and leadership support.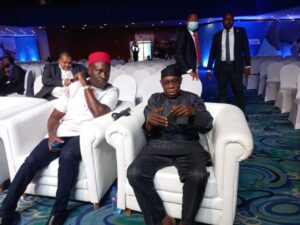 The former President continued that Prof. Soludo's doggedness and hardwork contributed immensely to the birth of the Africa Finance Corporation.
Governor Chukwuma Charles Soludo, on his part, asserted that it was former President Olusegun Obasanjo's leadership disposition that made it possible for the idea to have yielded fruits.
The Governor recalled how he communicated the idea of setting up the financial corporation to President Obasanjo and within 15 months, it became a reality after travelling to about 22 countries to raise funds for its establishment.
Governor Soludo said AFC is what Africa needs to move forward. He added that the continent needs visionary leaders who can provide the leadership to execute policies and ideas like President Obasanjo.
He stated that no matter how fantastic an idea is, without execution, it becomes a mere hallucination.
According to Governor Soludo, to stop projects' failure, it must be public-driven and fully supported with a selfless determination on the part of the leader.
He concluded by commending AFC for its financial support for African countries in infrastructural development saying that its 15 years anniversary was worth celebrating.
Photo: Former President Olusegun Obasanjo (middle) and Prof. Chukwuma Charles Soludo, Anambra State Governor (second left) during the panel discussion at the 15 years anniversary celebration of the Africa Finance Corporation (AFC).
Send your press invite, news, press releases/articles to augustinenwadinamuo@yahoo.com. Also, follow us on Twitter @ptreporters and on Facebook on facebook.com/primetimereporters or call the editor on 07030661526, 08053908817.