The Transition Chairman of Orumba North Local Government Area of Anambra State, Hon. Sir Ogo Ekwueme has assured the people of Oko community the town will not be forgotten in the scheme of things during his administration.
Ekwueme gave the assurance when members of the All Progressives Grand Alliance, APGA, Oko Wards 1 and 2 paid a solidarity visit to him at the Council's Secretariat at Ajalli on Tuesday.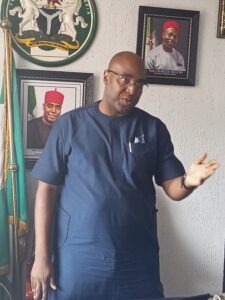 He noted that while he was discussing with the Governor of the state, Prof. Chukwuma Charles Soludo about his job as the Transition Chairman of the local government, the governor spoke about ten minutes about the erosion menace troubling the community, an indication that the governor was concerned about the menace.
According to him, "We might not have the big solution but there are little things that we have to do like planting of trees and so on. This is something we have already discussed, I am hoping that within these first three months, we can even get most of these things done.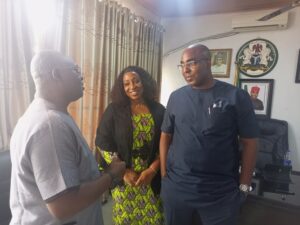 "I am open, everybody here knows me very well, I am not a proud person. I am very open to ideas and suggestions, I can't do it all by myself. This is not to say that this is Oko government, I still have to do what I have to do for other communities but I assure everyone here, Oko will not be forgotten.
"So, there's a lot more of plans but what I am asking from you is support and prayers and to back me up. I will do my best, I will seek advice from everyone and be rest assured that by the time we are done with this job even if it's for three months, six months, one year, whatever it is, there will be difference in Oko community and in the Local Government.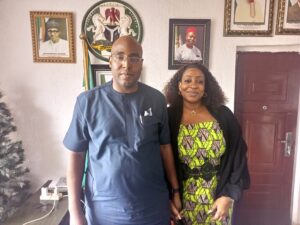 "Thank you very much, I appreciate this visit and I look forward to as many times as we can meet and discuss."
Earlier in his address, the leader of the delegation and Chairman, APGA Oko Ward 2, Mr. Nestor Okafor opined that they were at the local government secretariat to officially congratulate the Chairman who he described as their worthy son for the deserving honour done to him by the governor, Prof. Chukwuma Charles Soludo and to the community.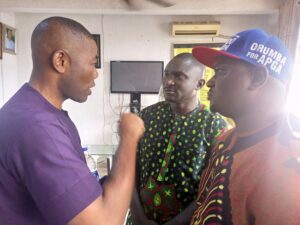 He said, "We are here to officially welcome you. A journey of one thousand miles starts with a step. Oko is the head, we are here to congratulate you on your new appointment and to pay solidarity visit to you our own."
Highlights of the visit were speeches by stakeholders present including former Special Assistant to former Governor Willie Obiano, Hon. Emmanuel Ozoemena; Capt. Casmir NWAFOR (rtd.), a former member of Transition Committee, Hon. Chimezie Ezechukwu, Barr. Duke Ezeonwuka among others as well as presentation of a live goat and carton of wine to the Transition Chairman by the delegation.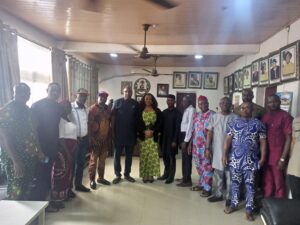 Photo: Mr. Nestor Okafor, Chairman of APGA in Oko Ward 2, Nze Donatus Onyejizu, Secretary, APGA Oko Ward 1 and Hon. Chukwujekwu Ezeokoye, Member representing Oko Ward 2 in the Transition Committee, Orumba North Local Government Area presenting a rope signifying live goat to Hon. Sir Ogo Ekwueme, Transition Committee Chairman, Orumba North and his wife, Lady Chiaku Ekwueme at the Council's Secretariat at Ajalli on Tuesday.
Send your press invite, news, press releases/articles to augustinenwadinamuo@yahoo.com. Also, follow us on Twitter @PrimetimeRepor1 and on Facebook on facebook.com/primetimereporters or call the editor on 07030661526.