Precious Christopher, an indigene of Ihiala in Anambra State has emerged Winner in the just concluded Online Photo Challenge organised by Face Of Maritime International (FOMI) as part of preliminary tasks and activities for Season 7 edition of the maritime industry pageantry.
The one week Photo Challenge which ended last Saturday had the Photos and brief profiles of all 50 contestants posted in the social media pages of Face Of Maritime International while the public is expected to like, comment and share the photos of their favourite contestants.
The contestant with the highest number of likes, comments and shares wins the challenge.
The 19 years old Precious Christopher garnered 221 likes, 492 comments and 169 shares to clinch the first spot.
Whereas Adeola Owolawi garnered 181 likes, 355 comments and 118 shares to come second; even as Victoria Ahom polled 137 likes, 225 comments and 26 shares to come third respectively.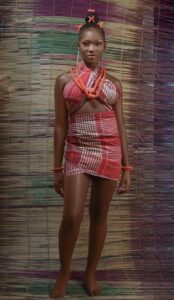 In a Press Interview after she was declared Winner of the Photo Challenge, Precious explained what motivated her to enroll in the FOMI pageantry.
"I've always wanted to do something like this. I want to make a name for myself. I want to be my own person. And I want to make my mom proud too", she said.
Speaking about her experience during the Photo Challenge, the 5.8 feet tall damsel said, "it was pretty difficult and competitive as well. But I enjoyed every step of it."
She also gave a piece of advice to her fellow contestants as they go into the next task, "We shouldn't give up. Anyone can be what they want to. Nothing comes easy. So never give up!"
Adding that she's ready to maintain her lead in the next task known as voting Campaign.
Precious Christopher's favourite colour is pink, her favorite food is fried rice and her hobbies are dancing, singing and reading. She likes honesty, but dislikes liars.
For Winning FOMI Photo Challenge, the management of Face Of Maritime International has rewarded her with appointment as the Camp Commandant for the first two days in the FOMI Faculty Camping if she qualifies to enter the camp.
Recall that Face Of Maritime International is a maritime industry pageantry of International standards which uses beauty queens to promote gender advocacy in the maritime sector and to champion women involvement in a male-dominated maritime careers.
Photo: Precious Christopher, Winner of the Online Photo Challenge organized by the Face of Maritime International.
Send your press invite, news, press releases/articles to augustinenwadinamuo@yahoo.com. Also, follow us on Twitter @PrimetimeRepor1 and on Facebook on facebook.com/primetimereporters or call the editor on 07030661526.