The Kirikiri Lighter Terminal, KLT is capable of handling 4,000 TEUs but functions lower than ten percent of its full capacity as a result of underutilisation of its potentials.
The Customs Area Controller, Nigeria Customs Service, NCS, KLT Command, Comptroller Timi Bomodi disclosed this yesterday while playing host to the newly elected executives of Maritime Reporters Association of Nigeria, MARAN, who visited him at Apapa, Lagos.
Comptroller Bomodi noted that the KLT offers more opportunities in terms of space, proximity and access to the port for the facilitation of export and import in and out of the seaports in Lagos.
He added that the KLT is the most strategic port in Lagos taking into account the crucial role of helping to decongest the ports by providing space in the heyday of cargo congestion.
The Controller said they had made contact with the Nigeria Ports Authority, NPA, terminal operators, shipping companies and other stakeholders on the need to move cargo into the terminal.
"KLT is the most strategic port in congestion, KLT functioned as a buoy for the trapped cargo. KLT has a lot of underutilized space and offers more access for cargo to come in and go out of the ports.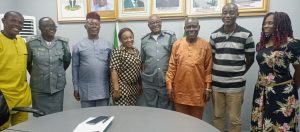 "KLT is functioning less than 10 percent of its capacity of 4,000 TEUs. It is not good the underutilisation of such a vital national asset which could play a crucial role in promotion of export in the country.
"We have been telling NPA and terminal operators that we need to move cargo to the port. Shipping companies will see wisdom bringing their cargo here. It makes a lot of economic sense. KLT offers capacity for the Nigeria Customs to generate more revenue at a time the nation needs revenue," said Bomodi.
Speaking further, Bomodi maintained that the port has the capacity and facilities to handle barges that bring containers from Tincan and is profitable for terminal operators.
Congratulating the MARAN executives on their election, Comptroller Bomodi said that there are lots of challenges importers and exporters face because of infrastructure decay in and around the ports.
He noted that export potentials of Nigeria are huge but the country lacks information/data, internal logistics system, payment platforms and other infrastructure that could help her achieve this.
"For export to thrive, Nigerians need information on goods to export. But there is lack of information; internal logistics system is not efficient. Payment platforms are not in existence. Export potentials are huge in Nigeria but where are the infrastructure to support it?", asked Bomodi, who said MARAN members have displayed high level of integrity in their reports.
Earlier in his remarks, Mr. Godfrey Bivbere, President of MARAN said the purpose of the visit was to intimate the Controller on the activities of the association and synergise with the command to boost its operations.
Photo 1: Comptroller Timi Bomodi, Customs Area Controller, KLT Command.
Photo 2: Comptroller Timi Bomodi, Customs Area Controller, KLT Command (5th from the left), Mr. Godfrey Bivbere, MARAN President (6th from the left) and other members of MARAN during the visit to KLT Command in Lagos yesterday.
Send your press invite, news, press releases/articles to augustinenwadinamuo@yahoo.com. Also, follow us on Twitter @PrimetimeRepor1 and on Facebook on facebook.com/primetimereporters or call the editor on 07030661526.