…Tincan Chairman commends National President over renovation of BoT Chambers 
The National Association of Government Approved Freight Forwarders, NAGAFF has called on freight forwarders to take advantage of lifting of ban on processed woods, charcoal and other allied products by the federal government to advance the fortunes of their businesses.
The Chairman, Tincan Island Port chapter of the association, Emeka Paul Chiedozie who made this call at a meeting in Lagos said, "About 72 hours ago, the Nigeria Customs Service, NCS released a circular with number T&T/2023/CIRCULAR NO.8, dated 8th of June, 2023 to inform stakeholders that there's a conditional lifting of ban on export of processed wood, charcoal and other allied products. Please do your research and diversified in your freight forwarding business".
Quoting the circular which was signed by the Assistant Comptroller General of Customs, Musa MBA for the Comptroller General, Chiedozie added, "The Service confirmed that the administrative ban placed on the export of processed wood, charcoal and other allied products is lifted with immediate effect. I have confirmed that information to be authentic. Please beam your searchlight into it", he declared.
Our correspondent reports that the quoted circular reads, "I am directed to forward herewith copy of the Federal Ministry of Finance letter Ref: No.F.17545/T/9 dated 5th June 23 on the above subject matter.
"The letter which is self explanatory, confirms that the administrative ban placed on the export of processed wood, charcoal and other allied products is hereby lifted with immediate effect.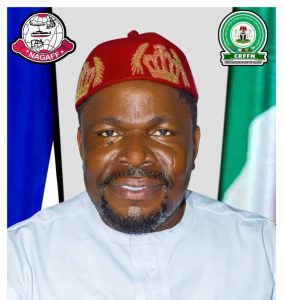 "However, threatened plants classified as endangered species (CITES listed), including Rosewood (Pterocarpus erinaceous) remains prohibited from being exported.
"Consequent upon the foregoing, all requests for the Exportation of Processed Wood, Charcoal and other Allied Products, must be supported with a letter of approval obtained from the Federai Ministry of Finance, Budget and National Planning.
"Furthermore, in addition to strict compliance with the provisions of the extant guidelines for non-oil export, you are directed to collaborate with the Forest Officers at the ports and borders for proper identification and prevention of exportation of prohibited wood products."
Meanwhile, the Chairman, NAGAFF, Tincan Island chapter, Emeka Paul Chiedozie has applauded the National President of the association, Tochukwu Ezisi for renovating the official office of the NAGAFF Board of Trustees, BoT at a whooping sum of N17.2 million.
Chiedozie who is also the Managing Director of Seagold Limited observed that "without mincing words, since Forwarder Tochukwu Ezisi came onboard, everything about NAGAFF has changed within a short time. Series investment on members' welfare, renovations upon renovations, all this are singlehandedly done by him.
"He is philanthropist that l am emulating and effecting it in my chapter."
Photo 1: Tochukwu Ezisi, National President, NAGAFF.
Photo 2: Emeka Paul Chiedozie, Chairman, NAGAFF, Tincan Island chapter.
Send your press invite, news, press releases/articles to augustinenwadinamuo@yahoo.com. Also, follow us on Twitter @PrimetimeRepor1 and on Facebook on facebook.com/primetimereporters or call the editor on 07030661526.