…As Nnadi urges stakeholders to de-emphasize blame game, insist on collaboration 
The Association of Registered Freight Forwarders Nigeria, AREFFN has visited the Customs Area Controller of the Tincan Island port command of the Nigeria Customs Service, Comptroller Dera Nnadi with a request for him to take measures to improve the general work environment by addressing some of the nagging issues bothering on trade facilitation in the command.
The National President of the association, Alhaji Bala Daura who led a delegation of the National and Tincan Island Port chapter officers on the visit, listed officers lateness to work, multiple alerts on goods, incessant stoppage of goods in clearing by the enforcement and other units, network failure on the part of the ICT provider, delay in positioning containers booked for examination, delay in positioning containers for scanning which sometimes runs into weeks and double processing of containers stemmed to bonded terminals as part of issues they would want the Controller to address.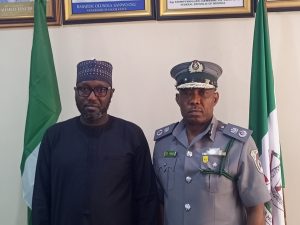 Alhaji Daura noted that an atmosphere of predictability and certainty was very essential in port operations adding that stoppages and delays on jobs in progress was very worrisome and impeded trade facilitation. " We can do with a lot less of this sir. But where it becomes inevitable that particular job(s) must be flagged down for further checks, we request that a window for quick arbitration and fair resolution be created on a 24/7 basis", he requested.
He particularly requested that his association as represented by their officers, be fully carried along in all activities involving other sister associations in the command as according to him, "all of us are serving the same purpose but in our different ways as dictated by our guiding principles."
Stating that part of the reasons for their visit was to heartily welcome the Controller to the foremost Tincan Island Port which he said had always been known for encouraging emerging Nigerian businesses and to inform him that they were aware of the spadework he did to revitalize the Seme Border operations which according to him, went in to coma for a long ty, he addy, "we are equally here to introduce to you officially, our hardwoking President, Alhaji Bala Lawan Daura and his National and Tincan chapter executive."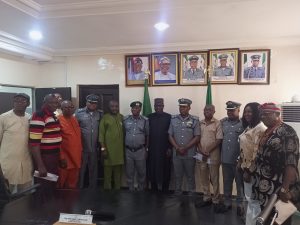 While thanking the CAC for granting them audience, he expressed the hope that their mutually beneficial cooperation " which is expected to receive greater fillip from henceforth, will continue to add value to the entire system.
Responding, Comptroller Dera Nnadi, while thanking them for the visit, stated that having listened to some of the complains that they raised, he was expecting to hear them proffer solutions to some of those complains insisting that it was typical of some people to always point out the negative sides of the nation's business environment saying, "but having been very long in this system, I also know that sometimes, there are piece of exaggeration on our opinions and those exaggerations are not welcomed by me or any other person because they tend to demarket our port environment and the maritime industry."
He continued, "One thing we must realize is that anytime we make opinions that are not substantiated, they tend to give negative impressions to traders, international community who rely on those information to determine how much your clients are going to pay. Maritime business is an international business that requires that you protect it effectively because of competitiveness.
"Nigeria is supposed to be the hub of maritime business in West Africa because out of 350 million people or thereabout in West Africa, 220 million people reside in Nigeria. That means, the market for West Africa is in Nigeria but why do we always say that most of our cargoes go to our neighbouring countries?  It is because of some of the utterances that some of us give.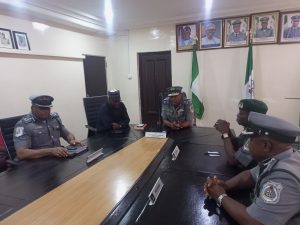 "I will start giving examples: Officers come late to work but we have not stated if agents come late to work. I have said it when I resumed here that we are not going to engage, under my watch, in blame game. That I would rather expect collaboration from every stakeholder in this industry for us to find solutions."
On multiple alerts, he said, "We have not talked about cargo integrity. You are freight forwarders, you are not importers. What I expect us to talk about is to ask question, why is it that for over forty years that this port was established, we have not been able to achieve effective Authorized Economic Operators policy until this present Comptroller General of Customs came onboard and launched it? It goes a long way to show that out cargo integrity and our supply chain is not optimized by way of integrity.
"We still talk about debit note being raised, that is an indication that out supply chain is not optimized by way of integrity. Ideally, when you pay duty, you should go. Again, payment of duty is not an indication of compliance, what makes compliance is payment of appropriate duty but most of us rely on the excuse that we have paid duty. If you are supposed to pay one million naira duty and you pay six hundred thousand, you did not pay duty, that's not compliance. Compliance is when you pay one million naira when you are supposed to pay one million. That's compliance.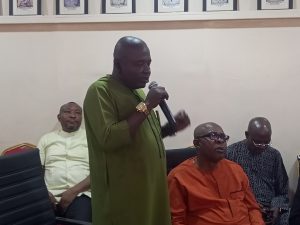 "And so long as there's no compliance, there will be interventions and because we have a system that runs as a supply chain, there are multi-layers of such interventions. I have said this when I was a much younger officer, that if you steal a car in Lagos, and you find your way and drive that car to Maiduguri, it remains a stolen car. Policemen or other security agencies in Maiduguri will still stop that car and consider it stolen. The fact that you succeeded in taking that car from the place you stole it to another place doesn't make that car a legitimate item. So, whenever we talk about multiple alerts, I think the first thing we are going to do is to address issues of integrity of our cargo.
"I recall that while I was at NIPSS, I read several articles, complains by you the freight forwarders that we must bring scanners to the port, the federal government reviewed that and brought new scanners. A week after those scanners were launched, I started reading other stories again that scanners are delaying cargo just like you read here. What was cargo supposed to be? Non-intrusive cargo examination should be straight forward but what do we find? People run away from scanning. The same people that advocated for scanners to come are now saying they don't want to go to scanning like one of you just say here that there are delays.
"Of course, scanning is supposed to be a one stop process where you scan your cargo and go but where you scan the cargo and you find infractions, you subject the same cargo already scanned to physical examination, that makes it double and even worse than when it was physical examination from inception. And many of us have thought about that, that whenever you scan cargo, and that cargo is found with infractions, it points to the fact that we need to interrogate our supply chain and the contents of our containers. These are the things that you are supposed to check.
"Where people make declarations because they don't want to obtain certain documents, they decide to declare other items on their manifest and bill lading other than what is in the container, of course, there will be interventions and that is what accounts for all this"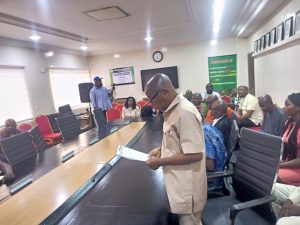 The Controller, therefore, insisted that for multiple alerts to be eliminated, the Customs, other government agencies, freight forwarders and indeed, the importers should collectively work to address the issue of poor integrity of cargo imported into this country.
Photo 1: (L-R): Alhaji Bala Lawan Daura, National President, AREFFN and Comptroller Dera Nnadi, Customs Area Controller, Tincan Island Port Command.
Send your press invite, news, press releases/articles to augustinenwadinamuo@yahoo.com. Also, follow us on Twitter @PrimetimeRepor1 and on Facebook on facebook.com/primetimereporters or call the editor on 07030661526.