…As Comptroller Tilley-Gyado vows to create conducive atmosphere for business 
The Association of Registered Freight Forwarders Nigeria, AREFFN, on Tuesday paid a working visit to the Customs Area Controller, Kirikiri Lighter Terminal, KLT, Comptroller Martina Tilley-Gyado.
Speaking during the visit, the National President of AREFFN, Alhaji Bala Lawan Daura observed that they were at the command to officially welcome the new Controller to the command even at this difficult times adding that they were equally at the command to exchange ideas with the new Controller and her Management team on how to make KLT bubble again.
Daura recalled that it was her immediate predecessor who just before he left the command, lamented that KLT was operating at less than 10 percent of its installed capacity noting that that simply translated to the reality that the freight forwarders, customs officers and other agencies operating there were actually working at less than 10 percent of their respective capacities.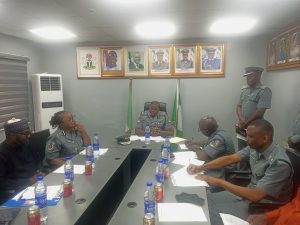 He further recalled that of utmost importance to the outgone Controller and now the present Controller would be the concomitant negative effect on government revenue collection from the terminal. "With this scenario in place, one can easily visualize the difficult situation you have come to grapple with", he said.
He however, reasoned that her predecessor must have started thinking outside the box in order to keep the terminal afloat when he had hinted of an initial talks with the newly established Lekki Deep seaport to start using KLT as an offdock facility for its containers. "We consider this a brilliant initiative and would request you, in the spirit of continuity, to bring this arrangement to fruition", he submitted.
"On our part, we have resolved and have actually started advising our clients (importers) to begin to choose KLT as their port (terminal) of final destination. But we shall only passionately request that you take a holistic view of the entire clearing value chain in this terminal, with a view to shaking off vestiges of old practices and all obstacles working against speedy return of KLT to it's former glory as one of the former most user friendly terminals in Lagos. Our cooperation in this is fully guaranteed", he added.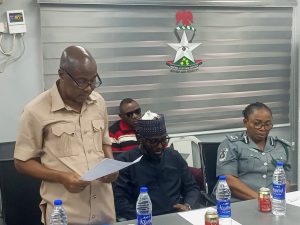 He thereafter, appealed that his association represented by their chapter executive be fully carried along in all the activities involving other sister associations at the command insisting that "all of us are serving the same purpose but in our different ways as dictated by our respective guiding principles."
In her remarks, Comptroller Martina Tilley-Gyado who was visibly delighted at their visit appreciated them for reaching out to her first noting that she would have certainly called out to them for a meeting describing the visit as a testament to their willingness to work with her.
Stating that KLT was actually a small command, she acknowledged that supply of boxes was the most pressing challenge facing the command. The Controller disclosed that she was putting in everything she could to make transires a little stressful for everyone.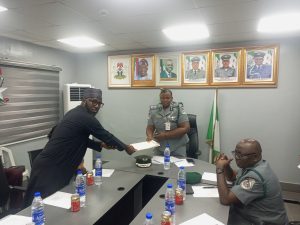 On efforts to get containers to the terminal,she said, "I have had a series of meetings with the Controllers of Tincan, Apapa and Lagos Free Zone and we have agreed to work in collaboration, they have agreed to help us as much as they can. So, I am hoping that going forward, we are going to see an increase in the volume of our cargo.
"Therefore, to foster that further, I would like to say that I will create an atmosphere that is conducive for operations for all of us. Like the President said, the relationship between agents and customs is like that of a marriage, one cannot do without the other. To that effect, I believe that we are going to keep on collaborating with each other, we keep on talking and communicating and synergize, that way, I believe that there's nothing we cannot achieve together.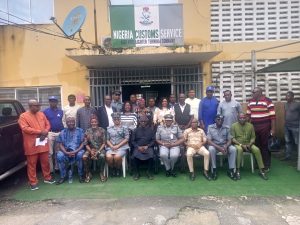 "Mr. President, I am ready and willing to collaborate with you. I seek your cooperation, I want to be able to facilitate legitimate trade and I call upon you to help me in this noble undertaking,"
Photo 1: Comptroller Martina Tilley-Gyado, Customs Area Controller, KLT Customs Command.
Send your press invite, news, press releases/articles to augustinenwadinamuo@yahoo.com. Also, follow us on Twitter @PrimetimeRepor1 and on Facebook on facebook.com/primetimereporters or call the editor on 07030661526.